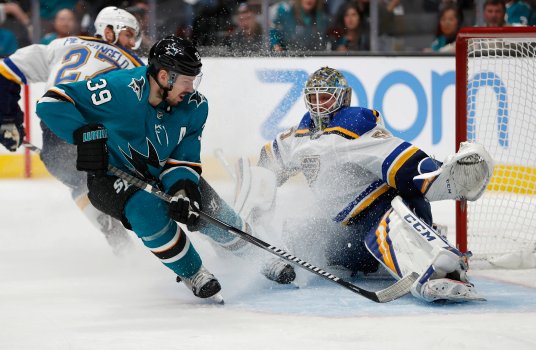 To say that St. Louis had chances at victory in Wednesday's game would be an understatement. The Blues fell down 2-1 in the first only to score 4 goals in the 2nd and take a 4-3 lead until 18:59 in the 3rd period as the teams headed to OT on a late Logan Couture goal. San Jose then scored the win in extra time on a controversial "hand pass" goal. The Blues are significant -137 favorites in the May 17th NHL playoffs game 4 free pick, but how do they respond on Friday night?
San Jose Can Demoralize St. Louis Friday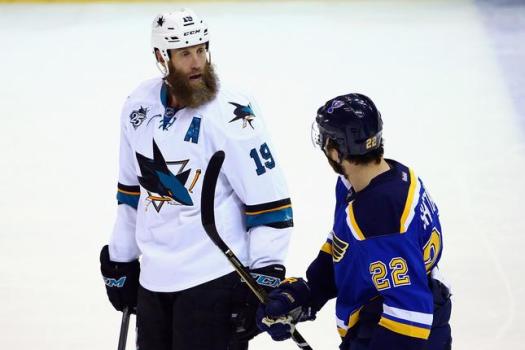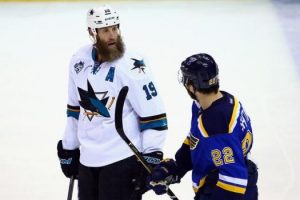 The Blues took home ice after a Game 2 win in San Jose only to give it right back back in St. Louis on Wednesday. A victory by the Sharks in the May 17th NHL playoffs free pick would give San Jose a 3-1 lead in the series and force St. Louis to beat them twice back at the SAP Center. So to say that San Jose is satisfied with taking Game 3 and will get complacent in this one is completely out of bounds.
Bettors do have to like San Jose even on the road in this one as +114 underdogs. The Sharks' stars are stepping up this series – and there's a lot of them. Couture is a man possessed with 5 goals in three games so far in the Western Conference Finals. Erik Karlsson has momentum after two scores in Game 3 including the game winner. Joe Thornton even showed that he wants another crack at the cup with 2 goals and a helper on Wednesday. For San Jose, it all comes down to the performance of Martin Jones between the pipes – a man who has looked like an average league goaltender at best in these playoffs.
Did St. Louis Show Breakout Potential in Game 3?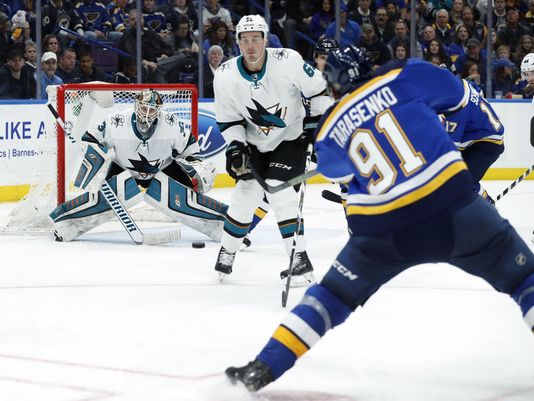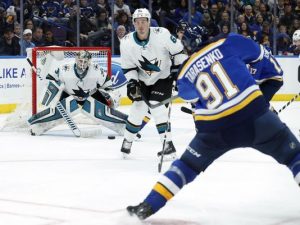 Despite the ending that was not-so-popular with the home crowd, St. Louis does have some good things to take away from Wednesday's tilt. First off, the Blues got down 0-2 in the 1st and were down 3-1 early in the 2nd before absolutely going off for 3 straight scores. Not only that, it was a star-studded 2nd period that saw Vladimir Tarasenko put one in net for the first time in six games. David Perron also had two goals in that frame, proving he'll continue to be a force with 4 points in the series. The Enterprise Center crowd stuck behind their team after getting down last time out, something that will be even more crucial as St. Louis is likely without Vince Dunn, who runs point on their PP unit.
The biggest concern for St. Louis in the May 17th NHL playoffs free pick is if G Jordan Binnington is ready for the moment? Is the rookie going to press against an attacking offense in what is essentially as close to a must-win situation as a team can be in? Binnington has allowed 5 goals in 2 of the last 3 games in this series and is he starting to get mentally fatigued after his first year in the league? St. Louis will score Friday…but how many will they need?
May 17th NHL Playoffs Free Pick Betting
There's actually value on both sides on Friday. San Jose has looked like world beaters but St. Louis has to be a bit ticked and fired up on their own ice. It feels like a flip-flopping series that the Blues are due to win a game in. There's just so much offensive talent on the ice though and with both goaltenders having some issues this series, scores seem like the sure thing here.
NHL Playoffs Free Pick: Sharks / Blues *Over* 5.5