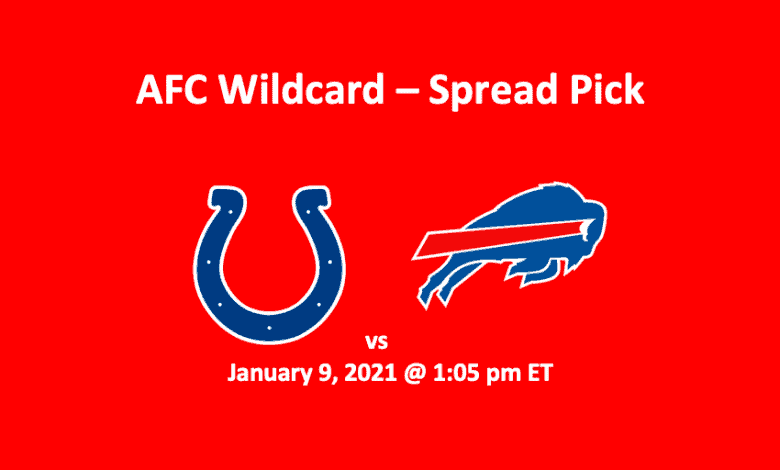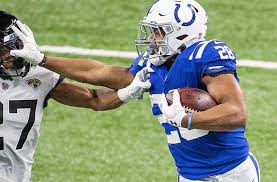 Our Indianapolis vs Buffalo pick for Saturday, January 9, 2021 is the first for a weekend that features an expanded wildcard weekend that includes 12 teams and six games. The Indianapolis Colts finished second in the AFC South with a record of 11-5. They were, in essence, tied with the Tennessee Titans who finished first in the division. The Buffalo Bills, who easily took first place in the AFC East, posted a record of 13-3. That put them three games ahead of the second-place Miami Dolphins. The Bills are the only team from the AFC East to qualify for the playoffs. The Bills are favored at -6.0 (-120) while the underdog Colts are at +7.0 (-120).
The game, which kicks off at 1:05 pm ET, will be played at Bills Stadium in Orchard Park, NY. The weather will be partly cloudy with a 2% chance of precipitation and winds at 6 mph from the WNW. The temperature at game time will be 33 degrees. Also, see our over/under for this Indy versus Buffalo contest.
Indianapolis vs Buffalo Pick – Offenses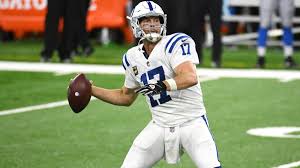 Veteran QB Phillip Rivers leads the team with 4,000-plus passing yards, 24 TDs, and a 68 percent completion rate. Rivers has thrown 11 picks and been sacked 19 times. WRs T.Y. Hilton (56 REC, 762 YDs, 5 TDs) and Zach Pascal (44 REC, 629 YDs, 5 TDs) are his top two pass catchers. Plus, running back Nyheim Hines, who has 89 carries, 380 rushing yards, and three ground scores, has also caught 63 passes for 482 and four receiving TDs. RB Jonathan Taylor has accumulated 1,169 yards on 232 carries. He's scored 11 times. He also has 36 receptions and one receiving score. The Colts are averaging 28.2 PPG.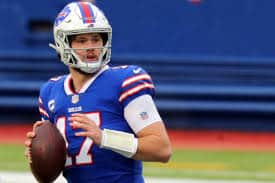 Tight end Reggie Gilliam is out while wideouts Stefon Diggs (127 REC, 1,535 YDs, 8 TDs) and Cole Beasley (82 REC, 967 YDs, 4 TDs) are both questionable. However, we expect Diggs and Beasley, who are essential to this team's success, will most likely play. WR Gabriel Davis comes to this game with 35 catches, 599 yards, and seven TDs. Also, RB Devin Singletary is a dual-threat who's accumulated 687 rushing yards and 269 receiving yards. In addition, RB Zack Moss has rushed for four TDs, while QB Josh Allen has run for eight scores. Allen, who's completed 69.2% of his passes, has thrown for 4,544 yards and 37 scores. Allen has thrown just 10 picks. He's been sacked 26 times. Subsequently, Allen is the primary generator of offense for this team. Note, the Bills top the AFC averaging 31.3 PPG. Consequently, this is an especially effective and explosive offense.
Colts vs Bills Spread Pick – Defenses
Indianapolis vs Buffalo pick notes that the Colts are down a few defensive players, including potentially DT DeForest Buckner (9.5 SCKs, 13.5 TFL, 3 PD). He's listed as being questionable. Plus, they will be without safety Khari Willis and corner Rock Ya-Sin. The Colt defense has scored five TDs while forcing 14 fumbles and recovering 10 and grabbing 15 picks. They've also made 40 sacks, 87.5 TFL, and 77 PD. Notably, defensive ends Justin Houston and Denico Autry have accumulated 8.0 and 7.5 sacks. Also, LB Darius Leonard tops the team with 86 solo tackles and 132 total bringdowns. He also has 3.0 sacks, 9.5 TFL, 7.0 PD, and 3.0 forced fumbles with 2.0 recovered. Corners Kenny Moore II (4 INTs, 12 PD, 1 TD) and Xavier Rhodes (2 INTs, 12 PD, 1 TD) lead what is a solid secondary. Consequently, the Colts are allowing on average 22.6 PPG.
On the other hand, the Bills are allowing on average 23.4 PPG. Of note, Buffalo has recorded 38 sacks, 97 TFL, and 15 INTs. Along with 76 PD, this defense has forced 15 rumbles, recovering 11 and scored three TDs. In the secondary, corner Tre'Davious White has three picks, 11 PD, and one forced and two recovered fumbles. DE Jerry Hughes (4.5 SCKs, 7.5 TFL), LB Matt Milano (3.5 SCKs, 4.5 TFL), and DE Mario Addison (5.0 SCKs, 7.5 TFL) are premium defenders. Consequently, each will need to play well today. Plus, safety Jordan Poyer tops the team with 91 solo tackles and 124 total tackles. Additionally, Poyer has made 2.0 sacks, 6.5 TFL, 2 INTs, and 5 PD.
Indianapolis vs Buffalo Pick – Final Word
Our Indianapolis vs Buffalo pick does like Buffalo's Josh Allen-run offense. Allen has become a premium performer. He's a true playmaker. Of course, Buffalo's Diggs and Beasley are exceptionally important factors as far as this offense is concerned. Colt QB Rivers can bring it. He has a fine receiving unit. However, we prefer the Bill offense in this contest. On the other side of the ball, we find that the Buffalo D is deep. Please see our other wildcard picks for today, including Los Angeles vs Seattle and Tampa Bay vs Washington.
Indianapolis Colts vs Buffalo Bills Summary
Buffalo Bills at -6.0 (-120)