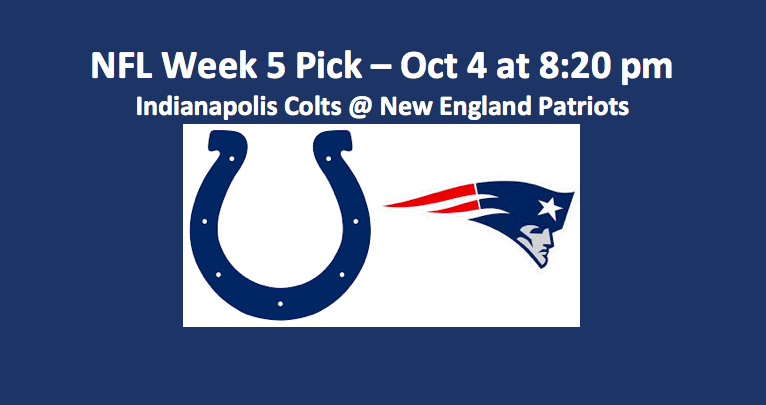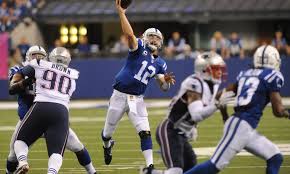 The AFC South Indianapolis Colts (1-3) are at the AFC East New England Patriots (2-2) in a game where each team will look to keep on the winning track. The Colts opened their season with a 34-23 loss to the Bengals. Their one win game in Week Two when they beat Washington 21-9. Since then they've lost two straight, including an OT contest against Houston on Sunday. The Pats started the season 1-2, winning their first contest and then losing two-straight. They won this past Sunday at home beating the AFC East first-place team Miami 38-7. Our Week Five Colts play Patriots TNF pick has the home team favored by as little as 10 and as many as 11.5 points. The over/under, which started at 53, is now at either 50.5 or 51.0.
Luck vs Brady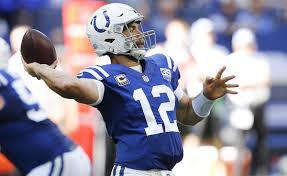 If the fortunes of these teams turn on the QBs, who has the advantage? Colt signal caller Andrew Luck has tossed nine TD passes, three picks, and has been sacked nine times. He's been good on 67.2% of his passes. He's thrown for over 1,100 yards this season. For the Patriots, Tom Brady has nine touchdown passes, four picks, and has been sacked six times. His total yards in the air are at 918. Brady is completing 64.4% of his tosses.
These two QBs are quite close. Luck, thus far is having a better season. But the edge may go to an intangible. Brady has this ability to manufacture late drives and make them payoff. If this game comes down to one possession, or to even New England being down at the half, then Brady has th edge.
QB Edge: New England
Receiving & Running Groups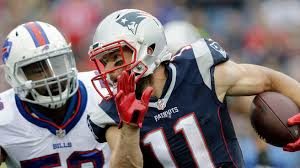 Another important area to consider is receiving. When looking at receiving, it's essential to note that the Colts are allowing 291 YPG in the air. The Patriots are giving up 237 YPG. As far as the Indy receiving group is concerned, TE Eric Ebron, who's questionable for tonight's game, leads all pass catchers with three TDs. The Team's leading receiver T.Y. Hilton won't play tonight due to injury. Rookie RB Nyheim Hines has two receiving TDs.
The Patriots welcome back the elusive Julian Edelman tonight. That could be huge for this team, which has struggled with its passing game until this past Sunday. New England's star TE Rob Gronkowski is listed as questionable for this game. He leads the team in receiving yards with 233 and average yards-per-reception with 13.7. RB James White has proven to be a major contributor. He's got three TD catches on 22 receptions.
Note, at the end of a game, Luck usually has more passing yards than the opposing QB. Yet, Indy tends to come out on the losing end. One reason for this has to do with the fact that Indy has not had an effective ground game. New England has been able to do some damage with their ground attack. That could be a factor.
Receiving & Running Edge: Pats
Who Has D Edge?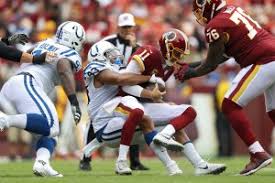 The Patriot D started to come together against Miami. But Luck is a very different quarterback than Tannehill. In terms of points, offensive yardage and passing yards given up, New England is a bit better than Indianapolis. But Indy is better against the run and they are exceptional when it comes to sacks (17), TFL (19) and forced fumbles (4). If they can get to Brady, the Colts will have a shot at winning this one.
D Edge: Colts (slightly)
Our Week Five Colts Play Patriots TNF Pick
We think the Patriots will win this one going away. Indy has some issues. Plus, one of their most reliable weapon, PK Adam Vinatieri is questionable with a groin pull. If he does play, his effectiveness could be diminished. Our Colts play Week Five Patriots TNF pick is New England at -10.0.
Summary Colts at Pats: New England at -10.0