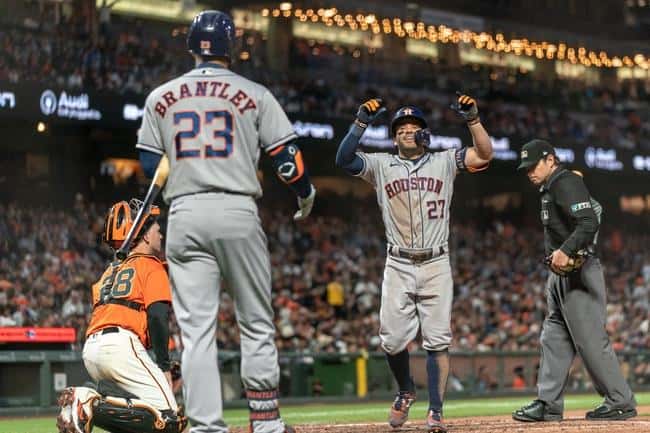 An exciting weekend series wraps up in the August 1st Astros at Giants betting contest. The two division leaders have split the three game set so far, with Houston taking the opener 9-6 as +112 underdogs and SF bouncing back for an 8-6 victory on Saturday at -111.
The rubber match looks like a close one, with San Fran at -115 and the Astros -105. The two previous contests were high scoring, but more of a pitcher's duel is expected on Sunday with the run total at just 8.5. Luis Garcia (7-5, 3.19 ERA) goes for the Astros after allowing 5 ER in his last start. The Giants counter with Logan Webb (4-3, 3.36 ERA) and have won 7 of his last 8 starts.
Houston Bats Clicking Right Now
Despite the loss on Saturday, it was another good showing for the Astros offense who have now plated at least 6 runs in five straight games. There were 8 total HRs in Saturday's contest, including two from Houston's Aledmys Diaz, who also went yard in Friday's win. Jose Altuve also left the yard twice on Friday.
There have been 45 hits between the two teams so far this weekend, so is the best bet for the August 1st Astros at Giants matchup just to bank on the 'over' of 8.5? Nobody on the Astros has more than 2 career ABs vs. Webb and nobody on San Francisco has ever faced Garcia. Is that a positive or a negative though?
The Astros took the L on Saturday despite it being a Zack Greinke start. The right-hander gave up 8 hits and 4 ER over just 4.0 IP, and also served up 4 HR. What kind of outing can Dusty Baker expect from Garcia on Sunday then? The right-hander gave up 5 ER to the Mariners last time out, but allowed just 5 hits and 1 ER in his previous two starts. Garcia has a 4.54 ERA in 8 road starts this year compared to just 2.24 in 9 home starts.
Giants Debut Bryant?
San Francisco belted out 5 HRs in Saturday's win and that was even without Kris Bryant making his team debut after being acquired from the Cubs on Friday. The former NL MVP is likely to make his way into the lineup in Sunday's contest, making this look like another highly productive offensive day.
Bryant will at the very least provide more protection for the San Francisco bats – but do they even need it? The team has cranked out 25 hits the last two games and just beat on Greinke on Saturday. LaMonte Wade, Jr., Mike Yastrzemski, Darin Ruf, Wilmer Flores, and Donovan Solano all went deep in the game two win.
Despite two high scoring games so far, Sunday could very well be dominated by pitching. Logan Webb had a 2.00 ERA in the month of July while Garcia was 3.45 for the month. Webb has allowed 4 ER total over his last three starts.
Free August 1st Astros at Giants Pick
You always want to get off on the right foot for the 1st of the month, and although both of these pitchers have been solid as of late it's hard to fade either of these offenses. This just feels like a third straight high scoring affair.
Giants 7 – Astros 6 
Free Pick: Over 8.5