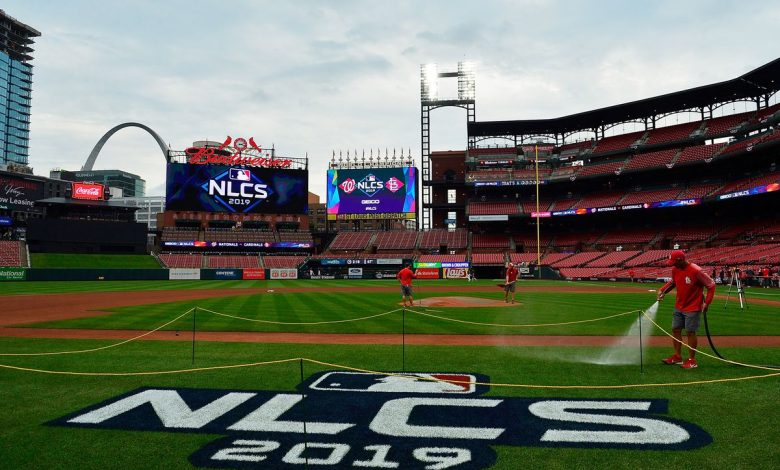 At first glance the home team seems to have great value in the 2019 NLCS game 1 Nationals at Cardinals free pick. St. Louis is listed at just -130 in the series opener, two days after hammering the Braves for 10 runs in the first inning en route to a 13-1 NLDS clinching win. Washington is just +110 on Friday night, but looked great in dispelling of the heavily favored Dodgers last round.
Washington a Hard Out Right Now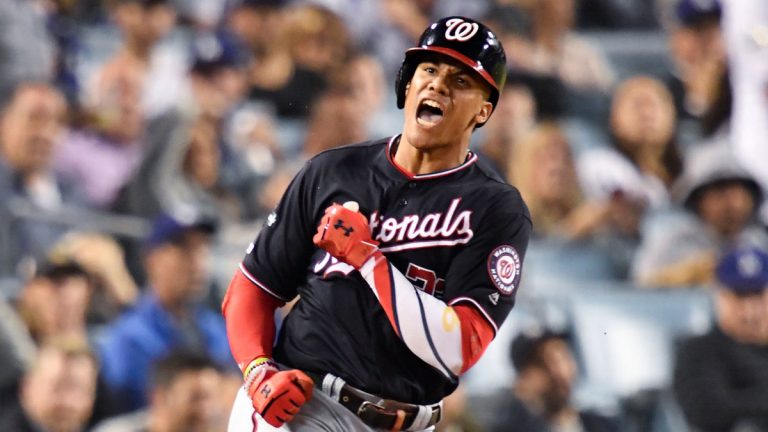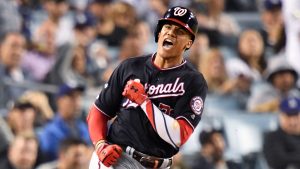 Washington isn't as big of an underdog as you'd think in the NLCS game 1 Nationals at Cardinals free pick with just a +110 line. The Nats' looked like their season ending was just a matter of time after an 0-6 loss to the Dodgers in the NLDS opener, but they rebounded to take 3 of the next 4. Washington got to Clayton Kershaw for a loss and a blown save last round so they fear no pitcher right now.
Friday's O/U for game one is 7.5 which seems on the low side. Washington isn't sending Scherzer, Strasburg, nor Patrick Corbin to the mound as Anibal Sanchez gets the nod in the opener. Sanchez was great in the LDS, holding the Dodgers to 1 run on 4 hits in game 3. Sanchez faced St. Louis once during the regular season, way back on April 30th though. The right-hander allowed 2 ER or less in 6 of his last 8 starts overall.
Sanchez should get a boost from the Nationals offense on Friday as they've put up 13 runs the last two games and have plated at least 4 in the last four. Anthony Rendon has come alive going 4 for 7 the last two games with a HR, two doubles, and 4 RBI. Juan Soto has went deep in 2 of the last 3 as well. Only 3 Washington batters have hit above .280 this postseason, but their timing for big hits has been impeccable.
Cardinals Simply Clicking Right Now?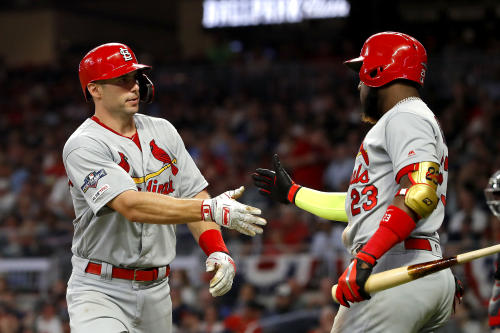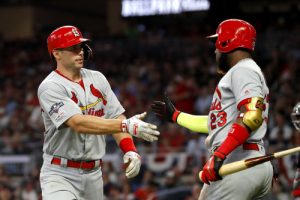 It's hard to wager against St. Louis in the NLCS game 1 Nationals at Cardinals free pick considering the way they humiliated the Braves in game 5 of the NLDS. Atlanta had home field on their side on Wednesday but the Cardinals looked cold-blooded in leading 13-0 after just 3 innings of play. Mike Schildt's team also scored all of those runs without a single long ball – that's scary manufacturing (for Washington pitchers).
The Cardinals advanced over the Braves, but don't overlook that their offense was very (literally) hit or miss in that series. St. Louis was held to just 1 run total in games 2 and 3 and had only 10 hits total. Of course they also won game 1 vs. Atlanta 7-6, outlasted the Braves 5-4 in game 4, and had Wednesday's 13 run output. Paul Goldschmidt and Marcell Ozuna are both hitting .429 in this postseason which Cardinals fans have to love.
Miles Mikolas will go for St. Louis in game 1, as he did in the NLDS. The right-hander was extremely solid in that outing with 1 ER surrendered on 3 hits over 5.0 IP vs. the Braves. He also came in for an inning of hitless relief to help St. Louis secure a game 4 win. Mikolas had a 3.01 ERA at home during the regular season compared to 5.40 on the road and he was 1-1 with a 3.00 ERA in two starts vs. Washington this year.
NLCS Game 1 Nationals at Cardinals Free Pick
The fact that Washington is just +110 in the opener without any of their 'big name' pitchers on the mound is kind of intriguing. This is especially true after the Cardinals offense exploded in game 5 vs. the Braves. You should probably chalk 10 runs in the 1st up to just an atrocious outing from Mike Foltynewicz. That doesn't mean St. Louis can't score Friday though. The same goes true for the Nationals, who have had 4 above average games in a row against tough LA pitching. All this adds up to a decent total play:
Pick: Nationals / Cardinals *Over* 7.5