Friday July 27th NL Free Pick
Oddsmakers Are Dangling Phillies Tonight - Are They Worth the Bite?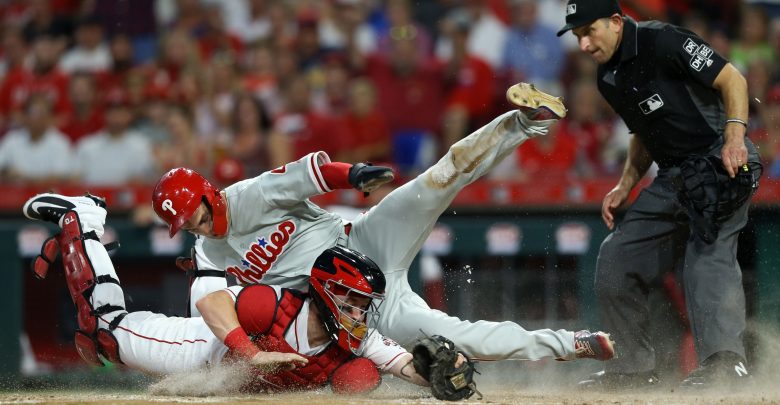 The Philadelphia Phillies have ridden a 3 game win streak into a 2.5 game lead over the Braves in the NL East. The Fighting 'Phils are 5-2 since the All-Star Break including last night's 9-4 win over the Reds. Cincinnati continues to be cellar dwellars in the NL Central and may need name tags in the dugout as the trade deadline approaches in 4 days. All signs are pointing to Philadelphia dominating the July 27th NL free pick yet oddsmakers have set the line at just PHI -115. It's hammer time – but for which team?
Phillies Getting No Respect At Great American Ballpark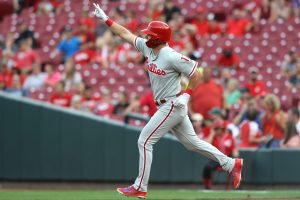 Are oddsmakers simply off on this matchup? Last night Philadelphia was actually a +110 underdog before pounding out 18 hits and 9 runs off Reds pitching, scoring in 7 of 9 innings. Rhys Hoskins, Maikel Franco and Nick Williams all hit 2 HR last night as the Phillies offense continues to pound the ball. Philadelphia has 20 team HR the last 7 days including 6 by Hoskins alone. Only 5 Phillies batters have ever faced today's Reds starter Anthony DeSclafani but they've hit him well going 10-18 (.556).
You'd have to think one of the reasons that the Phillies aren't more costly for the July 27th NL free pick is because Nick Pivetta (6-8, 4.69) gets the nod on Friday night. Pivetta has a 6.80 ERA since the beginning of June and has allowed 7ER over his last two starts (12 IP). The right hander was stingy against the Reds back in April, allowing just 2ER over 7.0 IP in what was eventually a 4-3 Philadelphia win. The Phillies are just 3-7 in Pivetta's last 10 starts however.
Where Does Cincinnati Find Motivation?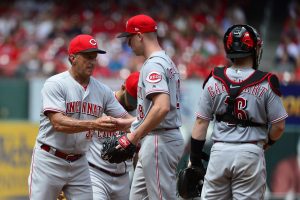 The Reds were playing good baseball before the All-Star break but have cooled off considerably, going just 2-5 since the Midsummer Classic. In 5 straight games since the break the Reds scored 2 runs or less in each game but their offense has shown some signs of life in the last two, posting 11 runs. For whatever reason the Reds continue to get love from the oddsmakers. Jim Riggleman's team has been favored in 4 of the last 7 games and hasn't been more than a +118 underdog in the other three. If oddsmakers are setting the trap – it isn't working.
Only 2 Reds regular rotation players are hitting over .250 the past week and they've got some stars who are slumping. Scooter Gennett is just 4 for his last 22 (.182) and Joey Votto is batting just .167 over the past 7 days. That puts more pressure on starter Anthony DeSclafani (4-3, 5.40 ERA) in the July 27th NL free pick. DeSclafani has allowed 9ER total in his last 2 starts (just 8.0 IP) and has given up 13 HR in his last 7 games. The Reds are 1-4 in the right-hander's last 5 starts and 2-6 the last 8 times he takes the mound at home.
July 27th NL Free Pick Betting
Once again oddsmakers have presented a conundrum with the slumping Reds. They've overvalued them every game since the All-Star break which makes a bettor leery, yet the opponents keep hammering Cincinnati. In today's game, Philadelphia is just hitting the ball too well lately to stay away from at such a low price.
Free Pick: Philadelphia Phillies -115