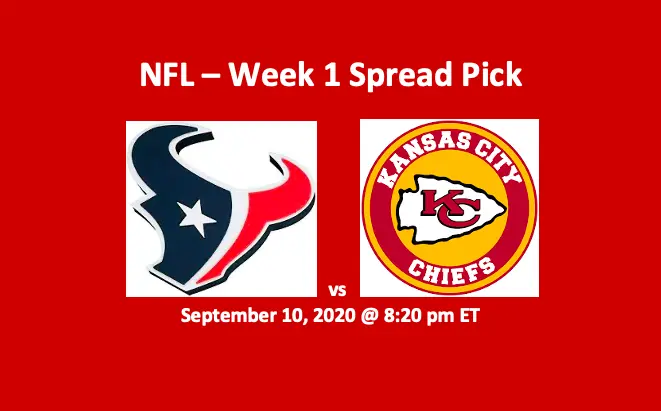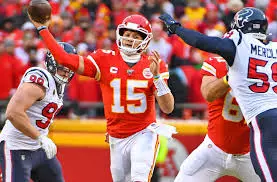 Our Houston vs Kansas City pick kicks off the 2020 NFL season. The game will be played on Thursday, September 10, 2020 at Arrowhead Stadium. Kickoff is scheduled for 8:20 pm ET. Last season, the Houston Texans won the AFC South, posting a 10-6 record. In the West, the Kansas City Chiefs went 12-4, taking down their division crown. KC earned a first-round bye while Houston beat the Buffalo Bills in their wildcard game 22-19 in OT. Houston met the Chiefs in the AFC Divisional Playoff, losing to Kansas City 51-31. The Chiefs went on to play the San Francisco 49ers in Super Bowl LIV where they took down SF 31-20.
Houston vs Kansas City Pick – Offenses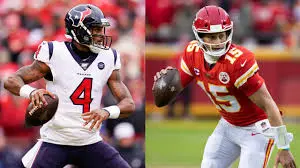 For the Texans, QB Deshaun Watson is a solid performer capable of the big play. However, he can be prone to mistakes and will need to make sure he makes few if any against this Chiefs club. Houston's offense saw two of their top performers depart, DeAndre Hopkins and Carlos Hyde. However, the team welcomes high-performance wide receivers Brandin Cooks and Randall Cobb. Plus, RB David Johnson is back and healthy.
The Chiefs bring a stellar offense to the field, which is led by Patrick Mahomes. Mahomes is not only exceptionally talented and skilled, but, for his years, he's amazingly wise and experienced. The receiving corps includes three top-notch offensive threats, wideouts Tyreek Hill and Sammy Watkins and tight end Travis Kelce. The rush attack features rookie RB Clyde Edwards-Helaire. Although Edwards-Helaire isn't especially fast, he is elusive and adept at breaking tackles. He's also a solid pass-catching option.
Texans vs Chiefs Spread Pick – Defenses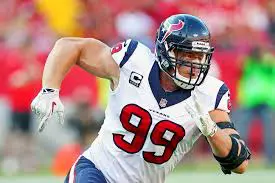 If defensive end J.J. Watt can stay healthy so too should the Texan D. But Watt has been prone to injury. It's hoped he can stay in the game this season. The 3-4 D will rely heavily on the LDE. WLB Whitney Mercilus, who posted 7.5 sacks and four FF in 2019, can be a game-changer. ILB Zach Cunningham recorded 99 solo tackles and 43 assists. He could be a big factor tonight. The Texan's secondary looks problematic and needs someone to step up in this contest. Mahomes could very well pick them apart tonight. They'll be tested right from the start and throughout the game.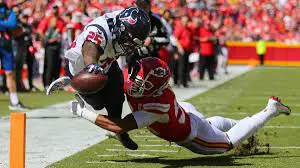 Will Gay Jr., a 2020 second-round draft pick from Mississippi State, get a start tonight at LB. Gay has speed, range, and intensity and is a solid tackler. In college, he had off-field issues, but thus far with the Chiefs, he's been good. Aggressive MLB Anthony Hitchens has been a disappointment since coming to KC from Dallas. Perhaps he'll step up this year? In front, Chris Jones has fine sacking potential as does RT Frank Clark. In the secondary, SS Tyrann Mathieu, who grabbed four INTs in 2019, is the glue of that unit.
Houston Texans vs Kansas City Chiefs – Trends
In their last seven games against the Chiefs, Houston is 2-5 SU, and in their last six, they are 2-4 versus the spread. Over the past five seasons, Houston has struggled in week one, going 1-4. In their last nine contests, the Chiefs are 9-0 SU and ATS. Also, they are 7-0 ATS in their last seven games at home and 7-0 ATS in their last seven games against an AFC opponent. Finally, they are 11-0 SU in their last 11 games played in September.
Houston vs Kansas City Pick – Final Word
In considering our Houston vs Kansas City pick, remember the last time these two teams met. That was in the divisional playoffs. In that game Mahomes led Kansas City from a 24-0 deficit to take down Watson and the Houston Texans. It was an amazingly well-run comeback that defined efficiency. KC is home, coming off a great season, and ready to go. Our spread pick for this first game of the 2020 NFL season is the Chiefs at -9.0. For further analysis of the Texans vs Chiefs opener see Ryan's latest NFL pick.
Houston Texans vs Kansas City Chiefs Summary
Kansas City Chiefs at -9.0 (-115)