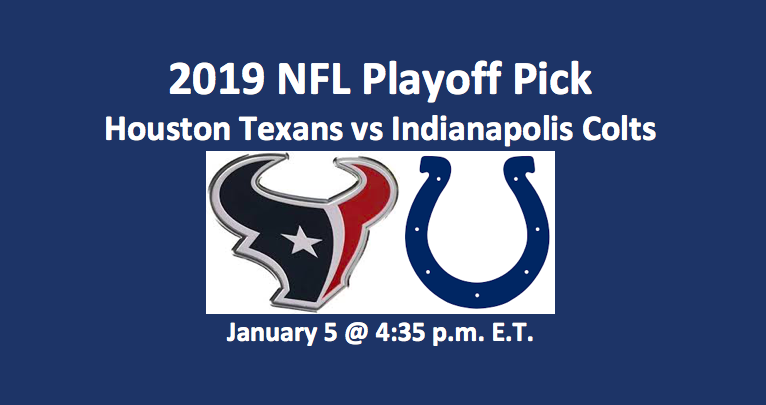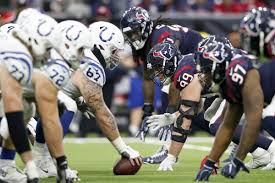 In the first AFC wild card game, the Indianapolis Colts travel to play the Houston Texans. The game will be played on Saturday, Jan. 5 at 4:35 am ET. It will be played at NRG Stadium in Houston, TX. The Colts finished the season at 10-6 to secure second place in the AFC South and to earn the second AFC wild card spot. Houston won the AFC South with an 11-6 record. Indy is 4-4 on the road while the Texans are 6-2 at home. Our Houston Texans vs Indianapolis Colts preview and pick has this game anywhere from even to the Texans favored by -1.0 to -2.0. The over/under is at either 48.0 to 48.5. After reading our Houston vs Indianapolis pick, be sure to check out our Dallas vs Seattle pick.
Recent Meetings and Performance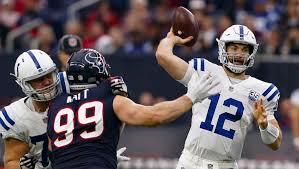 The Texans won the first meeting between these two teams. The final, in OT, was 37-34. That was on Sep. 30 in Houston. The last meeting, which was four weeks ago in Indianapolis, ended in the Colts' favor 24-21. That win by Indy started their four-game winning streak that would lead to their playoff berth. Over that same time, the Texans went 2-2. Note, each team won their respective games against the other when at home. A reminder, Texans are at home. Our Houston Texans vs Indianapolis Colts preview sees these two teams as being even in recent meetings and performance. But we're giving the Colts a slight edge here.
Edge: Indianapolis
Defensive Advantage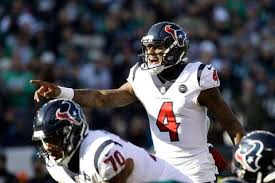 On offense, the Colts are scoring on average 27.1 PPG while the Texans are putting up 25.1 PPG. On defense, Houston was fourth in the NFL in points allowed, coming in at 19.8 PPG. Indy is tenth, allowing 21.5 PPG. At home, the Texans are keeping opponents at 17.0 PPG, while the Colts are giving up 22.6 PPG.
Other advantages on defense that Houston enjoys on D includes the plus-minus on takeaways (13-to-2), sacks (43-to-38), and forced fumbles (21-to-14). However, the Colts top out on TFL, holding a 108-to-96 advantage. In the area of interceptions, both teams garnered 15 picks, while the Texans defended 85 passes and the Colts 60.
For the Colts, LB Darius Leonard leads in sacks (7.0) and is tied for the team's top mark in TFL (16.5). He also has four FF, two picks, and eight PD. Texans' DE J.J. Watt has had a Pro Bowl season, notching 16 sacks, 24 TFL, 7 FF, and 4 PD.
Edge: Texans
QB to QB
Indianapolis QB Andrew Luck (67.3 COMP%, 39 TDs, 15 INTs) has passed for almost 4,600 yards this season. He was sacked 18 times. His top wideout, T.Y. Hilton (76 REC, 16.7 YPC, 6 TDs), who had 1,270 receiving yards, is questionable. TE Eric Ebron (66 REC, 11.4 YPC, 13 TDs), who is first on the team in scoring catches, is also listed as questionable.
In his second NFL season, QB Deshaun Watson (68.3 COMP%, 26 TDs, 9 INTs) has been sacked an astounding 62 times. Watson's top receiver, wideout DeAndre Hopkins (115 REC, 13.7 YPC, 11 TDs), is questionable. Watson does have over 1,500 receiving yards.
One offense aspect that will help each passing game is a solid rush attack. Houston holds an advantage in YPG gained (126.3 YPG-to-107.4 YPG). On defense, Houston is holding opponents to 82.7 YPG, while Indy is allowing 101.3. The Texans have a step up when it comes to offering a rush attack that can open up the passing game.
Edge: Even
Houston Texans vs Indianapolis Colts Preview – Our Pick
Our Houston Texans vs Indianapolis Colts preview finds that this is a very tight game to handicap and pick. But here we go. We think the Houston defense will give the visiting team an edge. If they can shut down the Colts running game and put pressure on Luck, they should force some turnovers.
But Deshaun Watson has to play good enough to win because Luck can be lights out. He had four TD passes in his last game against the Texans. However, that was in Indy. Houston at home helps the Texan cause. We are going to go with a gut pick and taking Houston as an even pick. We're also going with the over at 48.0. This can be a 30-24 game.
Summary Houston Texans vs Indianapolis Colts Pick – Houston even and over 48.0