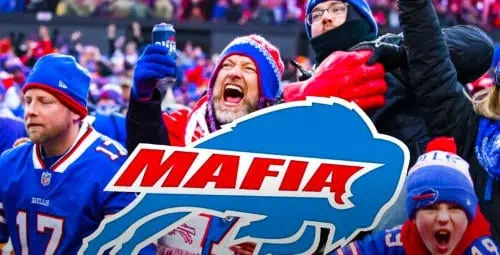 It may be a couple weeks later than we originally expected, but the Bengals at Bills betting matchup finally gives us the first Joe Burrow vs. Josh Allen duel that could very well turn into Brady vs. Manning 2.0 (if Mahomes vs Allen isn't already there). This game was of course postponed from the Monday Night matchup in week 17 after Bills safety Damar Hamlin suffered a cardiac arrest on-field 9 minutes into the game.
The Bills are -5.5 favorites on Sunday afternoon (3:00 PM ET, CBS) but 66% of the betting public likes the Bengals and the points in what many believe will be a very close game. The total has dropped from 50 to 48.5 but most would assume this is going to be a high scoring contest with Cincinnati's #8 and Buffalo's #2 total offense. Buckle up, this should be a great one.
Why Cincinnati Can Cover +5.5
Maybe this is just what Burrow does? He won the National Championship at LSU in 2019, hurt his knee 10 games into his rookie season in Cincinnati (2-7-1), and then led the Bengals to the Super Bowl in his first fully healthy NFL year in 2021. Cincinnati won games at Tennessee (19-16) and at Kansas City (27-24 OT) last year in the playoffs so they can go on the road and win.
Cincinnati is also hot coming into the Bengals at Bills betting matchup, winners of 9 straight including last week's 24-17 wild card win over the Ravens. The Bengals offense wasn't great with just 183 yards passing and 51 rush yards in the wild card round, but Baltimore had a top 10 defense in the NFL and were even better after acquiring LB Roquan Smith from Chicago at the trade deadline.
The Bills won 34-31 last week against Miami, a closer game than expected (BUF -14) considering the Dolphins were starting 3rd string QB Skylar Thompson. Granted the Miami offense only had 231 total yards, but Buffalo was sloppy (2 INTs, 1 fumble) and if they play like that again the Bengals won't be so forgiving.
Why Buffalo Can Cover -5.5
The Bills got their 'lemon' of the playoffs out of the way last week, and although Allen had 2 INTs and a fumble in the first half against Miami he never fretted and guided Buffalo back from a 24-20 2nd half deficit. Allen finished with 352 yards and 3 TDs to go along with his 3 turnovers.
The Bills can cover -5.5 on Sunday because they are 7-1 at home this year, and had a 47-17 win against the Patriots at home against the Patriots last year before going on to Kansas City and losing 42-36 in the divisional round. The NFL (and TV execs) wants Bills vs Chiefs again next week for the AFC Championship Game, especially since it would be a unique game held at neutral site Atlanta since Buffalo had one less game during the regular season.
Both of these teams' passing offenses are a toss-up and will move the ball up and down the field. You have to think the Bills have the edge in intangibles though, their #6 overall defense against Cincinnati's #16 and Buffalo's #7 rush offense against the Bengals' #29 unit. Being at home in front of the Bills Mafia doesn't hurt either.
Free Pick: The side could go either way, just sit back and take the 'over' 48.5 as these two QB assassins do their work.