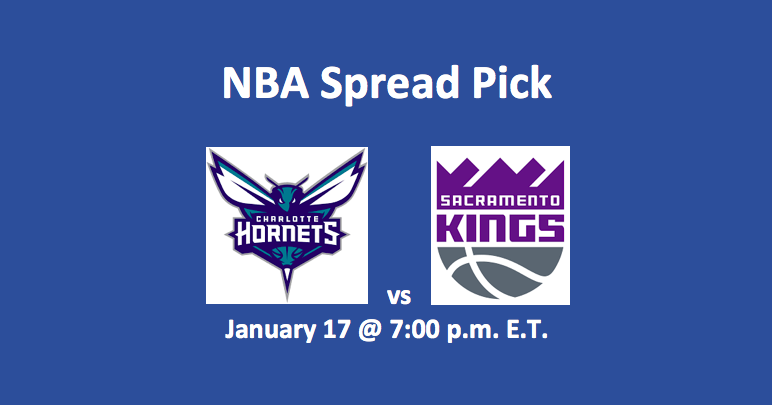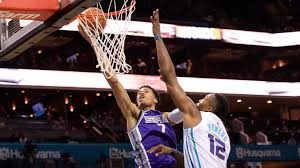 Our Hornets vs Kings pick features one team, Charlotte, that is back home after a disastrous 2-4 road trip. On that trip, the Hornets were outscored on average by opponents 114.6-to-106.5. The other team, Sacramento went on a four-game skid in late December, only to go 4-1 in January.
The Sacramento Kings (23-21 Overall, 9-11 Away) have not won a road game since Dec. 16 when they beat Dallas 120-113. The visiting Kings come to Charlotte with a with a record of 21-22 and an away mark of 9-11. They are fourth in the Pacific Division and 10th in the NBA West, one game away from a playoff spot. The Charlotte Hornets (20-23 Overall, 14-8 Home) have a home record of 14-8 and are 20-23 overall. Second in the Southeast Division, where the 21-21 Miami Heat occupy first place, the team presently sits in the eighth and final Eastern Division playoff spot.
Players to Watch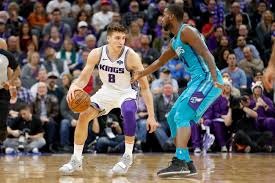 The Kings are deep at guard with the top point-makers being SG Buddy Hield and PG De'Aaron Fox with 20.1 and 17.9 PPG respectively. Plus, SGs Bogdan Bogdanovic and Iman Shumpert are putting in on average 15.4 and 9.2 points per game each. Those four-player's combined field goal success rate is at 45%. Also, in dishing off assists, Fox is averaging 7.3 per game. When Fox is distributing the ball, the Kings are putting up points. In front, center Willie Cauley-Stein and power forward Marvin Bagley III offer some fine scoring and rebounding chops. They're combining for 26.0 points and 15.3 rebounds a game.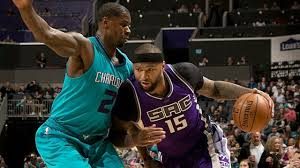 Our Hornets vs Kings pick finds that Charlotte is also deep when it comes to guards who can score. PGs Kemba Walker (25.2 PPG) and Tony Parker (9.4 PPG) and SGs Jeremy Walker (15.2 PPG) and Malik Monk (10.4 PPG) are hitting a combined 43.5% of their field goals. Walker, who's averaging 5.7 APG, is the playmaker, while Lamb, who's taking down 5.6 RPG, is a solid penetrator. The Charlotte frontcourt will be without center Cody Zeller for about five weeks. Zeller, who underwent hand surgery, is the team's top rebounder with 6.4 per game. He's also averaging 9.3 PPG. The Hornets have not been able to plug the hole left by Zeller. PF Marvin Williams, with 10.0 PPG and 5.7 RPG, provides support in front.
Overall, our Hornets vs Kings pick likes Sacramento when it comes to players and player depth. Both sides can score from outside, but the Kings put a more productive frontcourt on the wood, and they are more accomplished when it comes to ball movement.
Edge: Sacramento
Trending Possibilities
Our Hornets vs Kings pick has looked at some basic numbers and then crunched a few others. Here's what we found. Sacramento is averaging 114.7 PPG and allowing opponents 115.4 PPG. The Hornets are scoring 112.0 PPG and giving up 111.8 PPG. Both teams are near even in PF/PA differential and very close in totals. Over their last five wins, the Kings have scored an average of 111.8, while the Hornets have averaged 99.2 PPG in losses. A stat that really stands out is that in their last five losses, Sacramento is averaging 112.8 PPG. When Charlotte has won the last five times, they've score 110.0 PPG. These two statistics completely eradicate the spread. However, in wins, the Hornets are allowing opponents only 97.0 PPG. That stat is kind to Charlotte beating the spread.
However, overall, there's a good chance here that the Kings will either win or keep the game close. We think Sacramento holds an advantage when it comes to recent trends.
Edge: Sacramento
Home vs Away
Our Hornets vs Kings pick notes that overall Sacramento is a team that struggles on the road, and Charlotte is a club that does well at home. In first games of long road trips (three games or more), the Kings are 2-1. Coming off of long road trips, the Hornets are 1-1. As a home favorite, Charlotte is 9-9-0 this season, while as an away dog, Sacramento it 6-9-0.
Edge: Hornets
Our Hornets vs Kings Pick
Here one more stat before we offer our Hornets vs Kings pick. Against the spread as an underdog, the Kings are 17-15-1. Charlotte is 11-13-0 ATS as the favorite. In this preview, more chips come down on the side of the Kings than on the side of the Hornets. Our spread pick is the Sacramento Kings at +3.0. We've also got the totals pick for this matchup between the Kings and Hornets.
Summary Charlotte Hornets vs Sacramento Kings Spread Pick: Sacramento at +3.0