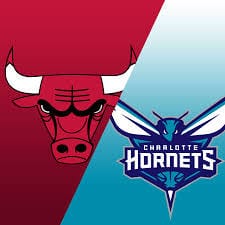 The Charlotte Hornets (19-15) visit the Chicago Bulls (16-18) on Monday, Jan 2, 2017. The Hornets are fourth in the Eastern Conference while the Bulls are 10th. Charlotte lost their last game 121-109 to the Cleveland Cavaliers. They're 5-5 for their last 10 and prior to their loss had won two straight. Overall, in our Hornets play Bulls free pick, we find that Charlotte is playing fairly consistent basketball.
The Bulls have lost two straight with the Pacers beating them 111-101 and the Bucks taking them down 116-96. Our Hornets play Bulls free NBA pick and analysis will be affected by the fact that there's a controversy brewing in Chicago That controversy centers on PG Rajon Rondo who has been benched and looks to have a meeting with management soon.
In terms of division standings, the Hornets are first and 1.5 games ahead of the second place Hawks in the Southeast. The Bulls are fourth in the Central and 10 full games behind the first place Cavaliers. Charlotte is scoring on average 104.9 PPG and allowing 102.6 for a PF/PA margin of +2.3. Chicago is averaging 100.5 PPG while allowing 100.6, making their PF/PA -0.1.
Charlotte Hornets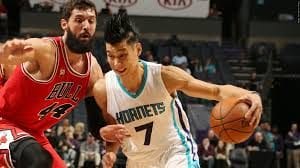 The Hornet roster has six players averaging double figures in points, which means there's plenty of shooting to go around. Point guard Kemba Walker (22.7 PPG, 4.0 RPG. 5.4 APG) leads the team in scoring. He's hitting 46% of his field goals and 41% of his threes. Shooting guard Nicolas Batum (14.7 PPG, 7.6 RPG, 5.9 APG) is second in scoring and is tops in rebounding and assists. Charlotte uses a lot of ball movement and makes good use of its outside game. They're sinking 35% of their three-point shots. They're also hitting 48% of their twos. Both numbers are better than Chicago's percentages.
Chicago Bulls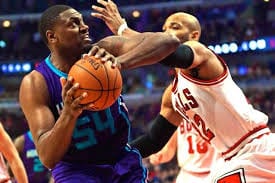 The Bulls have three players who are averaging double digits in shooting. Small forward Jimmy Butler (26.6 PPG, 6.6 RPG, 4.3 APG), shooting guard Dwyane Wade (18.8 PPG, 4.1 RPG, 3.7 APG), and power forward Taj Gibson (12.0 PPG, 6.9 RPG) all contribute mightily. The Bulls are a sound rebounding team and very good at grabbing offensive rebounds. They're taking down two more rebounds per and four more offensive rebounds per game than the Hornets. They're also more solid from the foul line hitting 80% of their frees, while Charlotte is knocking down 77%.
Our Hornets Play Bulls Free NBA Pick
There are a few things to consider regarding this game. First, the Hornets have a deeper bench. Guys coming off the bench for Charlotte are contributing more than those on Chicago. The Hornets' bench is ranked 12th, while Chicago's is 26th. Bench players on Charlotte are contributing 38.7 PPG, while those for the Bulls offer 29.0
Also, the Hornets are moving the ball around better and setting up plays. Finally, the Bulls are dealing with the controversy coming from a disgruntled Rondo. Our Hornets play Bulls free NBA pick is Charlotte at even.
Game time is 8:05 p.m. ET on Jan. 2, 2017.
Our Hornets Play Bulls Free NBA Pick: Charlotte even