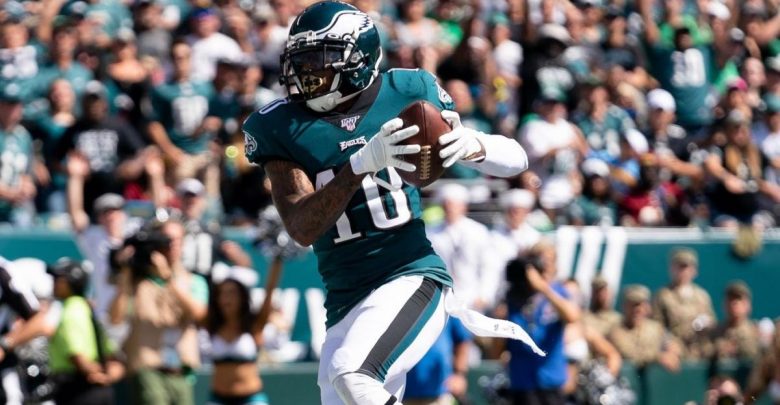 Week 2 of the NFL season brings some terrific matchups, but perhaps none bigger than the Sunday Night Football matchup. The Atlanta Falcons are set to host the Philadelphia Eagles in a matchup of two of the last three NFC champions. Both of these teams feature terrific offenses with great quarterbacks, and there should be plenty of points scored in this game.
Philadelphia struggled at times in its Week 1 victory, but they managed to find some offense in the second half. The Eagles earned a come-from-behind 32-27 win over the Washington Redskins in the season opener and have plenty of momentum heading into this game. The Falcons did little right in their 28-12 loss to the Minnesota Vikings in the season opener. Atlanta has plenty of questions to answer heading into this matchup. Philadelphia is a 2.0-point favorite in this matchup with the Atlanta Falcons.
Falcons Need Balance on Offense
If the Atlanta Falcons are going to score some points in this game, they are going to have to find more balance on offense. Quarterback Matt Ryan threw for over 300 yards in Week 1, but the Falcons failed to have anyone run for more than 32 yards. Wide receiver Julio Jones continues to be one of the biggest weapons in football, but teams can load up to stop him if the Falcons can't run the ball. Atlanta must establish a running game if they are going to beat the Eagles.
The Falcons actually played pretty well on defense in their Week 1 loss, but they struggled to keep the Vikings out of the end zone. Atlanta did only record one sack in that loss to the Vikings and getting pressure on Carson Wentz will be a huge key in this game. If the Falcons can put together another solid defensive performance, their offense can do the rest.
Eagles Are Loaded With Weapons
The Philadelphia Eagles are absolutely loaded with weapons on the offensive side of the ball, and that helped them secure a win in Week 1. Wide receiver DeSean Jackson had 154 receiving yards in the Week 1 win, and he made a ton of big plays. Quarterback Carson Wentz had 313 passing yards in the season opener, and he looked like he was fully recovered from last season's injury.
Philadelphia struggled on defense for much of the opener, but they got enough stops when they needed to. The Eagles only had one sack in Week 1, and they clearly missed Michael Bennett on the defensive side of the ball. Philadelphia will need to get some pressure on Ryan if they are going to win this game.
Falcons Fall To 0-2
There is reason to believe that the Atlanta Falcons will play much better this weekend, but they are also taking on a terrific opponent. The Falcons can really score on offense, but they just have too many question marks on defense. Philadelphia looked really sharp at times in their season opener, and they should be a Super Bowl contender this season. The Eagles are 2.0-point favorites in this game for a reason, and they will win this one on the road. Bet the Philadelphia Eagles -2.0 over the Atlanta Falcons in this game.