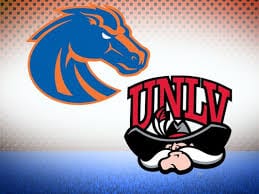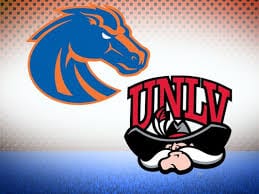 Our Friday night NCAA Football free pick UNLV plays Boise State and offers bettors a challenge. The spread is at 29.5 points with Boise State favored. Once again, the Broncos are given a huge advantage in a contest. Will they cover? They certainly did against Hawaii. Can they do it again tonight when they meet the Rebels at home on their blue turf?
UNLV (4-6 Overall, 3-3 MWC) is second in the West Division of the Mountain West Conference. In a madcap game last week, they beat first place Wyoming 69-66. By doing that they did the Broncos a favor, as Wyoming had taken down Boise State earlier in the year. By beating the Cowboys, UNLV helped Boise State assume the top spot on the Mountain Division of the MWC. Prior to that surprise win, the Rebels lost to San Jose State (30-24) and Colorado State (42-23). UNLV did beat Hawaii 41-38.
Last week, Boise State (9-1 Overall, 5-1 MWC) defeated Hawaii 52-16. The week before they beat San Jose State 45-31. Their one loss, which as noted was to Wyoming, occurred on October 29. That score was 30-28. Other wins include BYU 28-27 and Colorado State 28-23. The Broncos have certainly had some blowouts this year, but at the same time, they have played numerous games where they should have won big, and, instead, squeaked by. Which will this game be?
UNLV Rebels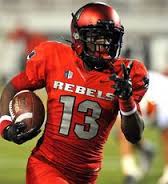 UNLV is scoring an average of 34.5 PPG, while allowing 35.5 PPG. More than half of their 424.8 yards of offense per game have occured on the ground. On defense, they are giving up 427.0 YPG with 261.6 in the air and 165.4 on the ground. The question is can they score enough points against the Broncos who are allowing opponents 22.0 PPG.
UNLV's offense revolves around RBs Charles Williams (115 ATT, 665 YDs, 5.8 AVG, 3 TDs) and Lexington Thomas (120 ATT, 632 YDs, 5.3 AVG, 8 TDs). QB duties may fall to Kurt Palandech (54.5%, 4 COMP, 1 TD). Palandech has played sparingly, but led the team to victory against Wyoming last week. On the ground, he's averaging 7.9 yards and he has two rushing TDs. He's the wild card in this game.
Boise State Broncos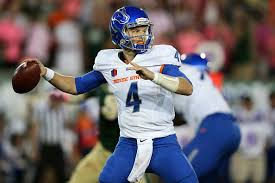 Boise State has an explosive offense. QB Brett Rypien (65.0 COMP%, 22 TDs, 6 INTs) is an efficient and productive leader. Thomas Sperbeck (62 REC, 1023 YDs, 16.5 AVG, 9 TDs) and Cedric Wilson (44 REC, 827 YDs, 18.8 AVG, 9 TDs) are his two main pass catchers. RB Jeremy McNichols is a dual threat. He has 242 carries for 1369 yards and 18 rushing TDs. He's averaging 5.7 yards per run. As a receiver, McNichols has 31 receptions and four touchdowns. He's averaging 13.8 YPC.
Boise State is averaging 36.5 PPG, while, as noted before, allowing 22.0 PPG. Of their 497.8 average total yards of offense per game, 314.8 is through the air and 183.0 on the ground. At the same time, they are giving up 389.1 YPG with 223.6 in the air and 165.5 on the turf.
Friday Night NCAA Football Free Pick UNLV Plays Boise State
In putting together our Friday night NCAA Football free pick UNLV plays Boise State, we have considered how many games the Broncos have won this season by 30 points and how many the Rebels have lost by 30. For Boise State, the answer is there have been two wins by 30 or more points. For UNLV, the answer is there have been no losses by 30 or more points.
We do believe Boise State will win but not by 30 points. Take UNLV at +29.5. The game will be played tonight with kickoff scheduled for 9 p.m. ET.
Friday Night NCAA Football Free Pick UNLV Plays Boise State: UNLV at +29.5