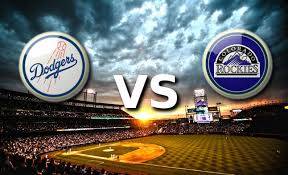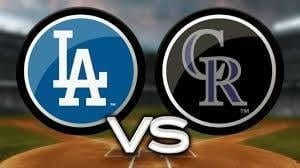 Here we go with a big NL West, three-game series, and we have a big Colorado Rockies play Los Angeles Dodgers Friday free pick. This season Colorado leads the series five games to four. The Rockies (47-28 Overall, 25-13 Away) are a solid team. Over their past 10, they've gone 6-4 having lost their last two. The Dodgers (48-26 Overall, 29-10 Home) have the best home record in MLB. They're nine of their last 10 and have won seven straight. Despite these great numbers and their first-place standings in the NL West, they are just 1.5 games ahead of the Rockies. Colorado is at +190 while LA is at -195; the over/under of 8.0 runs is at -107.
Pitching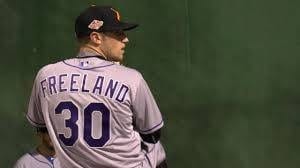 The Rockies will start rookie lefty Kyle Freeland (8-4, 3,42 ERA), a 2014 first-round pick who is one of Colorado's four starting rookies. He is the Rocky ace and in his first season, he's 10 of his 14 starts have been quality affairs. He's a ground ball pitcher who's getting batters to hit grounders approximately 60% of the time. His sinker is especially effective and often frustrates batters. He's allowed only eight homeruns this season, which means his sinker has been effective. In April, Freeland started against the Dodgers twice, posting a 1-0 record and a 1.80 ERA.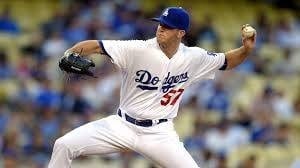 Los Angeles starts Alex Wood (7-0, 1.90) tonight. In his most recent appearance versus Colorado, Wood allowed five hits and one walk over six innings. Over the past 10 times he's taken the mound against the Rockies, he's 6-0 with a 2.08 ERA. In his career against Colorado, Wood has made seven appearances posting 3-2 record and 5.59 ERA.
Hitting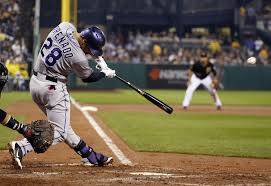 The Rockies bring a .274 BA to this game and a penchant for hitting doubles, as they've accumulated 135. They've also stroked 90 homers. Third baseman Nolan Arenado (.301 BA, 59 RBI, 15 HR) tops the team in RBI and doubles (27). Mark Renolds (.301 BA, 56 RBI, 18 HR) leads the club in round trippers while Charlie Blackmon (.326 BA, 56 RBI, 16 HR) contributes massively, leading the club in batting average.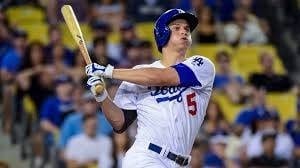 The Dodgers, who are hitting .255 as a team, have stroked 101 homers and 148 doubles. Shortstop Corey Seager (.293 BA, 38 RBI, 12 HR) has the highest batting average on the club while left fielder Cody Belanger (.271 BA, 49 RBI, 22 HR) leads in homers and RBI. Seage and Belanger are essential to this team's offense. Yasiel Puig (.244 BA, 40 RBI, 13 HR) is hitting almost 40 points below his career batting average. However, in June he's hitting .286, which is right in line with what's expected.
Colorado Rockies Play Los Angeles Dodgers Friday Free Pick
Wood is certainly a major force and having a stellar season. Ferland has handled Dodger hitters well. This should be a very tough pitching matchup. In our Colorado Rockies play Los Angeles Dodgers Friday free pick we're taking Colorado at +190 and the under of 8.0 runs at -107. The game is at 10:10 p.m. E.T.
Colorado Rockies Play Los Angeles Dodgers Friday Free Pick: Colorado at +190 and under of 8.0 at -107