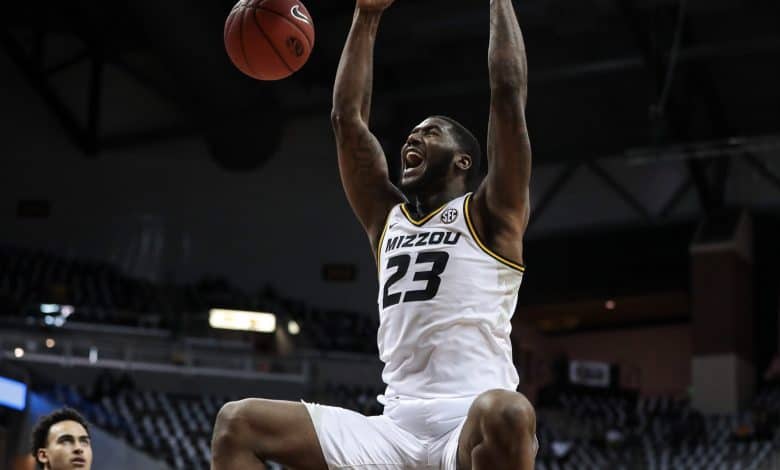 The top two teams in the SEC meet up Saturday in the February 6th Alabama at Missouri pick. The Crimson Tide are #10 in the country, while Mizzu fell 6 spots to #18 despite beating Kentucky 75-70 last time out. The Tigers have gone 7-1 at home this season.
Alabama is a -2.5 road favorite in this matchup, and why wouldn't they be after going 10-0 in the SEC so far, with 7 of those victories coming by double digits. The Tide did lose in their last road game though, falling 66-61 at #9 Oklahoma as -3.5 favorites. Both teams dominated on their home floor last year, with Missouri getting a 19-point win and Alabama cruising by 14.
Tough to Go Against Alabama
Both teams have some value in the February 6th Alabama at Missouri pick. The Tigers are 7-1 at home on the year but Alabama has gone undefeated in SEC play so far. Last time out the Crimson Tide showed that even when they're bad they're good, beating LSU by 18 despite their two lead scorers hitting 1 of 11 three pointers.
Both John Petty, Jr. and Jaden Shackelford should have bounce back shooting games, although Shackelford still played well with 19 points vs. LSU. The Crimson Tide defense did about as good of a job as you can expect on LSU star Cameron Thomas, giving up 22 points to the SEC's leading scorer.
What Nate Oats' team must do on Saturday is find a way to stop 6'10", 260 pound Jeremiah Tilmon. The Missouri big man had games of 21 points 10 boards and 33/11 before being held to 8/5 vs. Kentucky. Alabama's Jordan Bruner has the height at 6'10", but he's also giving up 35 pounds to Tilmon. The Crimson Tide are the #2 rebounding team in the SEC though, so this will be a team effort.
Getting Tilmon Back on Track
Those were Shaq-like numbers for Tilmon, scoring a combined 54 points, grabbing 21 rebounds, and swatting 9 blocks, but they came in a loss to Auburn and an OT win over TCU. Clearly Missouri does better when they have a more balanced attack, and they've got the horses to do that Saturday.
Dru Smith kicked in 26 points in the win over Kentucky on Wednesday, the second time he's gone for 20+ in the last three games. Xavier Pinson had 36 points in the loss to Auburn and 27 two games prior in a win over Tennessee so the Tigers have three players with consistent big game potential.
The Tigers also put it on Alabama when the teams met up in Columbia last season. That 69-50 win came as just -2 point favorites and was fueled either by great Missouri defense or atrocious Alabama shooting. The Crimson Tide were just 14-46 from the floor (30%) and 4/25 from three point range. Mizzu won despite shooting only 5-19 from three but did hold a 38-25 rebound advantage.
Free February 6th Missouri at Alabama Pick
Alabama has been great in SEC play, but they're going to meet a Missouri team on a mission on Saturday. The Tigers are at home, where there will be 3,000+ fans and they also have three scorers that can go for 25+ on any given night, or in this case afternoon.
Missouri 74 – Alabama 70
Free Pick: Missouri +2.5