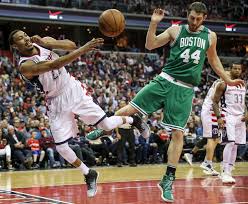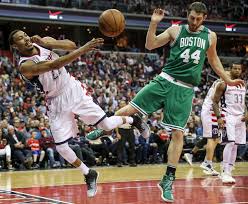 We have our Washington plays Boston 2017 NBA East Semifinals free pick with the Celtics favored by 4.5 points. Thus far this has been a home court series. Boston took the first two games winning on April 30 by a score of 123-111 and on May 2 by a 10-point margin 129-119. That was the overtime game in which Boston's Isaiah Thomas brought the team back and scored 53 points. Boston travelled to Washington's home court on May 4 and in a very physical and emotional game lost to the Wizards 116-89. The fourth game, which was played on May 7, saw Washington tie the series at two games each as they won 121-102. In a series where home court seems very important, the Celtics appear to have a small edge.
Important Players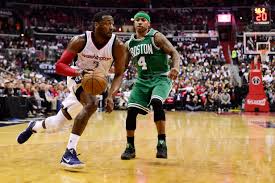 PG John Wall continues to be hot and when SG Bradley Beal follows suit the Wizards are impossible to stop. Three-point shots are great to hit, but these two players can really pour in the two-pointers, making them very dangerous. Center Marcin Gortat is snagging 11 rebound per game while completing 52% of his shots. SF Otto Porter Jr. and PF Markieff Morris continue to play solid basketball, making this a real team effort.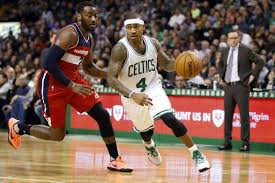 Isaiah Thomas has proclaimed that he and the Celtics will come through tonight in what he says is the "biggest game" of his life. Generally, Thomas talks the talk and walks the walk. He's a dangerous, two-way player who can put it into high gear in the fourth quarter. Thomas is the team's leading point scorer, averaging 25.6 PPG, and he's good for about six assists per game. SG Avery Bradley, who plays across from Thomas, is pumping in 14 PPG. In the frontcourt, center Al Horford is a major force, taking in 7.6 RPG, making 6.0 APG, and scoring 15.5 PPG. Also important in the paint is SF Jae Crowder and backup center Kelly Olynck. Olynck has created controversy on the court due to his physical play and hard picks.
Five Keys to the Game
Celtics went cold in game four; if they do it again, they lose again
How closely officials call this game
Isaiah Thomas stepping up and getting team support
Wizard guards scoring 50 points means a Washington win
Battle under the boards will determine team dominance
Washington Plays Boston 2017 NBA East Semifinals Free Pick
This is bound to be an emotional game due to Thomas's situation, having lost his sister, and the bad blood between these two teams. Controlling that emotion and channeling it will be important. I think that the Celtics rebound tonight and keep it close, if not win it outright. Our Washington plays Boston 2017 NBA East Semifinals free pick is Boston at -4.5 points.
Washington Plays Boston 2017 NBA East Semifinals Free Pick: Celtics -4.5