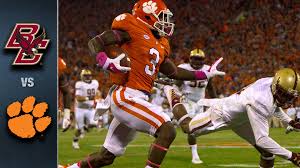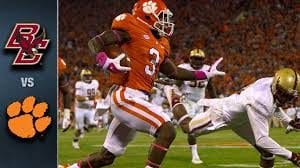 It's our week five college football free pick featuring #3 Clemson Tigers at the Boston College Eagles. In this free pick Clemson plays Boston College on Friday night at 7:30 pm at Alumni Stadium. The Tigers are perfect at 5-0, while the Eagles are 3-2. Clemson is 2-0 in the Atlantic Coast Conference play and Boston College is 0-2 in the ACC. Let's see how this ACC game will play out on Friday night, October 7, 2016.
Clemson Tigers Analysis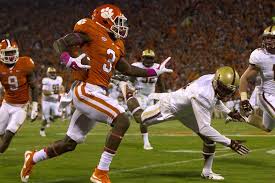 The Clemson Tigers started the 2016 NCAA season squeaking by the Auburn Tigers (SEC) by a score of 19-13. That's the closest game they've played thus far. They went on to beat Troy 30-24, South Carolina State 59-0 and Georgia Tech 26-7, also in the ACC. They met a huge challenge last week by taking down the number-three Louisville Cardinals 42-36. This win against the Cardinals not only allowed the Tigers first place in the ACC Atlantic but it made them third in the national rankings.
Two things are for sure: Clemson can score points, as they are averaging 35.2 PPG, and they can stop opponents from scoring, as they are allowing just 16.0 PPG. We expect both to be true in this game. Here are some of their strengths.
For the offense, it starts with QB Deshaun Watson (60.8 COMP%, 14 TDs, 7 INTs). Watson, who is big and strong, is an able passer and strong runner. Along with tossing 181 passes and completing 110, he has rushed for 211 yards on 49 carries while averaging 4.3 YPA. Mike Williams (25 REC, 14.9 YPC, 2 TDs) and Ray-Ray McCloud (24 REC, 11.3 AVG, 2 TDs) are his top receivers. Wayne Gallman (79 ATT, 366 YDs, 4.6 AVG, 4 TDs) is the team's major force on the ground.
The BC Eagles will have a very tough time defending against this club. It's true that they are only allowing 17 PPG, but that's against teams like Wagner, University of MA and University of Buffalo. They lost to Virginia Tech 49-0. Also, they lost their initial game, which was against Georgia Tech, 17-14. Clemson beat GT 26-7.
Boston College Eagles Analysis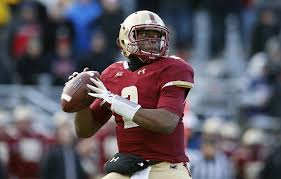 The Eagles defense has played well overall, but they have struggled against better teams. That will pose some problems when the Eagles play the Tigers, as Clemson is certainly the best club BC has faced this year. The Eagles, who are scoring an average of 23.4 PPG, bring a very good ground attack to the field. However, their passing game is lacking.
RB Jon Hillman anchors the rush attack, averaging 3.39 YPC while scoring five touchdowns. Jeff Smith is the team's primary pass catcher. He has 14 receptions for 247 yards while averaging 17.6 YPC and notching three TDs. QB Pat Towels (50.9 COMP%, 6 TDs, 3 INTs), a senior, is not as solid as one would like him to be.
The Eagles have fewer tools than Clemson and are a fairly young club too. As noted, they struggled against Virginia Tech and could not take down Georgia Tech, which was a club that Clemson easily beat. This meeting for BC will be more like the VT game than the GT contest.
Free Pick Clemson Plays Boston College
The Clemson Tigers are favored by 17.0 points. That may seem like a lot, but we feel with this game and these two teams that's not the case. The Tigers beat the spread in this one.
Our Free Pick Clemson Plays Boston College: Clemson Tigers -17.0