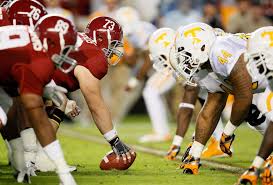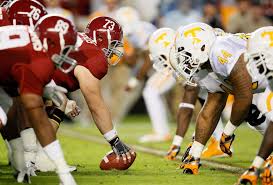 In this free pick Alabama plays Tennessee today at 3:30 pm at the Vols' home field. The #1 Alabama Crimson Tide (6-0) are favored over the #9 Tennessee Volunteers (5-1) by 13.5 points. Both teams call the SCC their home and while the Vlos are in first in the East, the Tide is in second in the South. First place in the South Division is currently held by the Texas A&M Aggies (6-0). The Aggies are 4-0 in the SCC while Alabama is 3-0. Texas A&M will not play this week. Last week they handed Tennessee their first loss, and next week the Aggies play the Crimson. That could be a huge game especially if Alabama loses to Tennessee today. Then again, only time will tell with that matchup. Here's a close look at this week's free pick for Saturday afternoon, as the Crimson Tide take on the Volunteers.
Alabama Crimson Tide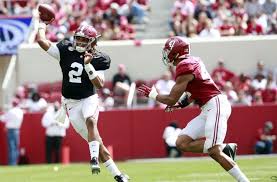 Alabama brings a balanced attacked to the field. Freshman QB Jalen Hurts (63.8 COMP%, 9 TDs, 2 INTs, 5 Sacks) has passed for over 1,200 yards and has run for another 296. He is averaging 4.6 YPA on the ground and has five rushing touchdowns. The Tide has three other players who can also roll up yards on the ground. Sophomore Calvin Ridley (34 REC, 412 YDs, 12.1 AVG, 4 TDs) is a major offensive force and the team's leading receiver. ArDarius Stewart (18 REC 325 YDs, 18.1 AVG, 3 TDs) is also a premium receiver.
The Tide D has played well against unranked team. In three games against nationally unranked clubs, they've allowed just 10 points. But against ranked teams, the Tide has allowed 79 points. They are solid against the run, but have a tough time shutting down the pass. A major problem for the Vols is the loss of premium running back Jalen Hurd (101 ATT, 407 YDs, 4.0 AVG, 2 TDs). Hurd is out for this game.
Tennessee Volunteers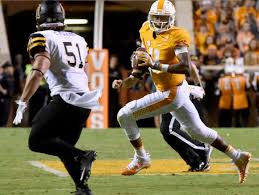 For the Vols, senior QB Joshua Dobbs (58.3 COMP%, 14 TDs, 8 INTs, 14 Sacks) will be throwing and running the ball. Along with tossing 14 scores, he's run for five more, averaging 4.0 YPC. Dobbs two biggest concerns are sacks and picks. And both are bound to be big concerns against Alabama. Junior RB Alvin Kamara (56 ATT, 292 YDs, 5.2 AVG, 2 TDs) will try to make up for that loss. Tennessee has three top pass catchers. Receivers Josh Malone (17 REC, 241 YDs, 20.1 AVG, 3 TDs) and Jauan Jennings (17 REC, 281 YDs, 16.5 AVG, 3 TDs) can both make big plays.
The Tennessee D is allowing almost 27 PPG, and against ranked teams, they are giving up just over 32 PPG. It won't be easy for them to stop the Tide. However, the Vol defense has been able to play well enough to always keep the team in the game. We think they will do the same today.
Free Pick Alabama Plays Tennessee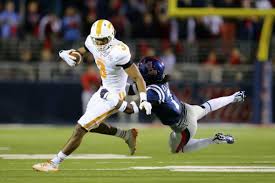 In our free pick Alabama plays Tennessee, and we think that the Tide will win. At 14, the point spread is cutting it close for us. Still, when we consider the Alabama defense against the run and their balanced attack, we certainly like the Tide. Whether the Vols have won or lost against a ranked team this season, and they have played three, the scores have always had a differential of 10 or fewer points.
Tennessee lost in OT last week and they are at home. Both of these facts are great motivators. We look for Alabama to win this one on the ground. Take Tennessee at +14.0.
Free Pick Alabama Plays Tennessee: The Volunteers at +14