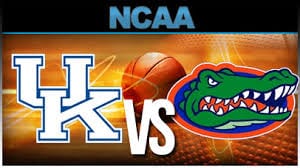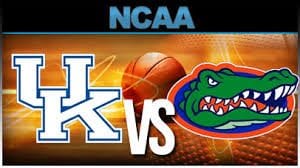 In the SEC, the #13 Florida Gators (25-5 Overall, 13-2 SEC) ) are tied for first with the #11 Kentucky Wildcats (25-5 Overall, 13-2 SEC). These two teams meet today at 2 p.m. ET at Rupp Arena in a game that may surely determine who finished first in the conference. When these two teams met early this season just a few weeks ago, the Gators beat the Wildcats 88-66. In our Florida plays Kentucky college basketball free pick we ask the question can Kentucky reverse that outcome and step up in a game that has a lot riding on it?
Since that meeting, the Gators have continued to win. They are 5-0 for their last five, beating Georgia 72-60 on Feb. 7 and Texas A&M 71-62 on Feb. 11. They then took down Auburn 114-95, Mississippi State 57-52, and South Carolina 81-66.
Since they lost to the Gators on Feb. 2, the Kentucky Wildcats have gone 5-0. They beat LSU 92-85 on Feb. 7 and Alabama 67-58 on Feb. 11. The Cats were also victorious over Tennessee 83-58, Georgia 82-77, and Missouri 72-62.
#13 Florida Gators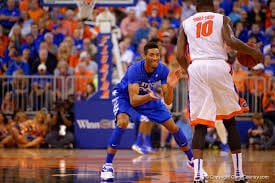 The Gators are scoring 79.6 PPG while allowing 65.9. The team is sinking 45.4% of its shots, pulling down an average of 35.7 RPG, and completing 13.0 APG.
Florida will be looking to get some points from backcourt players KeVaughn Allen (13.6 PPG, 46 FG%, 40 3PT%) and Canyon Barry (12.7 PPG, 43 FG%, 35 3PT%). Forwards Devin Robinson (11.2 PPG, 5.8 RPG, 49 FG%) and John Egbunu (7.8 PPG, 6.6 APG, 49 FG%). Egbunu is a sold force in the paint, and Robinson can score from the outside as well as inside. Guard Kasey Hill (9.2 PPG, 4.9 RPG, 42 FG%) is a decent setup man.
#11 Kentucky Wildcats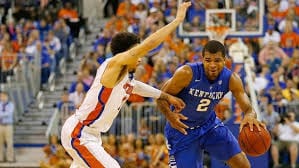 College The Wildcats top the Gators in just about every major stat including PPG at 88.2, shooting percentage at 48.2, rebounds per game, 40.6 and assists per game at 16.4. However, Florida is better on points allowed per game, as Kentucky is giving up 72.8.
Three guardS and three forwards are the heart of Kentucky's offence. The backcourt includes the team's top scorer Malik Monk (21.1 PPG, 47 FG%, 41 3PT%) and their top assist man Isaiah Briscoe (13 .5 PPG, 5.4 RPG, 47 FG%). Guard De'Aaron Fox (15.5 PPG, 5.3 APG, 46 FG%) offers points and rebounds as well as some fine defensive skills. The frontcourt provides three dominating players, including Derek Willis (7.1 PPG, 4.7 RRG, 50 FG%). Other top players in the paint are Edrice Adebayo (13.1 PPG, 7.4 APG, 61 FG%) and Wenyen Gabriel (5.9 PPG, 5.7 APG, 46 FG%).
Florida Plays Kentucky College Basketball Free Pick
The Gators have a PF/PA differential of +13.7 and the Wildcats offer a differential of 16.2. That stat may prove to be important especially when combined with others such as RPG, APG and shooting percentage. The cats are at -4.5 and the totals are listed at 155.5. In our Florida plays Kentucky college basketball free pick, we're taking Kentucky and the under.
Florida Plays Kentucky College Basketball Free Pick: Kentucky ay -4.5 and under 155.5