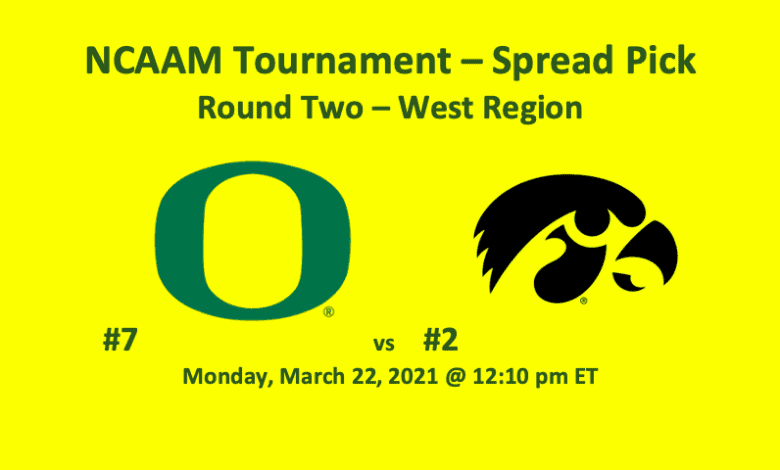 This Oregon vs Iowa pick has the Ducks in the spot of the underdog. This 2021 NCAAM Tournament West Region Round Two game has the Oregon Ducks at +6.5 (-106). The best line for the favored Iowa Hawkeyes is -6.5 (-106). Oregon finished first in the Pac-12 Conference and then lost in the finals of the conference tournament 75-64 to the Oregon State Beavers. Over their last five games, they've gone 4-1. Oregon qualified for Round Two of March Madness when VCU was forced to withdraw from the event due to COVID. The Iowa Hawkeyes, who've won four of their last five games, finished third in the Big Ten. In the conference tournament, the to the Illinois Fighting Illini 82-71 in the semifinals.
The Ducks and Hawkeyes will meet on Monday, March 22 at 12:10 pm ET. The game will take place at Bankers Life Fieldhouse in Indianapolis, IN. Make sure you check out all of our March Madness picks, as we've got every game covered including Oklahoma vs Gonzaga.
Oregon vs Iowa Pick – Stats
The Hawkeyes come to this game averaging 83.8 PPG, 40.1 RPG, and 19.1 APG. The Ducks are averaging 74.4 PPG, 33.0 ROG, and 13.4 APG. However, despite these stats, the shooting stats of these two teams are almost exactly the same. Both are good on 47% of their field goals, 71% of their frees, and 38% of their three-point attempts. Iowa is making two less steals, two less turnovers, and one more block than Oregon.
Key Players
For the Ducks, forward Eugene Omoruyi commands the paint and guard Chris Duarte the backcourt. Each player is recording 16.7 PPG. In addition, Omoruyi is averaging 5.2 RPG and 1.5 SPG while shooting 47.0%. Duarte is good for 4.7 RPG and 1.9 SPG, while hitting 52.4 of his field goals. Also, in the backcourt, LJ Figueroa is recording 12.3 PPG and 6.1 RPG and floor general Will Richardson is dishing off 3.6 APG while hitting for 11.1 PPG and grabbing 3.4 RPG. Finally, forward Eric Williams Jr. is 10.4 PPG and 6.1 RPG.
The Hawkeyes are led by center Luka Garza. Garza is shooting 54.7% from the floor and 42.7% from the arc. He tops the team with 23.7 PPG and 8.7 RPG. Guard Jordan Bohannon is averaging 4.4 APG and 10.9 PPG. His counterpart, Joe Wieskamp, is averaging 14.8 PPG and 6.7 RPG. Three other players are each averaging seven-plus points per game.
Oregon vs Iowa Pick – Final Thoughts
Our Oregon vs Iowa pick likes a lot of what Oregon has to offer. However, one thing they don't have that Iowa does is a complete player like Garza. Plus, Garza has some fine players around him. We are taking the Iowa Hawkeyes at -6.5 (-106).
#7 Oregon Ducks vs #2 Iowa Hawkeyes
Iowa Hawkeyes at -6.5 (-106)