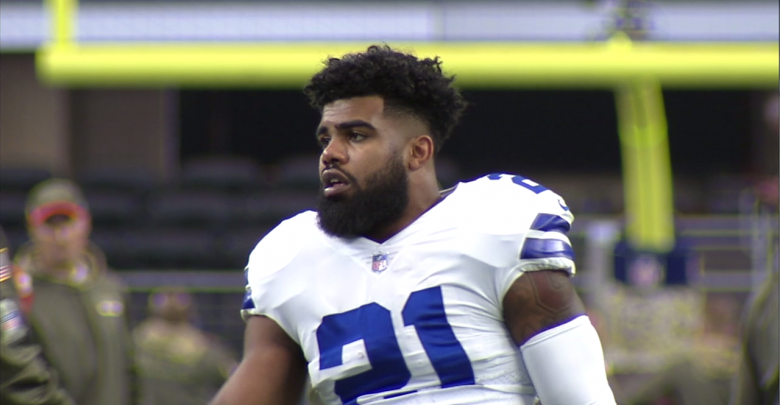 Two of the NFL's most dynamic players are in the midst of contract disputes with their respective teams. Ezekiel Elliott of the Dallas Cowboys and Melvin Gordon of the Los Angeles Chargers are both looking for new deals which will pay them well above their counterparts.
The problem, though, is that teams realize running backs aren't as valuable as they used to be.
All of this plays a part in the sports betting industry too, as prop bets – and even team win totals – could be affected if those contract negotiations aren't settled by the start of the 2019 NFL regular season.
Highly Regarded
According to FanDuel Sportsbook, Elliott currently has +4000 odds to win the MVP award, +300 odds to win the rushing title and +850 odds to score the most rushing touchdowns. He has the highest odds of any player at the running back position for each of the latter two categories.
Elliott will be entering his fourth season having already won two rushing titles, one in his rookie season (2016) with 1,631 yards and the other last year with 1,434 yards, and that was even with missing one game each year. If you recall, he probably could've done it in 2017 but was suspended for six games that season.
Gordon's odds aren't even in the same stratosphere, as he has +6500 odds to win the MVP award, +2600 odds to win the rushing title and +1500 odds to score the most rushing touchdowns. The Chargers running back actually does most of his work in the receiving game, but the rushing numbers aren't too shabby either.
In terms of team win totals, the Cowboys' number is set at 9.0 (over: +100/under: -120), while the Chargers are at 9.5 (over: -160/under: +135). Those make plenty of sense, considering Dallas could certainly take a step back without Elliott's services. Los Angeles, on the other hand, proved to be successful last season even with Austin Ekeler or Justin Jackson in the backfield.
How Do They Play Out?
It will be interesting to see how the Cowboys and Chargers handle the unique situations of each star running back.
In Dallas, Elliott has been involved in numerous run-ins with the law. Maturity has always seemed to be an issue and, to make matters worse, most of the things he's done have been right in the public eye. Granted, he's not at a total menace to society, but you have to wonder what Cowboys brass thinks of his shenanigans, knowing very well that Dak Prescott, Amari Cooper, and others will be looking for big paydays soon.
One thing working in Elliott's favor, though, is the fact that he is a once-in-a-lifetime generational player. Dallas doesn't have anyone close to his level of talent and, for a team that could potentially win a Super Bowl, there's a certainly a case to be made for his services.
The situation in Los Angeles probably looks a lot more grim for Gordon. Not only do they have capable running backs behind him, but Gordon's injury history doesn't really bode well for him in contract negotiations either. Many experts around the league feel like the Chargers have one of the best rosters in football, so it would seem that Gordon would be wise to take whatever deal they give him.
If you're making any prop bets this season, it'd be wise to do so once these situations are resolved. You don't need these guys missing any games and bringing you down in the process.