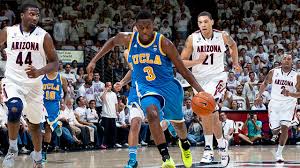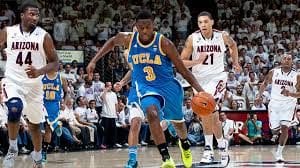 This is a huge Pac-12 game as the #14 Arizona Wildcats (17-2 Overall, 6-0 Pac-12) visit the #3 UCLA Bruins (19-1 Overall, 6-1 Pac-12). The Cats are on a hot streak and ready to move up in the rankings. They're first in the Pac-12. The Bruins bring an awesome offense and solid defense to their home court. UCLA is third in the conference. Our Arizona plays UCLA college basketball free pick has the Bruins at -5.5.
Arizona's last win was 73-66 against USC on Jan. 17 on the road. They've also taken down Arizona State 91-75, Colorado 82-73, and Utah 66-56, amongst others. They're on an 11-game winning streak.
The Bruins have won six straight last beating Arizona State 102-80 on Jan. 19. Before that win, they snuck by the Utes 83-82 and hammered Colorado 104-89. Their one loss was to #21 Oregon 89-87.
#14 Arizona Wildcats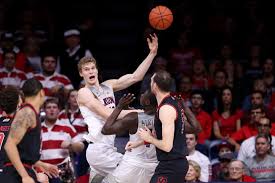 Arizona has two seven-footers upfront, forward Lauri Markkanen (17.0 PPG, 7.4 RPG, 52 FG%) and center Dusan Ristic (11.9 PPG, 6.4 RPG, 56 FG%). Guard Rawle Aikins (12.0 PPG, 5.6 RPG, 41 FG%) offers solid play inside and out, while Parker Jackson-Cartwright, with 5.4 APG, is the best set-up player on the team.
Compared to UCLA, the Wildcats are six percentage points below the Bruins in field goals and five percentage points lower on threes. Arizona has an four percentage point edge in foul shots, but they're giving up more fould per game than the Bruins. They are holding teams to 61.8 PPG.
#3 UCLA Bruins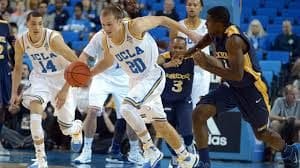 The Bruins offense is scoring an average of 93.3 PPG and knocking down 53.3% of their shots. In the frontcourt, seven-foot junior center Thomas Welsh (10.5 PPG, 8.5 RPG, 55 FG%) is a cagey player who's adept at both offense and defense. At guard, Bryce Alford (17.4 PPG, 50 FG%, 47 3PT%) is a dead-on shooter, while freshman guard Lonzo Ball (14.4 PPG, 5.6 RPG, 8.2 APG) is a top setup guy as well as an accurate shooter. The Bruins have a roster filled with great shooters, including freshman forward TJ Leaf (16.9 PPG, 9.0 RPG, 64 FG%) who's good on 51% of his threes.
UCLA has excellent ball movement, averaging 22.5 APG. Plus, their defense, although giving up 75.6 PPG, is averaging 5.7 BPG. Overall, this is a tough team to stop from scoring, and a club that can control the ball.
Arizona Plays UCLA College Basketball Free Pick
We like the Bruins and all of their firepower at home. In our Arizona plays UCLA college basketball free pick, we're taking UCLA at -5.5. The game has a start time of 4 p.m. ET.
Arizona Plays UCLA College Basketball Free Pick: Bruins -5.5