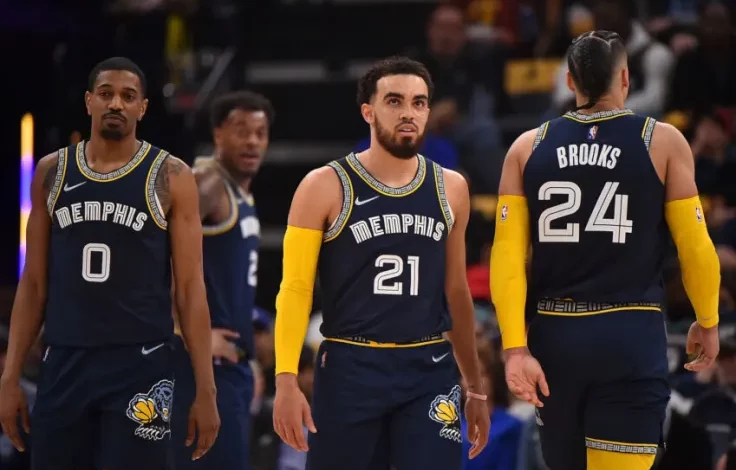 "Whoop That Trick!" was the tune of the Memphis Grizzlies' beatdown of the Golden State Warriors last time out, but the series heads to the Bay for a Game 6 closeout opportunity for the Warriors on home court at 10 p.m. ET on Friday. But a 43-point loss can only be motivation for Stephen Curry and Draymond Green, who danced along with the crowd.
Complicating things for Memphis is Ja Morant being lost for the season. But the Grizzlies were the second-best team in the Western Conference and went 20-5 during the regular season without Morant, so they're comfortable playing without their star.
The line opened at Golden State -8.5 with an over/under of 219.5. Those have since dropped to Golden State -8 and 217.5 as of this writing.
Memphis Can't Have a Letdown
The Grizzlies (62-31 including postseason) are riding high after a 134-95 win to stave off elimination but overcoming a 3-1 series deficit without their star will be a tall order. They have to come out focused and confident and have every reason to do so.
The league's second-best offense showcased its full potential, converting 47.5% of shots and hitting 18-of-41 3-pointers. They averaged 115.6 points per game and grabbed the most rebounds with 49.2 during the regular season. Memphis plays at such a fast pace.
Desmond Bane had a breakout season, and Morant even-handed the Most Improved Trophy he won over to Bane and will need to step it up. Coupled with Dillon Brooks, Tyus Jones, and De'Anthony Melton, the backcourt will be challenged against Curry and Klay Thompson. But they can lean on the frontcourt of Steven Adams, Jaren Jackson Jr., and Brandon Clarke.
Golden State Can Play Within Itself
The Warriors (59-32) averaged 111.0 points per game during the season, league average at 15th, but had the third-best defense. They allowed 105.5 points per game, were second in forcing teams into 43.8% of shooting, and third in holding teams to 33.9% from 3-point range.
In their previous game, the Warriors shot 47.5% from the field and 43.9% from 3-point range. The issue was they turned it over 22 times and were outrebounded 55-37, which is somewhat of a surprise. Golden State was seventh in rebounds at 45.5 per game and limited teams to 42.6 per game, the fifth-best defensive rebounding mark.
Curry, Thompson, Green, and upstart Jordan Poole will likely come out confident with the collection of talent and leadership needed against a young Grizzlies team that many felt overachieved all season.
Memphis-Golden State prediction
Over the last 10 meetings, the Grizzlies have covered eight against the spread and the over has hit six times. The under is 10-4 over the last 14 games in the series. Public money slightly favors the Grizzlies with 51% of bets placed on them to cover and 67% on the over.
The fact that Memphis has played so well without Morant is reason to believe this game will be close, despite the Warriors touting a 35-10 home record.
We'll take Grizzlies +8 but the Warriors to close out the series.