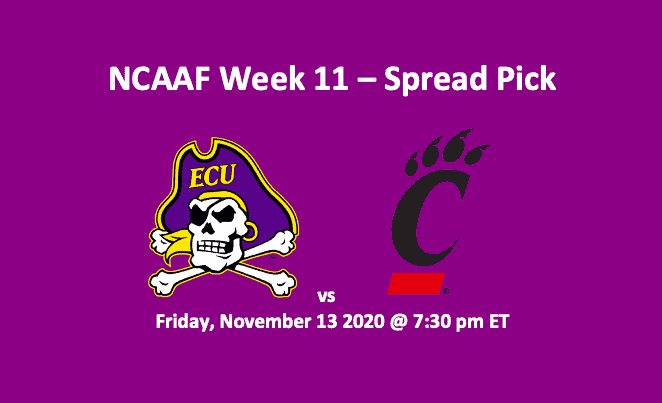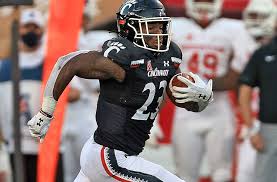 Our East Carolina vs Cincinnati pick has the number seven Bearcats favored by 27.5 (-105). East Carolina, which is one spot away from last place in the AAC, is 1-5 overall and 1-4 in the conference. The team's one win came against the USF Bulls on October 10. The Pirates beat the still-winless Bulls 44-24. Since that victory, East Carolina has lost three straight games. They last played on November 7 when the Tulane Green Wave beat them 38-21.
The #7 Cincinnati Bearcats, who top the AAC, are 6-0 overall and 4-0 in conference play. In the last two weeks, the Bearcats beat the Memphis Tigers 49-10 and the Houston Cougars 38-10. Cincinnati's nonconference wins include a 24-10 victory over #22 Army.
This game will be played on Friday, November 13 at Nippert Stadium in Cincinnati, Ohio. Kickoff is scheduled for 7:30 pm ET. Weather at game time is expected to be clear with winds from the NW at 5mph. Temperatures will be in the low 40s.
East Carolina vs Cincinnati Pick – Stats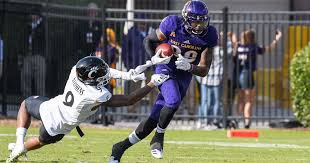 The Pirates are scoring on average 29.2 PPG. However, their defense is allowing opponents 37.2 PPG. That leaves East Carolina with a PF/PA differential of -8.0. On the other hand, the Bearcats have a stout defense that's allowing just 11.7 PPG. Conversely, their offense is averaging 39.3 PPG. The club's PF/PA differential is a healthy +27.6. Consequently, the combined differential favors Cincy by 35.6.
Although the Pirates are racking up 398.5 offensive yards per game, including 155.5 on the ground and 243.0 in the air, their D is giving up 459.0 YPG. That includes 241.8 passing yards and a whopping 217.2 rushing yards. The Bearcats are a running team. Of their 441.7 offensive yards per game, 238.5 of those are attributed to the run. Cincinnati's defense is allowing opponents a mere 302.2 YPG. That total includes 205.8 in the air and 96.3 on the ground.
Pirates vs Bearcats Spread Pick – Key Players
One thing is certain, these two teams are definitely not equal on either side of the ball. The Bearcats top the Pirates on both offense and defense. However, East Carolina does have some solid offensive potential. The big question is can they in any manner be effective against what is a formidable and deep Cincinnati defense.
East Carolina
For the Pirates, junior QB Holton Ahlers has done a good job. Ahlers, who's completing 63.1% of his passes, has tossed a dozen TDs. He's also thrown five picks and been sacked 12 times. He has three wideouts who have caught at least two TD passes each, have over 280 yards in receptions, and are in double digits in catches. Freshman Rahjai Harris leads the ground attack with 91 carries, 475 yards, and three scoring runs. Although the Pirate D gives up a lot of yards and points, they can also reek some havoc. This season, they've accumulated 11 sacks, six picks, and eight forced fumbles with six recovered.
Cincinnati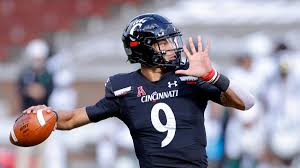 Our East Carolina vs Cincinnati pick observes that the Bearcats feature four players who have substantial rushing-yards. Senior running back Gerrid Doaks leads the charge with 511 yards on 96 carries. He's scored seven times. Right behind him is Bearcats' quarterback Desmond Ridder. Ridder's carried the ball 45 times, gaining 394 yards, and scoring eight TDs. He's averaging 8.8 YPA. Finally, freshman RB Jerome Ford, who has four rushing touchdowns, has accumulated 270 yards on 43 carries. In terms of passing, Ridder has thrown 152 passes, completing 64.5% of his attempts for 1,156 yards. He's thrown 11 TD passes and a half-dozen picks while being sacked five times.
There's plenty of talent in the catching ranks, as five Bearcats come to this game with double-digit reception numbers. Sophomore TE Josh Whyle is second in catches with 16 and tops Cincy in TD receptions with four. The Bearcat D is solid. The unit has enabled 17 sacks, defended 27 passes, and grabbed nine picks. Junior defensive end Myjai Sanders leads the team in QB bringdowns with five sacks. He's also defended three passes. Sophomore corner Ahmad Gardner tops the team in picks with three interceptions while safety James Wiggins has the most PD, five. Senior LB Jarell White is a wrecking ball. He leads the team with 33 solo tackles and 25 assists.
East Carolina vs Cincinnati Pick – Final Word
Our East Carolina vs Cincinnati pick is the Bearcats at -27.5 (-105). Cincy comes to this game with depth on both sides of the ball. In addition, they are facing an ECU team that gives up a lot of yards and points. The Bearcats possess a fine group of rushers, while the Pirates are exceptionally weak versus the run. Consequently, we expect this game to be a runaway win for the top team in the AAC.
We also have the over/under on this East Carolina vs Cincinnati contest. You can see what we think about the possibility of this game going over 55 points by clicking here. Plus, here's our point spread pick for Florida Atlantic at Florida International. The game kicks off at 7:00 pm ET on November 13, 2020.
East Carolina Pirates vs Cincinnati Bearcats Summary
Cincinnati Bearcats at -27.5 (-105)