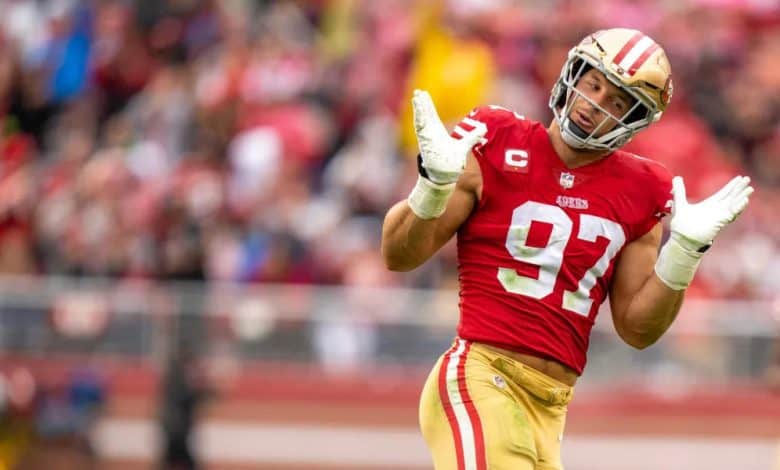 If you're going to get hot, this is the time of year to do it and San Francisco owns the longest current win streak in the NFL (7 games) heading into the Commanders at 49ers betting preview. The Niners have done this even down to their third string QB but they're  riding a great defense and a sound running game to potentially be the favorites in the NFC.
Washington isn't in a great spot on Saturday afternoon, up against a team with 7 victories in a row when the Commanders need a win themselves to hold on to the 7th and final wild card spot. The Commanders are 4-2 on the road this season, but S.F. is also 6-1 at home so the 49ers being -6.5 favorites seems justified.
Washington Not Playing the Giants
San Francisco winning seven in a row is very impressive, but Washington has rebounded from a 1-4 start to go 6-2-1 over their last nine games. The Commanders at 49ers betting matchup is the first time this month that Washington hasn't played the Giants, tying 20-20 in week 13, having a bye, and then falling 20-12 at home last week as -4.5 favorites.
Playing two games so poorly against division rival New York – who has lost four of five besides the Commanders meetings – is disappointing for Washington. On the bright side the tie in week 13 wasn't a loss, so Washington (7-6-1) is still percentage points ahead of Seattle and Detroit who are both 7-7. The Commanders finish with Cleveland and Dallas, both at home.
The Commanders have their work cut out for them on Sunday, but they should get an emotional boost from former #2 pick Chase Young returns from a knee injury that has kept him out for over a year. It will be interesting to see if Young can get a pass rush going, but the Commanders have also done very well without him ranking #3 in the NFL with 308.9 ypg allowed.
49ers Know What They Want to Do
The absolute last pick in the 2022 NFL Draft Brock Purdy is getting a lot of credit for leading the 49ers to 3 wins in his 2.5 games of work since Jimmy Garoppolo went down with a foot injury. Purdy has played well, throwing multiple TD passes in each of the last three outings and with just one interception, but San Francisco's bread and butter is running the football and playing dominant defense.
The 49ers defense is locked in, holding opponents to 17 points or less in each of their seven consecutive wins. Washington has scored 20 points or less in three straight as well, so there's a reason this total is just 37.5.
Christian McCaffrey has gone for 100+ yards and a TD in each of his last two games, so he's finding his groove in this San Francisco offense.
Free Commanders at Giants Betting Pick
Six of the 49ers seven wins on their current streak have come by more than the -6.5 they are giving in week 16. Four of those victories have come by at least 2 TDs as well, which seems to be the most likely result vs. Washington. The Commanders looked very mediocre in two straight games vs the Giants, and mediocrity isn't going to cut it against a red hot Niners squad.
Free Pick: 49ers -6.5