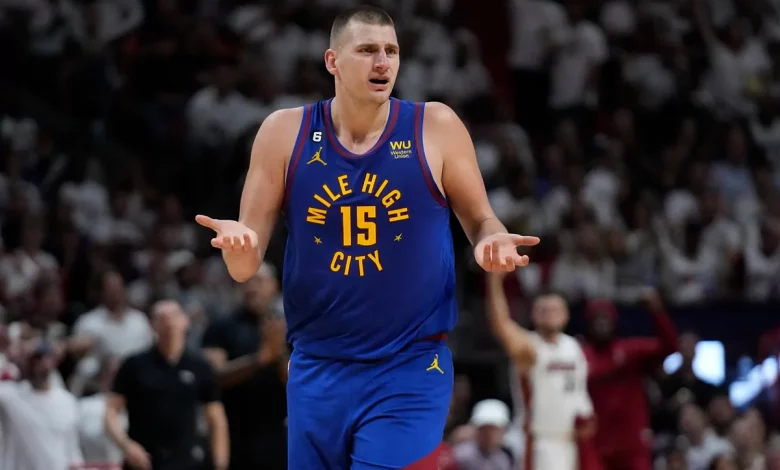 The Denver Nuggets (53-29, 34-7 home) can wrap up the series and clinch the franchise's first NBA title with a win at home in Game 5 of the NBA Finals against the Miami Heat (44-38, 17-24 away). Denver has built a 3-1 edge in the series with back-to-back double-digit wins and holding the Heat to under 100 points in three of the four games.
Monday's tipoff is at 8:30 p.m. EST inside Ball Arena in Denver, Colorado. The Nuggets are a nine-point favorite and the over/under total is 209 points.
What to Know – Miami Heat
Miami will have to find some magic if it wants to win the NBA Finals, needing to win the final three games of the series to lock the championship up. That will be a tough ask for the Heat who will have to beat Denver twice in Colorado for a chance.
On offense, Miami is scoring 109.2 points per game while connecting on 46.3% of its attempts from the field and 38.6% from three. The defense for the Heat is holding opponents to 107.4 ppg, 46.6% shooting from the floor and 33.1% from the 3-point line.
Miami's offense goes as Jimmy Butler goes. The driver of the Heat's postseason success is averaging 27.2 ppg and hitting 47.6% of his attempts from the field. Bam Adebayo is second on the roster, adding 17.8 ppg thanks to a 48.3% shooting mark from the floor.
The Heat own a 45-58-3 record against the spread and a 24-28-1 mark ATS in games played away from home. Miami is trending in the wrong direction against the Nuggets, sporting a 1-9 record ATS against Denver over the last ten matchups.
What to Know – Denver Nuggets
The Nuggets are one win away from making history by capturing the franchise's first NBA title. Denver has to like its odds at home where the Nuggets have lost just once during the playoffs.
Denver is averaging 114.5 ppg on offense while shooting 49.4% from the floor and 38.5% from beyond the arc. Defensively, the Nuggets limit opponents to 106.0 ppg, 46.2% shooting from the field, and 34.7% from deep.
Nikola Jokic has been unstoppable during the playoffs and the big man has taken it a step further in the finals. Jokic is pouring in 30.1 ppg while adding 13.3 rebounds and 9.8 assists per game. The tandem of Jokic and Jamal Murray (26.7 ppg) has driven Denver to within one game of the NBA crown.
Denver is 56-44-1 ATS overall and 31-19-1 ATS on their home floor. The Nuggets have covered the spread in five of their previous six playoff games.
The Pick is In
The Nuggets are likely to close out the series on Monday night but we believe Butler has one more heroic outing left in the tank. Miami takes the defeat, but Butler and company keep it close all the way up til the end.
The Pick: Miami Heat +9