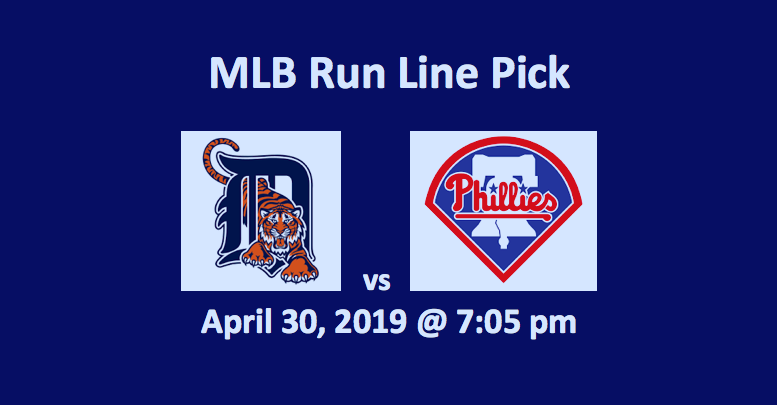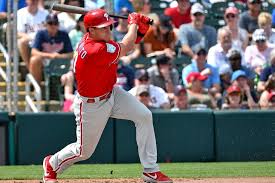 Our Detroit Tigers vs Philadelphia Phillies MLB pick sees a slumping Detroit club come to Philadelphia. This Detroit Tigers vs Philadelphia Phillies MLB pick, has the Phils, who have won three straight games, looking to take advantage of a Tigers team that has lost four in a row and six of their last 10 contests. In their last four games, all at home, Philadelphia beat the Miami Marlins three of four. They presently top the NL East with a 16-12 record. Holding onto fourth in the AL Central, the Tigers are five games from first. They possess a 12-14 record.
The Tigers are in town for a two-game series. The series will be played at Citizens Bank Park in Philadelphia, PA. Tonight's and tomorrow's games have 7:05 starts. The Tigers have a 6-9 awat record, while the Phils are at 11-5 at home.
Detroit Tigers vs Philadelphia Phillies MLB Pick – Starters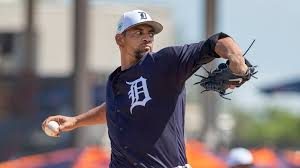 Righty Tyson Ross (1-3 W/L, 4.03 ERA, 1.38 WHIP) starts for the Tigers. Tyson, who's averaging 5.8 IPS, recorded his third loss of the season when he threw against Boston. In that game, over five innings, he gave up four earned runs on five hits. While walking three and striking out five. The Red Sox won that game 11-5. He is 0-2-1 over his last three starts. Ross uses three pitches, two of which can be effective. Those two pitches that he utilizes well are his 89mph cutter and 84mph slider. However, his 90mph four-seam fastball comes in straight and with very little movement or velocity. That's a pitch hitters like.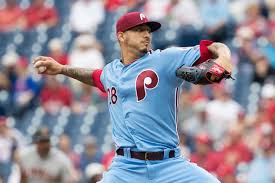 The Phillies go with righty Vince Velasquez (1-0 W/L, 1.99 ERA, 1.01 WHIP) tonight. Although Philadelphia has won four of his five starts, Velasquez recorded his first win on April 24. That was against the New York Mets when he went five innings, allowing three hits while striking out six and walking three. He gave up no runs. Overall, he's pitched well. His pitches include a 95mph four-seam fastball, which is tough to catch up to, and an 84mph, very hard curve, which is difficult to connect with. He mixes those up with an 87mph slider and 93mph sinker. Both his slider and sinker produce fly balls.
We do like Velasquez tonight. He's got a better repertoire of pitches and better control. Plus, hitters are batting just .199 versus him.
Pitching Edge: Philadelphia
Tigers vs Phillies – Players to Watch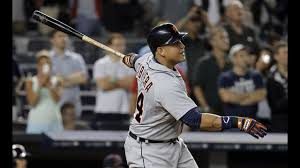 The Tigers have seen from catcher John Hicks (.306 BA, 4 RBI, 1 HR) swing the bat well, while the best production has come from veteran first baseman Miguel Cabrera (.283 BA, 10 RBI, 1 HR) and left fielder Christian (.222 BA, 13 RBI, 3 HR). Despite his batting average, Stewart, who's hitting just .222, has driven in runs. He's on the 10-Day DL.
Overall, Philly batting averages are not as high as they would like. But shortstop Jean Segura (.347 BA, 11 RBI, 1 HR) has certainly hit well. Catcher J.T. Realmuto (.278 BA, !8 RBI, 4 HRs) has been a force at the plate. Left fielder Rhys Hoskins and right fielder Bryce Harper are batting .277 and .250 respectively. Hoskins has nailed eight homers and driven in 28 runs, while Harper has been good for six homers and 20 RBI. Third baseman Maikel Franco, who's posted a .263 mark, has accumulated 22 RBI and seven round trippers.
Hitting Edge: Philadelphia
Our Detroit Tigers vs Philadelphia Phillies MLB Pick
Detroit Tigers vs Philadelphia Phillies MLB pick notes that the home team is batting hitting .249 while the visitors are at .229. Plus, opponents are batting .243 against Detroit. Philadelphia opponents are batting .271 against their pitchers. Detroit has hit just 19 homers, while their hurlers have allowed 29. The Phils have smaked 38 round trippers and allowed the same number. Overall, we like the Phillies tonight and the -1.5 runline at -105.
Summary Detroit Tigers vs Philadelphia Phillies MLB Pick
Philadelphia Phillies with the -1.5 runline at -105