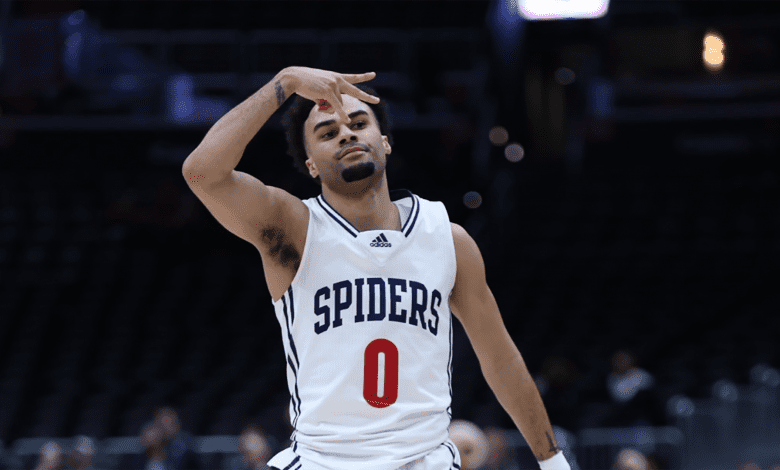 The 12/5 upset is almost expected in March Madness these days, but for some reason it feels like the Spiders are not done heading into their NCAA Tournament Richmond vs Providence matchup. The duo of Jacob Gilyard and Tyler Burton seem like they could not lead Richmond to a berth in the Sweet 16, but maybe even beyond.
Save for maybe Illinois, there isn't a higher seed getting less national love than #4 seed Providence. It was almost a given pre-tournament that the Friars were going to lose their 1st round matchup against the #2 scoring team in the country South Dakota State, but the Big East regular season champs Providence flexed their muscles in a 66-57 win.
Richmond for Real
Some people will say that Iowa was fatigued by a run to the Big Ten Tournament title last weekend which is why they lost their 1st round game to Richmond, but the Spiders were in largely the same boat. Richmond was 19-12 and in 6th place in the A10, but won four games in four days to get the automatic bid as conference tourney champs.
Make no mistake, even though Richmond wouldn't have got an at-large bid had they not won the conference tournament, this is a team that belongs here. They have a dynamic duo of Tyler Burton who had 18/11 vs. Iowa as well as the NCAA's all-time steals leader in 5th year senior Jacob Gilyard who has 24+ points in three of his last four.
Rodney Dangerfield Providence
Providence won the Big East regular season title and posted a 26-5 record this season, but some people are almost surprised that the Friars got out of their first round #13/#4 matchup against South Dakota State. Providence didn't do a whole lot to exude confidence down the stretch going into OT in three of their last six in the regular season
The Friars were led by 13 apiece from Noah Horchler and Al Durham on Thursday, but more importantly their defense clamped down to hold the Jackrabbits to under 60 points when they were the #2 scoring team in the country. Regardless of the 1st round win, you'd think Ed Cooley needs more from big man Nate Watson. The 6'10", 260 pounder had 26 points and 7 rebounds in the Big East Tournament win over Butler, but has been held to 11 points and 4 rebounds total the last two.
NCAA Tournament Richmond vs Providence Betting Info
Oddsmakers have Providence as -3 point favorites on Saturday night, which they have to do in the #12 vs #4 matchup. 65% of public bettors are standing behind the Friars.
NCAA Tournament Richmond vs Providence Pick
The Friars may very well be the team that you pick against each round as they make it to the Final 4, but so be it because this Richmond team is for real.
The combination of Gilyard and Burton are impressive and the Spiders defense showed up in limiting the damage from one of the best scorers in the country (Keegan Murray) scoring a manageable 21 points in round 1. The Spiders look ready to bite again.
Richmond 71 – Providence 68 
Free Pick: Richmond +3