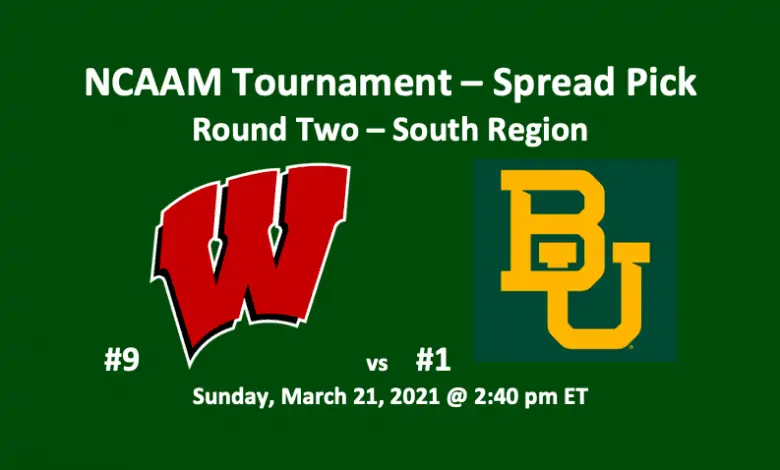 This Wisconsin vs Baylor pick has the Bears as the team to beat. This 2021 NCAA Tournament South Region Round Two game offers the underdog Wisconsin Badgers at +6.5 (-111). The best spread for the Baylor Bears is -6.0 (-110). In Round One, Wisconsin easily took down the UNC Tar Heels 85-62. Over their last five games, they've gone 2-3. The Baylor Bears, who've won four of their last five games, are coming off a first round 79-55 win over the Hartford Hawks.
The Badgers and Bears will meet on Sunday, March 21 at 2:40 pm ET. The game will take place at Hinkle Fieldhouse in Indianapolis, IN. Make sure you check out all of our March Madness picks, as we've got every game covered including the Loyola Chicago Ramblers vs Illinois Fighting Illini. To find any of our free picks, simply click on the tournament tags at the end of this article.
Wisconsin vs Baylor Pick – Stats
In this matchup, Baylor is certainly the dominant team. The Bears top the Badgers in points per game (84.4 to 69.6), rebounds (36.5 to 33.6), and field-goal percentage (49.3% to 42.1%). Baylor is also better in three-point percentage, outpacing the Badgers 41.85 to 35.9%. Baylor is also better when it comes to assists and steals.
Key Players
In the backcourt for the Badgers, D'Mitrik Trice and Brad Davison lead the way. Trice, a 42% shooter who's completing 38% of his threes, leads the team with 13.9 PPG and 4.0 APG. Davison is adding 10.1 PPG. In front, Micah Potter is averaging 12.6 PPG and 5.8 RPG. He completing 50.6% of his field goals.
The Bears have a stellar backcourt that includes point man Jared Butler. Butler is averaging 17.0 PPG and 4.9 APG. He's hitting 47.9% of his shots as well as 41.3% of his threes. Also, in back, Davion Mitchell is dishing off 5.3 APG and scoring 14.0 PPG. He is good on 51.4% of his field goals and 45.6% of his threes. Guard MaCio Teague is averaging 16.4 PPG and 4.2 RPG.
Wisconsin vs Baylor Pick – Final Thoughts
Our Wisconsin vs Baylor pick likes the spread on this for the Bears. They should come in and control just about every aspect of this game. The Wisconsin Badgers will be competitive for some time, but after a while, we expect the Bears to take over this game. We're taking the Baylor Bears at -6.0 (-110).
#9 Wisconsin Badgers vs #1 Baylor Bears