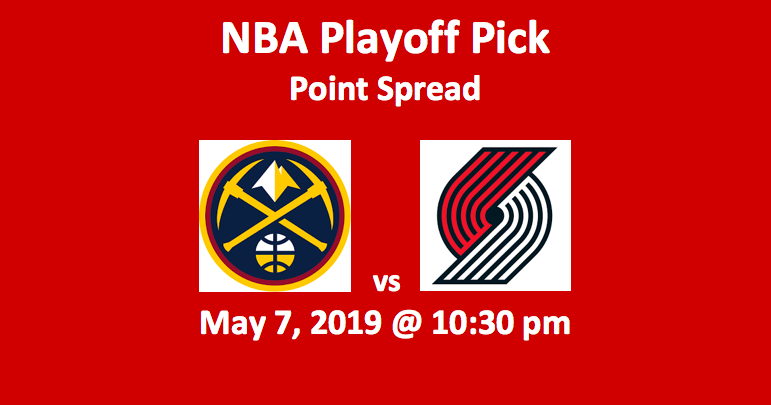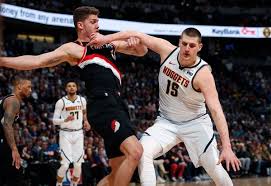 This Denver Nuggets vs Portland Trail Blazers preview has the Nuggets at -5.0. Looking at our Denver Nuggets vs Portland Trail Blazers preview for tonight, Tuesday, May 7, 2019, we can say one thing, this series has been unpredictable. In the first game, home team Denver beat Portland 121-113. But in the very next game, the visiting Trail Blazers took down the Nuggets 97-90. What followed next in game three, which was played in Portland, was a quadruple overtime 140-137 Trail Blazers win. The fourth contest in the series then had the Nuggets beating Portland on their home court 116-112. The series goes back to Denver tonight tied at two apiece. Tonight's tipoff is at 10:30 pm ET at the Pepsi Center in Denver, CO.
Denver Nuggets vs Portland Trail Blazers Preview – Players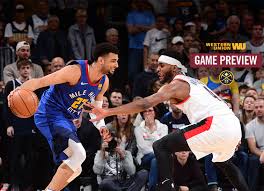 In the battle of the point guards, Portland's Damian Lillard holds and edge over Denver's Jamal Murray. Lillard is averaging 30.4 PPG and 6.1 APG. He's also been good for 2.1 STLPG and 44.7% from the field. Murray has been hitting for 21.7 PPG while dishing off 4.3 APG. Steals come in at 1.2 per game and field goals success rate is 44.9%. When comes to accuracy, the two PGs are even, but from downtown, Lillard rules 39.3% to 35.3%. At SG, Portland's CJ McCollum is tops, putting in 25.3 PPG compared to 13.9 PPG for the Nuggets' Gary Harris. However, the Nuggets are four-deep at the point spot, giving them an advantage late into the game and down the stretch in a seven-game series.
The Denver frontcourt features center Nikola Jokic and PF Paul Millsap. Jokic is close to scoring a triple double, as he's averaging 24.9 PPG, 12.5 RPG, and 9.3 APG. Jokic tops the team in all three categories. Millsap has been solid, averaging 14.0 PPG and 6.6 RPG. The Trail Blazers offer Enes Kanter at center and Al-Farouq Aminu at power forward. Kanter has a double-double in the postseason, putting up on average 14.4 PPG and grabbing 10.2 APG. Aminu has been productive with 10.1 PPG and 8.0 RPG.
Nuggets and Portland Preview – Stats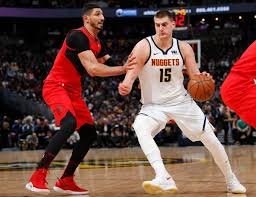 These two teams are tied when it comes to rebounds, taking down 46.5 RPG. The Blazers are tops in points with 113.0 PPG, while the Nuggets have been averaging 109.1 PPG. Although Portland tops Denver in points per game, the Nuggets are much better at ball movement, averaging 24.8 APG. The Trail Blazers have been completing just 18.4 APG. When it comes to shooting percentages, these two teams are very close in just about every area. However, the Blazers are shooting frees at a rate of 79.2%. The Nuggets are good for just 75.7%. The result is Portland is averaging two more points per game on free throws. They're also putting on on average two more three-point shots per game.
Our Denver Nuggets vs Portland Trail Blazers Preview
We like Portland's individual backcourt players, but find Denver's depth gives them an advantage at the points. At the same time, we find that the Nuggets are exceptionally sound in the paint and can be dominant at times. These two teams are close on stats. But the Blazers are a bit better at hitting their frees and putting up threes, while Denver is tops at working the ball inside and connecting on passes. Our Denver Nuggets vs Portland Trail Blazers pick offers Denver at -5.0.
Summary Denver Nuggets vs Portland Trail Blazers Preview and Preview
Denver Nuggets at -5.0 (-105)