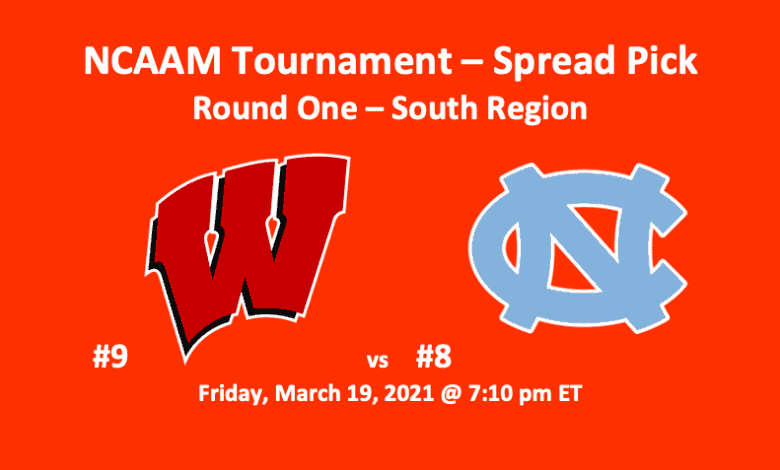 Our Wisconsin vs North Carolina pick offers two teams in the South Region that offer an exciting matchup. In this First Round of the 2021 NCAA Men's Tournament, the Tar Heels are slight favorites at -1.5 (-103). The underdog Badgers are at +1.5 (-107). In the Big Ten, Wisconsin finished tied for sixth with Rutgers. In the Big Ten Tournament Quarterfinals, the Badgers lost to the Iowa Hawkeyes 57-62. Over their last five games, they've gone 1-4. The North Carolina Tar Heels, who've won three of their last five games, were were tied for fifth with Clemson in the Atlantic Coast Conference. In the ACC Tournament, the Tar Heels lost in the semifinals to Florida State 66-69. The Badgers and Tar Heels will meet on Friday, March 19 at 7:10 pm ET. The game will be held at Mackey Arena in West Lafayette, IN. See our Hartford vs Baylor prediction.
Wisconsin vs North Carolina Pick – Stats
The Tar Heels are outperforming Wisconsin in points per game (75.7 to 65.6) and field goal percentage (44.1 to 42.1). However, by substantial percentages, the Badgers are better when it comes to hitting three pointers (35.9 to 31.7) and sinking foul shots (76.6 to 66.8). Additionally, the Tar Heels are recording 14.8 TOPG while the Badgers have just 8.9 TOPG. Around the rim, UNC is dominant, pulling down 43.2 RPG to Wisconsin's 33.6. The Heels are also better on assists per game, 15.5 to 13.3. Between the two clubs, steals and blocks are fairly even with the Tar Heels being slightly on the positive side. Really, these stats are a mixed bag, making us believe that this game really can go either way.
Key Players
The Badgers have seven players on the roster who have played in all 29 games this season. Amongst this group, guard D'Mitrik Trice and forward Micah Potter are the leading scorers. Trice is averaging 13.7 PPG while making 4.0 APG. He good on 38.0% of his threes. Potter, who's scoring 12.8 PPG, is shooting 50.6% and grabbing 5.9 RPG. His three-point shot is landing 37.5% of the time. Guard Brad Davison and forward Aleem Ford are recording 9.4 and 8.7 PPG respectively. Five of the seven players who have been in every game are shooting 34% or better from downtown.
It's no surprise that with their rebounding the Tar Heels possess a trio of fine forwards led by Armando Bacot. Bacot is averaging 12.2 PPG and 8.0 RPG. He's a 60-percent-plus shooter. Also, in the paint, Garrison Brooks and Day'Ron Sharpe, an 51.9% shooter, offers 10.7 and 9.7 PPG respectively. This season, they've combined for an average of 14.6 RPG. Guard Caleb Love is averaging 10.5 PPG and 3.6 APG. In this game, the big men on this team could dominate the paint.
Wisconsin vs North Carolina Pick – Final Thoughts
Our Wisconsin vs North Carolina pick notes that if this game is close, foul shots and threes could make the difference. With that in mind, and also the fact that the Badgers are better at ensuring they keep possession, we like Wisconsin at +1.5. After all, we do believe that this will be a close contest.
#9 Wisconsin Badgers vs #8 North Carolina Tar Heels
Wisconsin Badgers at +1.5 (-107)