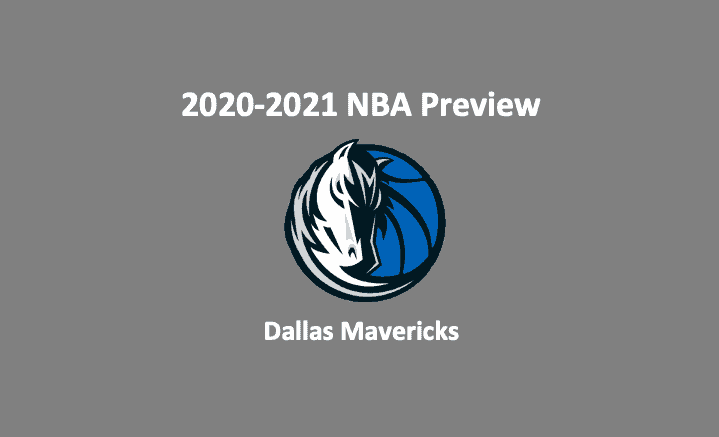 Our Dallas Mavericks preview 2020 – 2021 observes that this team had a solid season last year. The Mavericks finished 2.5 games out of first place in the Southwest Division, which was won by the Houston Rockets. Dallas earned the seventh-seed in the West. Since the 2000-2001 season, the Mavs have been in the playoffs 16 times. They won it all in 2011. Since taking down the NBA title, Dallas has been in the postseason five-of-nine times. Over those nine years, each time they've made it to the playoffs, the Mavericks have been eliminated in the initial round. Last season, the Clippers beat Dallas four games to two.
Dallas Mavericks Preview 2020 – 2021 – Stats
The Mavs were third on the league in points-per-game with 117.0. They were 16th in field goal percentage (46.1%), 10th in three-point success (36.7%), and 14th in free-throw completions (77.9%). Of note, Dallas averaged 46.9 RPG (4th) and 12.1 TO (1st). They also recorded 24.7 APG (14th), 4.8 BPG (16th), and 6.1 SPG (29th).
Dallas allowed opponents 112.1 PPG (16th). Consequently, the Mavs posted a PF/PA differential of +4.9. Opponent shooting percentages included a 45.8 FG% (13th), 35.1 3PT% (10th), 76.0 FT% (7th). Opponents recorded 23.9 APG (10th), 45.4 RPG (19th), 4.1 BPG (5th), and 7.0 SPG (5th). Ironically, the Mavericks were 30th in opponent turnovers, as that figure came in at 11.4. Overall, Dallas was on the plus side when it came to statistical differentials.
Dallas Roster
Star point Guard Luka Doncic starts his third NBA season. He's a potential double-double or even triple-double threat. Across from him, Tim Hardaway Jr. is a solid shooter. The Mavericks look good in the paint. However, there are issues at center, as Kristaps Porzingis is, once again, injured. There's fine depth coming off the bench.
Dallas Mavericks Preview – Backcourt
Two seasons ago, point guard Luka Doncic was the third overall pick in the draft. Last year in his second NBA season, Doncic recorded 28.8 PPG and 8.8 APG. He also took down 9.4 RPG. Doncic shot 46.3% from the field and 31.6% from downtown as he averaged 33.6 MPG. Shooting guard Tim Hardaway came to the Mavs partway through the 2018-2019 season. He's been a quality performer recording a 43.4 FG%, 39.8% 3PT%, and 81.9 FT%.
Mavericks Preview – Frontcourt
In five NBA seasons, small forward Josh Richardson has averaged 30.7 MPG. After spending four seasons with Miami, Richardson went to the 76ers last season. With Philadelphia, he averaged 13.7 PPG, 3.2 RPG, and 2.9 APG. He hit 43.0% of his field goals, 34.1% of his threes, and 80.9% of his frees. Prior to coming to Dallas three seasons ago, power forward Maxi Kleber spent eight years playing in Europe. Since coming to the Dallas, he's grown, increasing minutes-per-game, points-per game, and three-point percentage. Last season, he played in 74 games starting 21. Last year, he recorded 9.1 PPG, 5.2 RPG, 1.1 BPG. Kleber is a solid presence who rarely makes a mistake.
Center Kristaps Porzingis is out for some time with a torn ACL in his left knee and a ripped meniscus in his right. Porzingis, who's from Latvia, has spent quite a bit of time out of the lineup. In 2018-2019, he missed the entire season due to an ACL issue. Last season, Porzingis played 57 games. Our Dallas Mavericks preview 2020 – 2021 notes that the center is a potential double-double threat. Last season, he averaged 20.4 PPG and 9.5 RPG.
Mavericks Bench
Coming off the bench at point guard is Jalen Brunson, while Tyrell Terry subs in at the point and as the two-guard. Josh Richardson, who starts at the point, also offers relief at shooting guard. In his first two seasons, Brunson averaged 8.8 PPG, 3.2 APG, and 2.3 RPG. Terry, who played for Stanford, comes to Dallas as a second round, 31st overall draft pick. In one college season, he played 31 games, averaging 14.6 PPG, 4.5 RPG, and 3.2 APG. He shot 44.1% from the field, 40.8% from the arc, and 89.1% from the charity stripe.
In the paint, this year's first round, 18th overall draft pick Josh Green comes in to sub at small forward. Green, who played one season and 30 games with Arizona, averaged 12.0 PPG and 4.6 RPG. He hit 42.4% of his field goals, 36.1% from downtown, and 78.0% from the free-throw line. Dorian Finney-Smith backs up both forward positions. A versatile player, Finney-Smith has proven to be an able sub and starter. Last year, in his fourth season with the Mavs, he averaged 9.5 PPG and 5.7 RPG while averaging 29.9 MPG. He recorded a 46.6 FG% and 37.6 3PT%. Porzingis is also designated as the third power forward in.
With Porzingis out, Dwight Powell and Willie Cauley-Stein will likely see a lot of action. In his sixth season with Dallas, Powell averaged 9.4 PPG, 5.7 RPG, and 26.5 MPG. In the paint, he shot 63.8%. Last season, Cauley-Stein came to Dallas from Golden State partway through the season. He played 13 games with the Mavs, averaging 5.2 PPG and 4.6 RPG.
Dallas Mavericks Preview 2020 – 2021 – Coaching
Our Dallas Mavericks preview 2020 – 2021 observes that in 1989 Rick Carlisle started his coaching career as an assistant with the New Jersey Nets. After 11 years as an assistant with three different teams, Carlisle became Detroit's head coach in 2001 and in 2003, he became the helmsman for Indiana. In 2008, Carlisle came to the Mavs as the head coach. In 2002, he was Coach of the Year with Detroit and in 2011, he guided the Mavericks to the NBA title.
As a coach, Carlisle is known as a tactician who is intense but does not get angry at his players. He doesn't really rely on a specific system, instead he's about finding solutions and utilizing the strengths of his players. Although he is the ultimate decision-maker, Carlisle does work collaboratively with his assistants. He mixes up his lineup according to the specific situation. The head coach really admires a tough defender as well as any player who can get the job done.
Dallas – Pluses and Minuses
Fine backcourt
Excellent ball control
Balanced offense and defense
Center Kristaps Porzingis is injured again
Field-goal percentage is average
Opponent PPG are average
Dallas Mavericks Preview 2020 – 2021 – Final Word
Our Dallas Mavericks preview 2020 – 2021 envisions this team vying for the top-spot in the Southwest Division. Rick Carlisle is a premium NBA coach. Carlisle knows how to get a lot out of each player. He has a fine group of starters and backups. There are issues with Porzingis' health. Consequently, the center position is a concern. Plus, it would be helpful if this team could be a bit more proactive on defense. The Mavericks are superior at ball control. That will serve them well.
Dallas Mavericks Projection – 39-33 Third-Place, Southwest Division