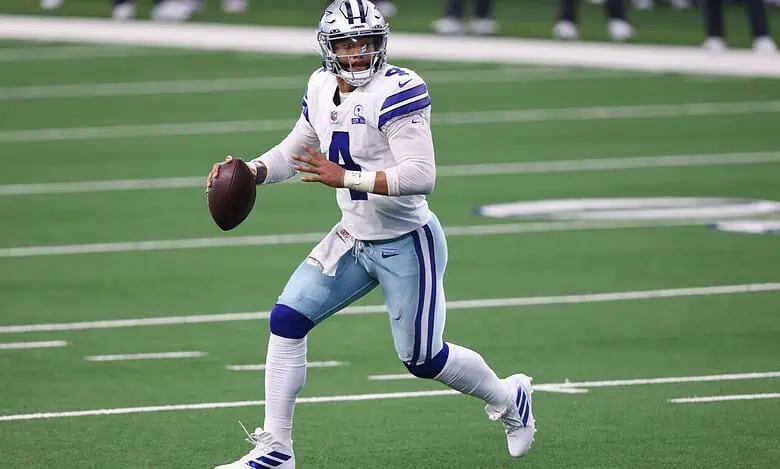 Week 5 of the NFL season is loaded with some big games on Sunday, and that includes a massive matchup on Sunday Night Football. It will be the Dallas Cowboys visiting the San Francisco 49ers, and this game could be a potential preview.
Dallas comes into this game with a 3-1 record on the year, but their lone loss was a disappointing effort against the Arizona Cardinals. The Cowboys are trying to keep pace in the NFC East Division, but they can't afford another loss.
San Francisco has won each of their first four games this season, and they have looked extremely sharp along the way. The 49ers were one of the Super Bowl favorites in the preseason, and they have lived up to that through four weeks.
The 49ers are 3.5-point betting favorites over the Cowboys in this Week 5 showdown on Sunday night.
Dallas Has to Defend
The only chance that Dallas will have to win this game is to dominate with defense, but that unit has been inconsistent this season. Dallas is allowing just 280 yards per game this season, but they have also given up some big plays at times this season.
The Cowboys are hoping that the run defense can stand up in this game, as they are allowing 112 points per game. Dallas has the ability to score some points, but they need the defense to set the tone on that end of the field.
Quarterback Dak Prescott has thrown for 908 yards and four touchdowns this season, but he can still be better. Tony Pollard has racked up 311 yards and two touchdowns as the running back, and he is going to be a huge key in this game.
49ers Running Over Opponents
The San Francisco 49ers are averaging 153 rushing yards per game this season, and they can attack opponents in a number of different ways. Running back Christian McCaffrey leads the way with 459 rushing yards, and he is also a touchdown machine.
Quarterback Brock Purdy continues to make good decisions at the position, and he knows how to get the ball to his playmakers. Purdy has yet to throw an interception this season and has also tallied five touchdown passes.
The defense for the 49ers has been elite this season, as they are allowing just 66 rushing yards per game this season. San Francisco has the ability to shut opponents down, and then they let the offense take complete control.
San Francisco Gets Job Done
You should expect this to be the best overall effort of the season for the Cowboys, as they are a team that knows how to rise to the occasion. Dallas is loaded with talent on defense, but they are also a little banged up in the secondary.
San Francisco just won't stop running the football, and that typically wears down opposing teams at some point. The 49ers aren't going to run away with this game, but they are going to be good enough to get an edge at some point.
Bet the San Francisco 49ers -3.5 as they are going to pick up another win and cover the spread on Sunday Night Football.