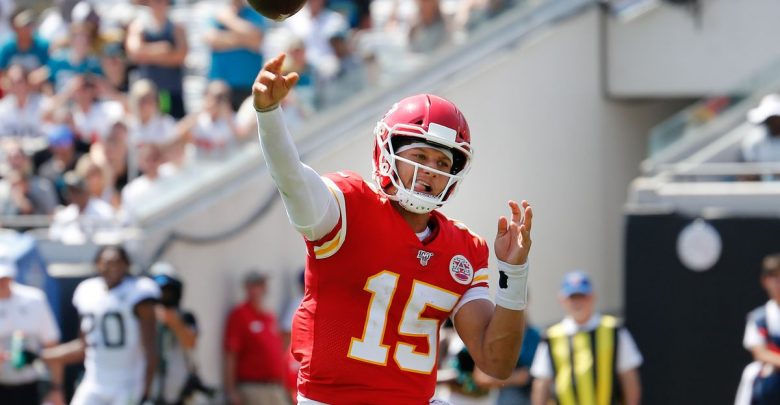 The Kansas City Chiefs have been rolling over their opponents so far this season, but they will have a tough test in Week 3. The Baltimore Ravens come to town for a matchup in what could be a potential playoff preview in the AFC. Both of these teams have been scoring points like crazy this season, and this could be one of the most exciting games of the young season.
Both teams come into this game with perfect 2-0 records, but the Kansas City Chiefs have had a much tougher schedule. The Chiefs have knocked off the Jacksonville Jaguars and Oakland Raiders this season, although neither game was close. Baltimore has beaten the Arizona Cardinals and Miami Dolphins, who were both awful a season ago. The Chiefs are 6.5-point home favorites in this AFC showdown in Week 3.
Mahomes Picking Up Where He Left Off
Patrick Mahomes was named the MVP of the league last season, despite it being just his first as starting quarterback. Mahomes is off to another fast start this season, throwing for over 800 yards and seven touchdowns through the first two weeks. Wide receiver Tyreek Hill will be out of the lineup for this game, but Mahomes will still have Sammy Watkins and Travis Kelce to throw the ball to. Watkins and Kelce have combined for over 440 receiving yards and four touchdowns this season.
The Kansas City Chiefs were a mess on defense at the end of the 2018 season, and it cost several players their jobs. Kansas City made sweeping changes on defense in the offseason, and things have gone much better so far this season. The Chiefs are allowing just 18 points per game this season and have four takeaways through their first two games. Kansas City will need to stop the run to win this game.
Ravens Running Game Getting Job Done
The Baltimore Ravens lead the NFL with over 220 rushing yards per game, but their passing attack has been just as deadly this season. Quarterback Lamar Jackson racks up a ton of yards both through the air and on the ground and has turned the Ravens into an explosive offensive team. Jackson has accounted for close to 750 yards of offense this season, throwing seven touchdown passes. The Ravens have the offensive weapons to keep up with the Chiefs in this game.
Defense has been a staple of this Baltimore Ravens organization, and that hasn't changed despite finding an offense. Baltimore is allowing just 13.5 points per game so far this season, but they will be in for a real test in this game. Getting pressure on Mahomes will be a huge key for this team.
Chiefs Offense Just Too Much For Ravens
The Ravens have been scoring points like crazy so far this season, but they will finally play a tough defense in this game. Baltimore will be looking to run the ball, but the Chiefs are always tough to run on at home. Kansas City might be without one of its most explosive weapons, but they still have plenty of offense. The Chiefs offense is just too good, and they will win this game. Bet the Kansas City Chiefs -6.5 over the Baltimore Ravens in this Week 3 matchup.