College Football
SEC Showdown: Mississippi State Bulldogs vs. Alabama Crimson Tide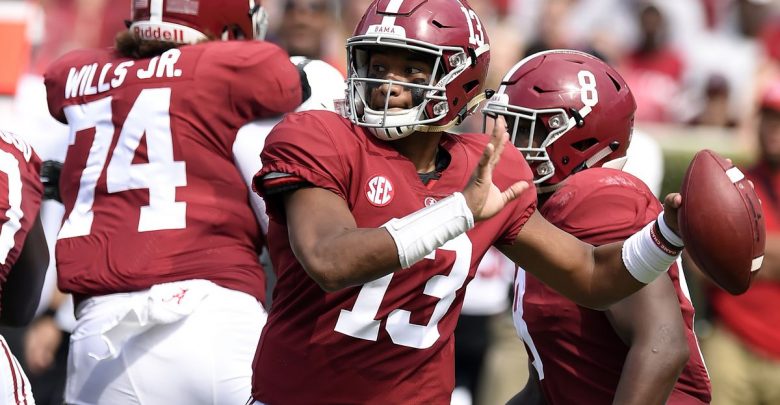 The top-ranked Alabama Crimson Tide face a potential stumbling block on Saturday when they play host to the no. 16 Mississippi State Bulldogs. On their home field, the Crimson Tide are 24-point favorites over MSU with an over/under set at 53 points.
Alabama's epic showdown with LSU last week turned out to be business as usual for Nick Saban's team. The Tide may have started a little slow on the road, but they ended up winning 29-0 and out-gaining LSU by nearly 400 yards. At the moment, only three more regular season games plus the SEC Championship Game against Georgia separate Alabama from another trip to the College Football Playoff.
As for Mississippi State, the Bulldogs locked up a bowl spot with a convincing 45-3 win over Louisiana Tech last week. MSU is now 6-3 on the season, although they have a somewhat disappointing 2-3 conference record. That being said, those two SEC wins have come against Auburn and Texas A&M, who were both ranked at the time, so the Bulldogs should be pleased with how things have gone in their first season under Joe Moorhead.
One-Man Army
It may be a little unfair, but the Mississippi State offense typically revolves around one person, and that's quarterback Nick Fitzgerald. Considered a dark horse Heisman candidate before the season, things haven't quite gone that way for Fitzgerald this year. However, he's undoubtedly one of the top dual-threat quarterbacks in the country and will no doubt be excited for his chance to take on the Alabama defense.
In five of his eight games, Fitzgerald has run for over 100 yards, including games against Auburn and LSU, so he's no stranger to success when facing quality SEC teams. But where he's lacking is in the passing game. Fitzgerald has completed just over 50% of his passes. He also has just two touchdown passes to six interceptions against SEC opponents. If he and running backs Kylin Hill and Aeris Williams can run the ball effectively, they can shorten the game and keep Alabama's offense on the sidelines. But an upset of Alabama will require Fitzgerald having his best passing game of the season.
Another Tough Defense
The Crimson Tide were held to a season-low 29 points last week against LSU, and they'll face another difficult defense this week. Statistically, Mississippi State has the second-best defense in the country. The Bulldogs are allowing just 12.3 points per game on the season and just a little over 16 points per game in their five SEC games.
Of course, the Bulldogs haven't seen an offense like the one they'll face against Alabama. The Crimson Tide can usually run the ball when they want to, and they also have the presumed Heisman winner in Tua Tagovailoa. Even in a down week against LSU, Tagovailoa passed for nearly 300 yards. Alabama also has a handful of viable receivers, so Mississippi State will need to have all of their bases covered.
Close Call
Against the spread, this should be a tight game. But Mississippi State's rather one-dimensional offense will struggle against Alabama. There will be no let down for the Crimson Tide at home. Alabama will come out sharp and pull away when MSU's running game is eventually stopped in its tracks. Bet on Alabama covering the 24-point spread against Mississippi State.