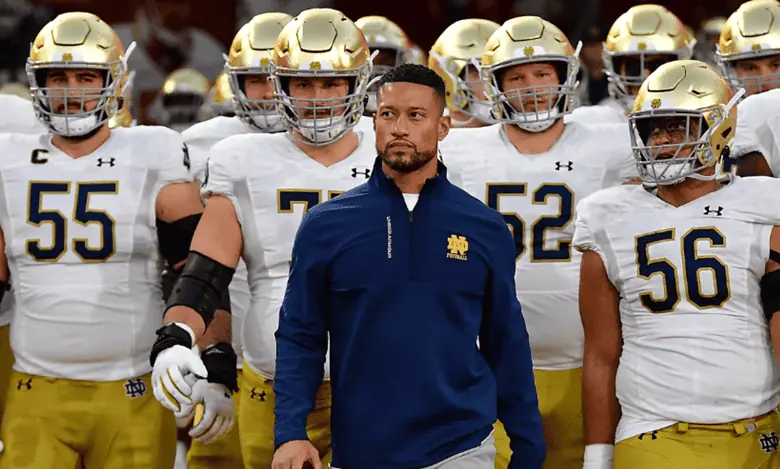 Navy Midshipmen vs. Notre Dame Fighting Irish Prediction
Once again the college football season will begin in grand fashion as two historic programs are set to kickoff the season in Ireland. It will be the Notre Dame Fighting Irish taking on the Navy Midshipmen, and this will be a fun way to get things going.
Navy nearly upset Notre Dame a season ago, and this program has plenty of history against the Fighting Irish. This team will be looking to be a bowl team in 2023, and getting a win in this game would be a big key.
Notre Dame has much bigger goals this season as they are hoping to reach the College Football Playoff. It was a slow start for the Fighting Irish a season ago, but they ended the year with momentum that will carry over into this matchup.
The Fighting Irish are massive 20.5-point betting favorites over the Midshipmen in the season opener from Ireland.
Navy Needs to Defend
The big story surrounding Navy this offseason is a change to their offensive philosophy, but it will be the defense that is tested in this game. Navy is going to be facing a massive size disadvantage, and getting stops isn't going to be easy at all.
Not only will Navy be forced to stop the run, but they are now going to have to defend Notre Dame against the pass. The Midshipmen have to do everything they can to slow down the tempo of this game, as they just won't be able to keep pace.
Navy is still going to run the ball a ton in this game, but they are going to introduce some more passes when they have the ball. That's a huge change to the normal way that this team plays, and it will be interesting to see how things work out.
Fighting Irish Will Throw
The Notre Dame Fighting Irish have a new quarterback set to make his debut in this game, and big things are expected for Sam Hartman. Hartman comes to Notre Dame after putting up monster numbers at Wake Forest, and he is expected to thrive behind a great offensive line.
The Fighting Irish are also going to be looking to run the ball right down the throats of Navy, and they have a massive size advantage up front. It's going to be all about balance for Notre Dame, and they shouldn't have much trouble moving the ball.
Head coach Marcus Freeman was once a defensive coordinator in South Bend, and he is all about defense. Look for the Fighting Irish to get some big stops on defense in this matchup.
Fighting Irish Roll to Win
Navy gave Notre Dame a huge scare a season ago, but these two teams will be much different versions than what you will see on Saturday. The Midshipmen are going to be abandoning the running attack a little bit, and that might give the Notre Dame defense a bit of a breather.
Sam Hartman is going to make a ton of difference for Notre Dame as they will finally be able to throw the ball downfield. The Fighting Irish were always going to have a great defense, but now they have a terrific offense to match.
Bet the Notre Dame Fighting Irish -20.5 as they blow out the Navy Midshipmen to get the 2023 college football season off to a good start.