College Football
Colorado Buffaloes vs. Washington State Cougars – Friday Night Lights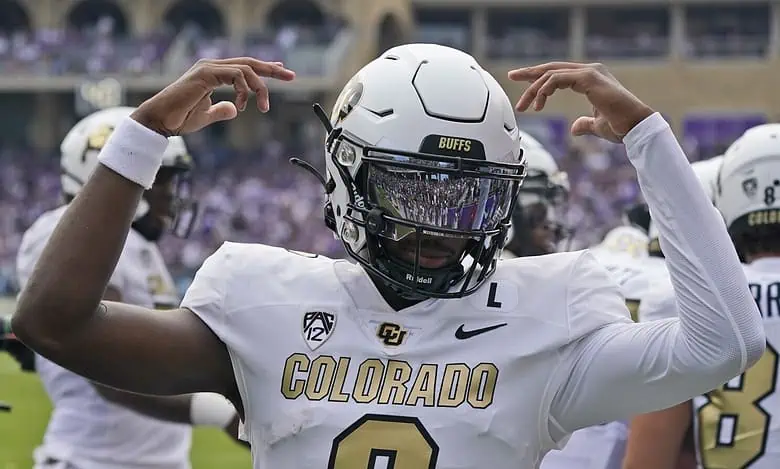 Pac-12 Conference rivals are set to meet up on Friday night for some football as the Colorado Buffaloes will visit the Washington State Cougars. With just two weekends left in the regular season, both of these teams must win out in order to become bowl eligible. 
Colorado got off to a huge start to the 2023 college football season, but they are now sitting at 4-6. The Buffaloes have dropped four straight games after a 4-2 start, and they have had a ton of players leave the program. 
The Washington State Cougars are coming into this game with a record of 4-6 as well, and their skid has been even worse than that of Colorado. Washington State has now dropped five straight games, including two straight losses in which they were favored.
The Cougars are betting favorites again on Friday night, with a spread set at four points. 
Defense Optional For Colorado
The Colorado Buffaloes appear to have completely given up on playing defense this season, and that is not going to work out well on Friday night. Colorado has given up at least four touchdowns in four straight games, and the secondary can't make any tackles. 
The Buffaloes always try to stay in games with their offense, but they are putting too much on Shedeur Sanders. The Colorado quarterback Shedeur Sanders has thrown for 3,144 yards and 26 touchdowns this season. 
You can expect the Buffaloes to be aggressive in this game, but they also need to run the football in an attempt to keep Sanders upright and healthy. There will be some desperation on the part of the Buffaloes and that could allow them to focus more. 
Cougars Must Find Offense
The Washington State Cougars are scoring 30.7 points per game this season, but they just haven't been able to find consistency. Washington State is averaging 337.9 passing yards per game, but finding balance on offense has been a major issue. 
Quarterback Cameron Ward is having a huge season for the Cougars as he has thrown for 3,127 yards and 20 touchdowns. Turnovers have been a problem for the Cougars at times, but they also just need to run.
The Cougars could run into some issues on defense in this game, especially if they don't get pressure on Shedeur Sanders. Washington State will score, but at some point they must get some stops. 
Cougars Clobber the Buffaloes
The Colorado Buffaloes were a great start early in the season, but it didn't take long for that momentum to completely disappear. A lack of defense has hurt this team all season long, but now they can't even find offense. 
Washington State has been a hard team to figure out as well, but they are going to get a big boost from the home crowd in this game. Look for the Cougars to put up a ton of points in this one, and that will end up being the difference. 
Bet the Washington State Cougars -4.0 as they will roll to a blowout victory.