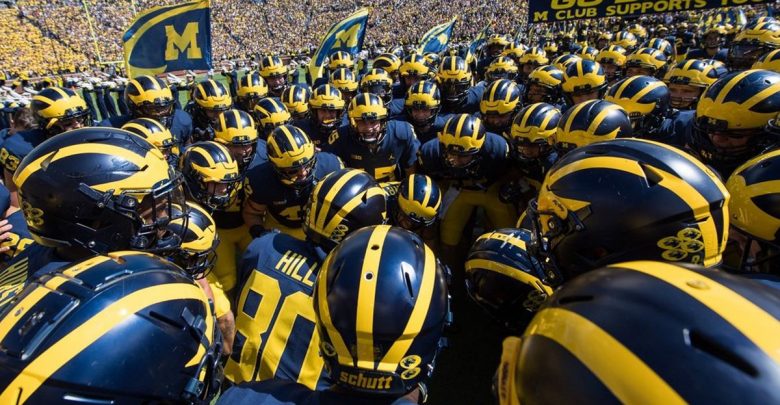 There will be a lot on the line in the Big Ten on Saturday as the no. 14 Penn State Nittany Lions visit the no. 5 Michigan Wolverines. Despite being a matchup of two top-15 teams, the Wolverines are 12-point home favorites with an over/under of 53.5 points.
Outside of their loss to Notre Dame in their season opener, it's hard to argue against Michigan's resume. They've won seven straight games, with almost all of them coming by a double-digit margin. The Wolverines have been particularly impressive the past couple of weeks, knocking off ranked teams Wisconsin and Michigan State without much trouble at all.
Penn State, on the other hand, has suffered a pair of close losses this season to Ohio State and Michigan State that have knocked them out of the Big Ten title race and the College Football Playoff discussion. On the bright side, the Nittany Lions have bounced back with wins, albeit in close games, against both Indiana and Iowa to move to 6-2 on the season.
How Good Is He?
If Penn State is going to have a chance to win this game, they're going to have to lean on quarterback Trace McSorley. James Franklin has talked up McSorley as perhaps the best player in the country. However, his numbers don't necessarily back that up now that the Nittany Lions are asking him to do a lot of the heavy lifting.
Compared to last year, McSorley has seen his completion percentage drop from nearly 67% all the way to 53%. He's also on pace to fall well short of the 28 touchdown passes he had last year and the 29 he threw as a sophomore in 2016. In his defense, McSorley has done some serious damage with his legs, a lot more than last year, mostly out of necessity. However, to have a chance to beat Michigan, McSorley will need to be at the top of his game as a passer.
No Trespassing
There's little doubt that McSorley will face the biggest challenge of his career when he faces the Michigan defense on Saturday. The Wolverines are giving up about 14 points per game on the season. Based on the eye test, that actually seems higher than you'd think just watching them play.
There have been a few teams this season that have had some success running the ball against the Wolverines. However, the Michigan defense has punished opposing quarterbacks week after week. In their eight games, opposing quarterbacks have thrown for 100 or fewer yards five times. That includes their last three games against Maryland, Wisconsin, and Michigan State, all teams that will end up going to a bowl game this year. That's the kind of defense McSorley and the Nittany Lions are up against on Saturday.
No Mercy
Based on Michigan's track record this season, the 12-point spread is actually quite appropriate. Penn State's only two losses have both been close games, but they both came at home. Away from home, McSorley figures to get into some trouble against a defense that's on another level. Bet on Michigan -12 beating Penn State and covering the spread.