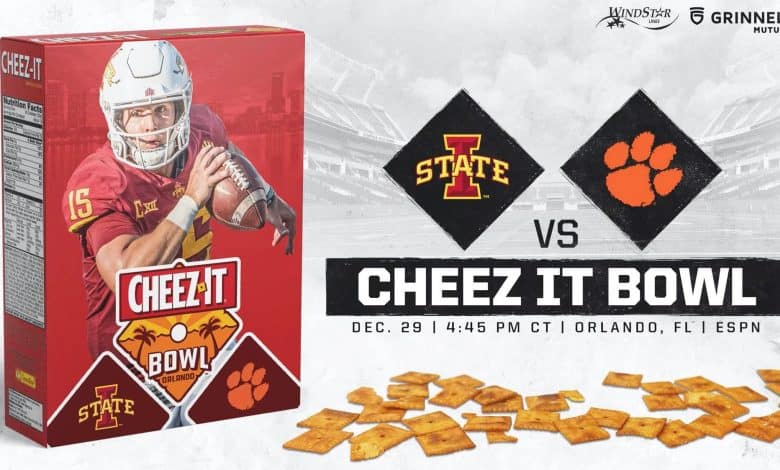 The 2021 Cheez-It Bowl betting matchup features a couple of teams that had much higher hopes to start the season. This is the first time in six years that Clemson won't be playing in the College Football Playoff, so there's always the chance that they'll come out unenthusiastic at Camping World Stadium in Orlando, Florida.
Iowa State is still risky as +2 point underdogs though – risky to bet on that is as they are missing their best weapon in Breece Hall who has decided to skip this game as he prepares for the NFL draft. That's definitely a big loss, but the Cyclones also have an experienced QB and a gigantic NFL caliber tight end that is going to play in Wednesday afternoon's matchup.
Different Experience for Swinney and Clemson
Clemson coach Dabo Swinney is used to having the eyes of the country on him during this part of the season as he's usually in contention for a national championship. That's not the case this year as the Tigers (9-3) who suffered their first three loss season since 2014.
Now the challenge for Swinney and his coaching staff is to get their players enthused for a game that isn't necessarily on the national stage. The Tigers did get hot down the stretch, starting off the year 4-3 but going on a five game win streak to wind out the regular season – scoring 30+ points in each of those games.
DJ Uiagelelei didn't lead Clemson to the CFP in his first season as full time starter after the departure of #1 pick Trevor Lawrence, but he has a chance to pick up a win over a good Iowa State team and build momentum towards next season. The Tigers threw for just 191.5 ypg this season though (103rd) and Uiagelelei isn't completely healthy either supposedly playing with a knee brace and a sprint on his throwing hand.
The Loss of Hall Going to Doom ISU?
Iowa State has a great offensive line, but there's no denying that Breece Hall is a very special player. He led the country in scoring with 20 rush TDs (and 3 receiving) and compiled 1,472 yards, his second straight season of 1,400+ on the ground. Hall is a projected 2nd round pick, but could sneak into the 1st with a good combine showing.
For Matt Campbell it's not about who isn't there for 2021 Cheez-It Bowl betting, it's about who is playing. That starts with QB Brock Purdy, who had his best QB rating (153.5) of the last three seasons. Purdy completed 73.1% of his passes this season showing a full command of the offense, but he was also helped by defenses having to stay honest with the threat of Hall running the ball.
ISU has their hands full in this game with a really good Clemson defense that ranked 9th in the country in total yards allowed (310.3 ypg) and rush yards given up (101). The Tigers also allowed just 15.0 ppg, 2nd in the country to only Georgia (9.54). The betting total for this game is 45.
Free 2021 Cheez-It Bowl Betting Pick
This one all depends on how Clemson comes out of the chute, thrilled with the opportunity to play one more game or flat because they look at the "Cheez-It Bowl" berth as beneath them? The Cyclones have the QB advantage and another offensive weapon besides Hall in 6'6″ TE Charlie Kolar. That being said, Clemson was on fire down the stretch, and should carry that into this contest.
Clemson 33 – Iowa State 27
Free Pick: Clemson -2