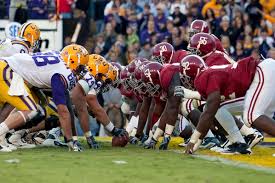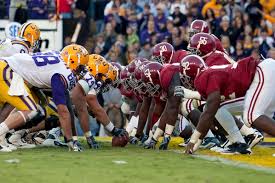 In our college football free pick Alabama plays LSU at 8 p.m. tonight. The #1 Alabama Crimson Tide are 8-0 overall and 5-0 in the SEC. They lead the South Division. The #13 LSU Tigers are 5-2 in all games and 3-1 in the SEC. They are fourth in the South. Any SEC game is big for these games, but this one is massive. If they can win, LSU stands to possibly move up to be in a tie with Texas A&M and Auburn. Alabama has a fairly secure lead in the division, but a loss to LSU can undermine their national ranking and, also, bolster LSUs.
Recent History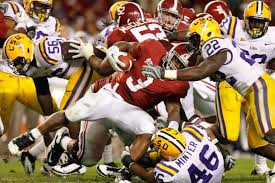 Alabama has had one close call. That was against #19 Ole Miss in week three where they won 48-43. Since then they have rolled over teams beating non-conference opponent Kent State 48-0 and then running off four SEC wins. On October 1, the Tide beat Kentucky 34-6 and then hammered away at #16 Arkansas 49-30, #9 Tennessee 49-10, and #6 Auburn 33-14.
LSU comes into tonight's game with a three-game wining streak. After losing to Auburn 18-13 on September 24, the Tigers beat Missouri 42-7, non-conference opponent Southern Mississippi 45-10, and #23 Mississippi State 38-21. They would like to continue that streak tonight and stifle Alabama's.
Alabama Crimson Tide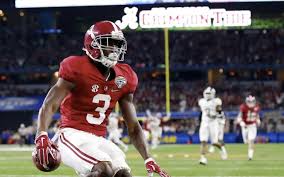 It's tough for teams to do two things against the Tide, stop them from scoring and score on them. Alabama is averaging 43.9 PPG and they are allowing just 14.9 PPG. They are averaging 498.0 yards of offense per game while opponent offenses have been good for a little more than half of that amount, 274.5. Their offense mounts an amazing ground and air attack. They have a lot of weapons and a whole lot of depth.
QB Jalen Hurts continues to be a huge force on the field. He's connecting on 63.2% of his passes and has tossed 12 TD passes and just five interceptions. He's run for 521 yards and has scored nine rushing touchdown while averaging 5.5 YPA. He's got three go-to receivers with chief amongst them Calvin Ridley (44 REC, 497 YDs, 11.3 AVG, 5 TDs). The Alabama ground attack is crucial to their offense. But their air attack can break open games and secure victory.
LSU Tigers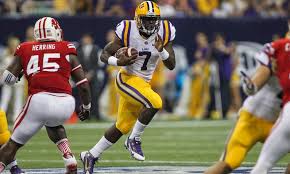 LSU brings a very tough defense into tonight's game. They are allowing opponents just 15.0 PPG. Their offense is also quite good, as they're averaging 29.9 PPG. They are a tad less proficient on offense and defense than their opponents as they are averaging 423.7 YPG on offense and 313.9 YPG on defense.
On offense, LSU will try to run more than pass. Running backs Leonard Fournette (83 ATT, 670 YDs, 8.1 AVG, 5 TDs) and Derrius Guice (78 ATT, 621 YDs, 8.0 AVG, 7 TDs) will have to have solid games if the Tigers are going to have a chance in this contest. QB Danny Etling (60.5 COMP%, 7 TDs, 3 INTs) will have to play mistake-free football connecting with WRs Malachi Dupre and Travin Dural. Together they have a total of 47 catches, 557 yards, and three touchdowns.
College Football Free Pick Alabama Plays LSU
With Alabama at -7.5, it's hard to imagine LSU keeping up with them in order to beat stay within the spread. It's true that the Tigers have a solid defense, but Alabama is unrelenting in their attack. It may be a close game, but for Alabama that could mean a 10-point win. But, at the same time, the Tigers may manage to keep it close enough to pay off on the spread. We think LSU will put up a good fight in the first half but fade in the second. In our college football free pick Alabama plays LSU, take the Crimson Tide at -7.5.
College Football Free Pick Alabama Plays LSU: Alabama at -7.5