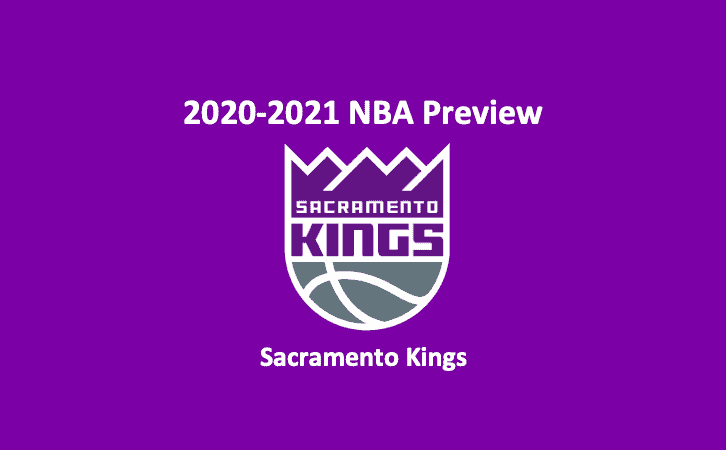 Our Sacramento Kings preview 2020 – 2021 observes that it's been 14 years since this team has played in the playoffs. Last year, the Kings won 31 and lost 41 games. In the last 14 seasons, the most games the Kings have won are 39, and their best conference finish has been ninth. In 2019-2020, Sacramento was 12th in the Western Conference and fourth in the Pacific Division. They ended up 21.5 games behind the first-place Los Angeles Lakers. Last year, at one point, the Kings lost eight games straight, and they ended the season by going 4-6 for their last 10 starts. Can we expect any improvement this season? Or will the Kings slide even further into the abyss?
Sacramento Kings Preview 2020 – 2021 – Stats
The Kings averaged just 110.1 PPG (22nd) while posting a 46.2 FG% (15th). They hit 36.4 3PT% while recording 34.9 3PT%. Both of these stats ranked 12th in the league. At 77.0%, the Kings were 18th in frees. The team averaged 42.6 RPG (26th) and 23.8 APG (21st). They were 14th in steals with 7.7 PG and 27th in blocks with 4.1 PG. Finally, Sacramento was 11th in turnovers with 13.8 PG.
The team allowed opponents 112.3 PPG (18th), which put them at -2.2 in point differential. Opponents shot 41.7% (21st) against the Kings and landed 35.7% in three-point tries, which ranked 16th. The team held opponents to 43.5 RPG (9th). However, despite that solid stat, Sacramento was still -0.9 in rebounding differential. An additional issue is assists, as opponents dished off 24.9 PG (20th). Again, the Kings were deficient in this category at -1.1 PG.
Sacramento Roster
The backcourt is good, but they need to cut down on turnovers and point man De'Aaron Fox must find his form again. In front, this team can hit from inside and outside. There's decent depth, especially up front. If coach Luke Walton can get this team up to speed, they'll be tough to stop. However, that could be difficult to pull off.
Sacramento Kings Preview – Backcourt
Point guard De'Aaron Fox starts his fourth season with the Kings and in the NBA. Last year, Fox's three-point shot suffered as he went from a 37.1% success rate to 29.2%. He did hit 48.0% from the field, averaging 21.1 PPG and 6.8 APG. Plus, he was good for 1.5 SPG. However, he averaged more than three turnovers per game. Buddy Hield is across from Fox at the two-spot. Hield, a three-year veteran, has spent most of his career with the Kings. Last season, he was good for 19.2 PPG and 4.6 RPG. His shooting stats included a 42.9 FG%, 39.4 3PT%, and 84.6 FT%.
Kings Preview – Frontcourt
Small forward Harrison Barnes has spent one full season with the Kings. In his first full season with the Kings, he started 72 of 72 games while averaging 34.5 MPG. Barnes was good on 38.1% of his three-pointers and 46.0% of his field goals. He hit for 14.5 PPG and grabbed 4.9 RPG. After two seasons coming off the bench at power forward, Marvin Bagley III starts. Bagley missed most of last season due to injury. He's healthy and ready to go. Our Sacramento Kings preview 2020 – 2021 finds that he's a solid inside and outside shooter and capable of being a consistent double-double guy. After four years in the NBA, Richaun Holmes came to the Kings and found his game. Last year, he averaged 12.3 PPG, 8.1 RPG, and 1.3 BPG. This season, Holmes could routinely post double-double stats. He is solid around the rim and a 64.8% field-goal and 78.8% free-throw shooter.
Kings Bench
Backing up at point guard, it's Tyrese Haliburton and Cory Joseph (Day-to-Day). Also, in back, Haliburton subs at shooting guard. Haliburton, who was the 12th overall pick in this year's draft, played two seasons with Iowa State. Last season, he averaged 15.2 PPG, 5.9 RPG, and 6.5 APG. Plus, his shooting stats include a 50.4 FG%, 41.9 3PT%, and 82.2 FT%. He could be a major force on this team. Joseph spent his ninth NBA season with the Kings, averaging 6.4 PPG and 3.5 APG. Robert Woodard II is second in as shooting guard. He was a round two 40th NBA Draft pick. At Mississippi State, Woodard, who played two seasons, averaged 11.4 PPG, 6.5 RPG, and 1.3 APG. In his final season, he averaged just over one block and steal per game.
Front Men
In front, Glenn Robinson III and Buddy Hield, who starts in the two-spot, backs up at small forward. Starting small forward Harrison Barnes covers the power spot as does Nemanja Bjelica. In six seasons, Robinson has played with five teams. Last season was spent with Philadelphia and Golden State. With the Warriors, he averaged 12.9 PPG and 4.7 RPG. He hit 48.1 of his field goals and 40.0% of his threes. Bjelica, who's spent the last two seasons with Sacramento, averaged 11.5 PPG and 6.4 RPG. He was a solid shooter, making good on 48.1% of his field goals and 41.9% of his threes.
Coming in at center, it's Hassan Whiteside and Frank Kaminsky. Whiteside, an eight-year NBA veteran, arrives this season from Portland. Whiteside is a versatile and productive player. Last season, he averaged 15.5 PPG, 13.5 RPG, and 2.9 BPG. His shooting percentages were 62.1% from the floor, 57.1% from downtown, and 68.6% from the foul line. Last season, Kaminsky, a five-year vet, averaged 9.7 PPG and 4.5 RPG with Phoenix.
Sacramento Kings Preview 2020 – 2021 – Coaching
Luke Walton is the Sacramento Kings head coach. He came to the Kings in 2019. In 2011, Walton started as an assistant with college basketball's Memphis Tigers. In 2013, he worked in player development for the Los Angeles D-Fenders and from 2014 to 2016 he was an assistant with the Golden State Warriors. Walton's first head coaching gig was with the Los Angeles Lakers from 2016-2019. He and the Lakers parted ways on April 12, 2019. On April 14, 2019, Walton became Sacramento's head coach. Our Sacramento Kings preview 2020 – 2021 notes that Alvin Gentry has been added as associate head coach
As a coach, Walton is detail oriented, and he believes players need to meet a standard of play set by the coach. He sees an up-tempo pace and threes as being the basics of a successful offense, and defense as being key to winning games and championships. He acknowledges that it's essential for a coach to build relationships and trust with players.
Sacramento – Pluses and Minuses
Frontcourt is sound
If healthy, Bagley will be dominant
Paint players off the bench are difference-makers
PG Fox must be more consistent
More point production needed
Team needs to make up for negative stat differentials
Sacramento Kings Preview 2020 – 2021 – Final Word
Our Sacramento Kings preview 2020 – 2021 sees this team as struggling once again. There's a lot of potential, which includes various rookies and younger NBA vets with a few years under their belts. Statistically, this team needs to correct all of the negative differentials they recorded last season. It's been a long time since the Kings made it to the playoffs. We think it will be a little longer.
Sacramento Kings Projection – 30-42 Fifth-Place – Pacific Division