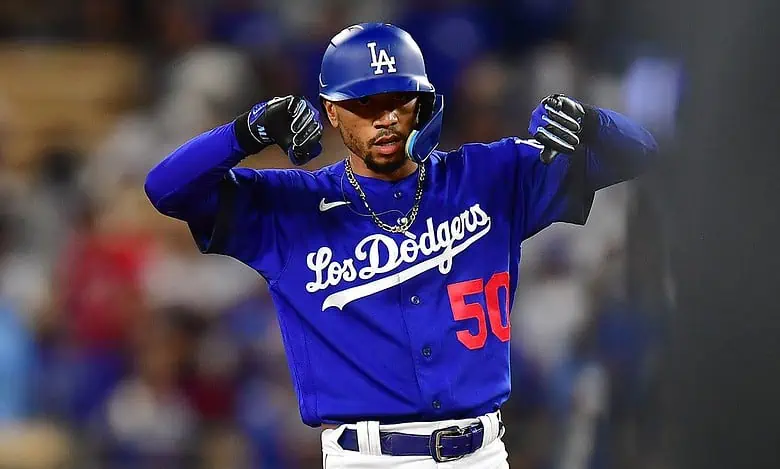 There is a loaded slate of MLB games on Sunday, and the action will conclude with a big battle between NL West rivals. The Los Angeles Dodgers and San Diego Padres will meet up for the third straight night, and each team has picked up a win in this series.
Los Angeles comes into this game with a record of 63-46, and they are now back on top of the NL West Division. The Dodgers have not been as dominant this season, but they are once again looking like a World Series contender.
San Diego comes into this game in fourth place in the NL West Division, and they are struggling to stay in the Wild Card race. The Padres are now at 55-56 on the year but have some momentum after winning on Saturday.
The Dodgers are the moneyline betting favorites at -125 on Sunday night over the Padres in game three of this series.
Dodgers Destroying the Baseball
The Los Angeles Dodgers only scored three runs on Saturday night, but that's extremely unusual for this team. Los Angeles comes into this game having scored 616 runs on the year, and that's 100 more than the Padres.
Mookie Betts leads the team with 29 home runs this season, but he has had plenty of help as well. Freddie Freeman is hitting an impressive .337 on the year, and he has also driven in 77 runs for the Dodgers.
Lance Lynn will be on the mound for the Dodgers, and he is looking to bounce back in the NL. Lynn is just 7-9 with a 6.32 ERA on the year, but that work was done with the White Sox.
Padres Can Pitch
The San Diego Padres were able to shut down the Dodgers' offense on Saturday night, and that's something that they have been doing all season long. San Diego has a team ERA of less than 3.80 this season, and they are now hoping that Rich Hill can join the club.
Hill went just 7-10 with a 4.76 ERA this season, but that was with the Pittsburgh Pirates. He should be able to improve that record in San Diego, as he is going to get plenty of run support.
Juan Soto has been on a tear over the last month as he leads the way with 24 home runs and 72 RBIs this season. San Diego has a deep lineup, but they just haven't been able to live up to the high expectations.
Dodgers Get Job Done
This will be a battle of veteran pitchers, and both of the hurlers are going to be looking to make a good impression with their new teams. Rich Hill has proven that he can win big games down the stretch, but he is facing a great lineup.
Los Angeles just always seems to find another gear on offense when needed, and they will give Lance Lynn plenty of run support in this game. It's not going to be a blowout, but it will be a game in which the Dodgers remain in control from the first inning on.
Bet the Los Angeles Dodgers -125 over the San Diego Padres on Sunday Night Baseball.