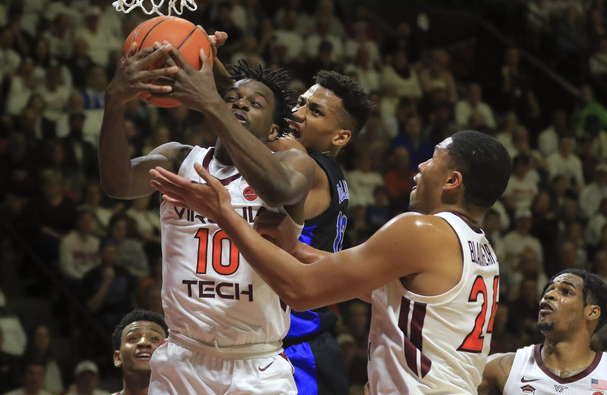 A double-bye in the ACC Tournament could be on the line Tuesday night when the no. 15 Virginia Tech Hokies visit the no. 14 Florida State Seminoles. At home, the Seminoles are 4.5-point favorites.
The Hokies haven't played since their upset of Duke last week, a win that made them 11-5 in ACC play and 22-6 overall. With a win over Florida State on Tuesday, the Hokies will earn a double-bye in the ACC Tournament and give themselves to make a run in the conference tournament and improve their seed even more for the Big Dance.
Of course, Florida State is also 11-5 in conference play and will earn a double-bye in the ACC Tournament if they win on Tuesday. The Seminoles have won 10 of their last 11 games, losing only to North Carolina during that span, as they have quietly become one of the hottest teams in the country. With a double-bye, they will surely be a threat to win the ACC Tournament and stay hot heading into the NCAA Tournament.
Even the Kitchen Sink
A big part of FSU's success this season is their incredible depth. The Seminoles have 11 different players who average at least nine minutes per game. Leonard Hamilton will use his bench early and often, throwing waves of players at opposing teams and giving them an endless amount of lineup combinations to worry about. It also means that Florida State can ride the hot hand, no matter who that may be on any given night.
In addition to impressive depth, the Seminoles boast considerable size. Both 7'4'' Christ Koumadje and 6'10'' Mfiondu Kabengele could create problems for a Virginia Tech team that lacks frontcourt size. Florida State also has impressive size in the backcourt, as nearly every member of their rotation is listed at 6'4'' or taller. With an abundance of size, athleticism, and depth, the Seminoles can be difficult to deal with for 40 minutes.
Learning to Live Without
The Hokies have been forced to play their last eight games without senior point guard Justin Robinson. Virginia Tech is 5-3 in those games, but they've won four of their last five, including the win over Duke, indicating that they are getting used to playing without their senior leader. The Hokies are an unselfish team who spreads the ball around and play hard defense, so it shouldn't be a shock that they've found a way to survive without Robinson.
Even with Robinson out of the equation, the Hokies have three players who average 13 or more points per game. Also, nearly everyone in their rotation shoots better than 35% from the perimeter, so they remain dangerous offensively when they get hot. Of course, Kerry Blackshear Jr., their only inside presence, has been critical while Robinson has been out. He's scored at least 22 points in his last four games, stepping up when his team has needed him the most.
Too Close to Call
Virginia Tech faces an uphill battle on the road, but the Hokies will come into this game fresh and still brimming with confidence after their win over Duke. It won't be easy without Robinson, but the Hokies are strong enough defensively to have a chance in this game. Bet on Virginia Tech beating the 4.5-point spread against Florida State and possibly stealing a road win.