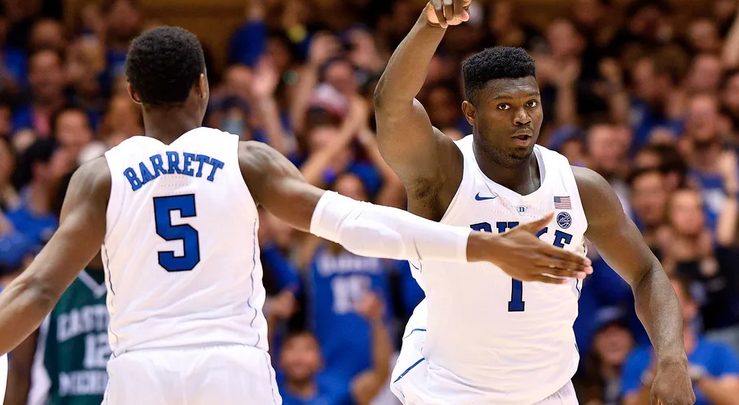 Right after reclaiming the no. 1 ranking in the country, the Duke Blue Devils will face the no. 8 North Carolina Tar Heels in a rivalry game. At home at Cameron Indoor Stadium, the Blue Devils are 9-point favorites.
The Blue Devils are riding a 9-game winning streak since their one, and only loss in ACC play at the hands of Syracuse. Over the past week, Duke has overcome a 23-point 2nd half deficit at Louisville and cruised to a comfortable win against N.C. State. They are 23-2 overall, and in terms of the ACC regular season title, the Blue Devils control their own destiny.
Of course, North Carolina is just one game behind the Blue Devils in the ACC standings. Despite a few hiccups in non-conference play, the Tar Heels are 10-2 in conference play and very much in contention for the ACC crown. Despite a loss to Virginia last week, UNC bounced back with a 38-point win over Wake Forest over the weekend to get right back on track.
Defense Optional
Their win over lowly Wake Forest notwithstanding, the Tar Heels haven't exactly been stout defensively this season. Virginia shot over 50% from the field and 3-point range against them. UNC has also conceded 85 points to a short-handed Miami team not too long ago, not to mention giving up 82 and 96 points to NC State this year, despite winning both meetings. Yes, the Tar Heels like to push the tempo, but that doesn't excuse a slew of poor defensive performances this season.
The Tar Heels can't make defense optional against Duke, a team with multiple players who will be top-5 NBA draft picks later this year. Even good defensive teams have been helpless against Zion Williamson this season. He can be close to unstoppable when he gets anywhere close to the basket and is coming off a 32-point performance against NC State in which he was 12 for 16 from the field. Somehow, fellow freshman RJ Barrett is averaging more points per game than Williamson. Barrett had a triple-double over the weekend and can be the most impactful player on the floor while teams worry about stopping Williamson.
Can't Stop It
Of course, North Carolina can get away with questionable defensive performances most games because they are among the highest-scoring teams in the country. Freshman point guard Coby White has improved leaps and bounds throughout the season. He's proven that he can carry the team on his back if necessary. Plus, he has a couple of veteran teammates in Cameron Johnson and Luke Maye who can also put the ball in the basket, as Johnson is a dangerous outside shooter and Maye is an experienced post scorer.
However, White will have the challenge of facing Duke's Tre Jones, who's one of the best on-ball defenders in the country. There have been a few times this season that White has been neutralized by strong defensive players. The Tar Heels have gotten away with that happening a couple of times. But they're going to need White, Johnson, and Maye all being at their best in order to beat Duke.
One-Way Traffic
While these two teams typically play close games, North Carolina is going to need everything to go their way to stay in this game, especially on the road. The Tar Heels could struggle to click offensively and do anything substantial on defense in such a hostile environment. Bet on Duke to win and cover the 9-point spread.