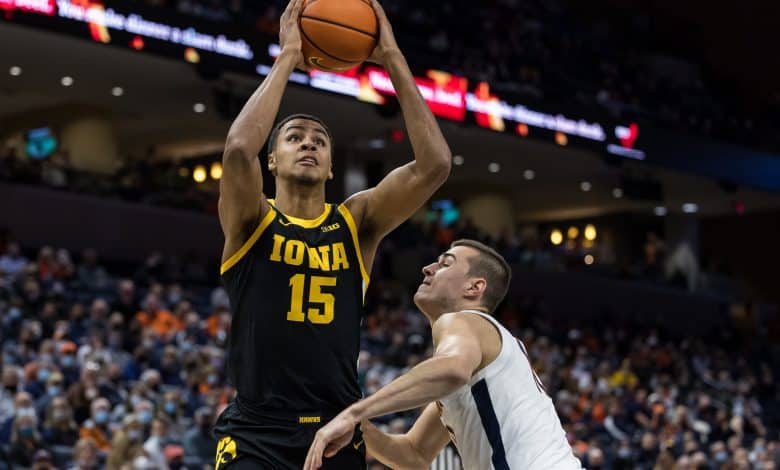 The Hawkeyes face a tough challenge to their 11-1 home record in the January 27th Purdue at Iowa betting matchup. The #6 ranked Boilermakers have put a 68-65 loss at Indiana behind them to pounce on Northwestern 80-60 on Sunday, but are still just 5-3 in conference play.
Iowa lost this matchup 77-70 in West Lafayette as +14.5 underdogs. That spread was so high in that contest because the Hawkeyes were missing the #3 scorer in the country with Keegan Murray (22.8 ppg) sitting out with an ankle injury. Murray is back for Thursday night's matchup but the Hawkeyes are still +2.5 underdogs.
Offenses About to Shine?
The January 27th Purdue at Iowa betting total is 'only' 154, which seems low considering the Boilermakers have the #4 scoring offense in the country (84.7 ppg) while Iowa is 5th (83.1 ppg). Purdue shot 52% from the floor in in Sunday's win over Northwestern led by 22 points from Sasha Stefanovic and a 12/10 night from Zach Edey. That game was at Mackey Arena though, and now Purdue has to prove they can get the conference road win.
The Boilermakers were able to capture a 96-88 OT win over Illinois in Champaign on January 17th, but they fell flat the next game losing 68-65 to in-state rival Indiana. Iowa looked really good in their last home game toppling Penn State 68-51, and the Hawkeyes' only loss in Iowa City this season came 87-83 to Illinois back on December 8th.
Illinois' 7-footer Kofi Cockburn had 17 points and 18 rebounds in the win over Iowa, which bodes well for the 7'4″ Edey on Thursday night. The real load that the Hawkeyes have to contend with in this matchup is 6'10, 285 pound Trevion Williams who had 13 points in 18 rebounds in the first meeting between these two this season. Williams has only averaged 7 points and 8 rebounds the last two games though.
Murray Gets to Play This Game
Iowa covered the +14.5 number in their 77-70 loss at Purdue, impressive considering they were without leading scorer Keegan Murray. Patrick McCaffrey had 15 points in that game, Tony Perkins 14, and Kris Murray 12. The Boilermakers held a 40-28 rebounding edge in that contest.
Keegan Murray is back for the rematch but he's also been held to 15 points or less in three of the last four games. Iowa as a team is only averaging 57ppg the last two but Purdue is also 9th in the Big Ten in allowing 67.4 ppg. Murray has grabbed 8+ rebounds in seven of the last eight so at the very least he should help shore up the rebounding disadvantage that Iowa had in the first meeting.
Free January 27th Purdue at Iowa Betting Matchup
Iowa did get a 70-55 win over the Boilermakers in the teams' only meeting of last season and the home team has won four of the last five head to head matchups. Iowa is just 4-4 in conference play, but three of those losses were on the road. Purdue lost in their last conference away matchup, but it was also against Indiana's top defense in the Big 10 – Iowa has the second worst.
Murray has had a couple of lackluster games for Iowa, and with Purdue's size the Boilermakers should be able to dominate the paint here.
Purdue 77 – Iowa 70
Free Pick: Purdue -2.5