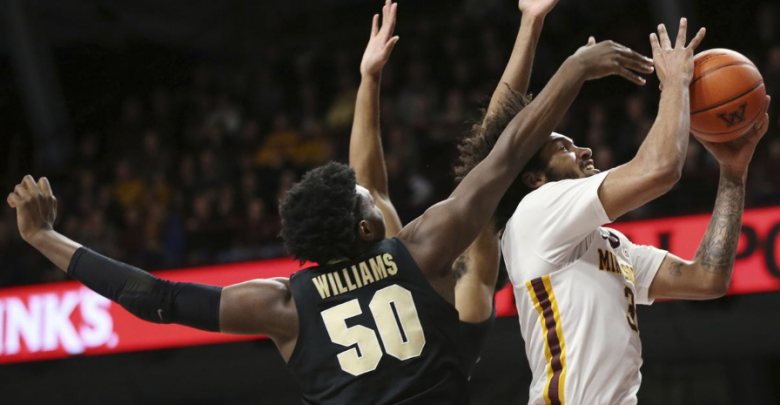 There is still a ton to be decided in the Big Ten Conference standings with the final weekend upon us. The Maryland Terrapins are trying to pick up a double-bye in the Big Ten Tournament, while the Minnesota Golden Gophers are hoping to improve their seed. Maryland beat Minnesota by a score of 82-67 earlier this season, and are looking to sweep the Golden Gophers.
Maryland looked like a real contender in the Big Ten for much of the season, but a recent two-game losing streak has knocked them back. The Terrapins are still 12-7 in conference play and are tied with Wisconsin for the fourth spot in the tournament. Minnesota has won two straight games to improve their conference record to 9-10. The Golden Gophers sit in 7th place in the Big Ten. Maryland is -7.5 over Minnesota in this game.
Maryland Offense Coming Up Short
Despite having some NBA-level talent on the court most of the time, the Maryland Terrapins are having a tough time scoring the basketball. Maryland has scored just 62 and 61 points respectively in their two most recent losses, and are averaging just over 71 points per game this season. Fortunately, Maryland is still playing terrific defense, but they have to score some points eventually.
Guard Anthony Cowan Jr. and forward Bruno Fernando are the two men that are going to have to pick up the slack for Maryland. Cowan leads the team with 15.7 points and 4.3 assists per game this season but has been struggling of late. Fernando has chipped in with 14.1 points and 10.5 rebounds per game, and his size will be needed against a big Minnesota team. Expect a big game out of these two Maryland stars.
Coffey, Murphy Carrying Gophers
Minnesota has been thriving on offense of late thanks to Amir Coffey and Jordan Murphy. Coffey dropped a career-high 32 points in the recent victory over Purdue and leads the Golden Gophers with 15.8 points per game. Jordan Murphy is one of the best post players in the Big Ten, pouring in 14.5 points and grabbing a team-high 11.7 rebounds per game this season. Coffey and Murphy look ready to do whatever it takes to get Minnesota in the NCAA Tournament.
Defense has been an issue for Minnesota at times this season, including in the first matchup against Maryland. Maryland shot 60 percent from the three-point line in that game and torched the Minnesota offense early and often. Minnesota has given up just 59.5 points per game in their last two wins and will need that kind of effort again on Friday night.
Maryland Wins At Home
Minnesota has been playing much better than Maryland of late, but life on the road is always difficult in the Big Ten Conference. The Golden Gophers just don't match up very well against Maryland, and the Terrapins need this win to get a double-bye. Look for this game to be close for a while before Maryland pulls away for the victory. Bet the Maryland Terrapins -7.5 over the Minnesota Golden Gophers.