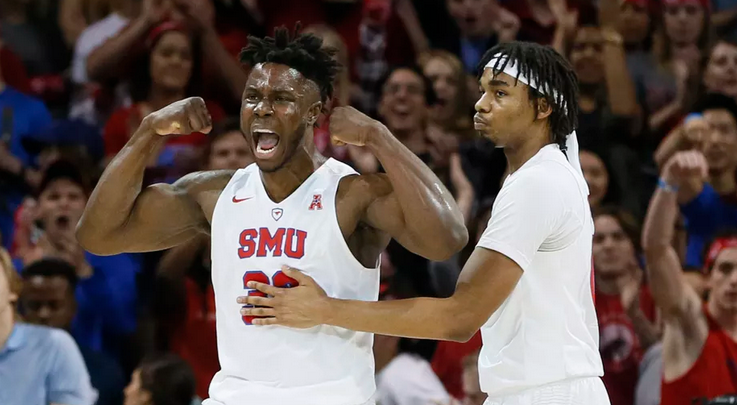 The no. 12 Houston Cougars will try to get one step closer to winning the American Athletic Conference when they host the SMU Mustangs on Thursday. At home, the Cougars are 13.5-point favorites.
Just two years after winning 30 games and appearing in the NCAA Tournament, SMU finds themselves in the bottom half of the AAC. The Mustangs are 5-11 in conference play and 13-15 overall. To make matters worse, they have just one win in their last nine games as they play out the end of the season.
Houston, on the other hand, is close to winning a conference title and making the NCAA Tournament in back-to-back years for the first time since 1984. If the Cougars win on Thursday, they will play Cincinnati on Sunday in a game that will decide the AAC championship. Kelvin Sampson's team is currently 14-2 in conference play and 27-2 overall, although they are coming off a loss to Central Florida that knocked them out of the top-10.
Not the Time
The Cougars have rarely had difficulty scoring points this season, especially during conference play. They have two big-time scorers in Corey Davis Jr. and Armoni Brooks who lead the backcourt. However, they also have five players who average at least seven points per game, giving them a fair amount of balance. However, Brooks has been limited under 10 points in two of his last three games, including the loss to UCF. He also had just five points in their other loss this year, indicating how important he is to Houston's success.
The good news for Houston is that they can sometimes overcome a sluggish performance by one of their stars because of how well they play defense. Only two teams have reached the 70-point plateau during conference play, and both of those games were back in January. Outside of Davis and Brooks, that may be SMU's biggest challenge on Thursday night.
Give Me a Little Height
The one area where SMU could have an edge against Houston is with their size up front. The Cougars don't have anyone in their rotation taller than 6'8'' and typically play a guard-heavy lineup. Meanwhile, SMU forwards Ethan Chargois and Isiaha Mike both average 12 points per game, posing a threat both inside and outside.
The Mustangs are not a strong outside shooting team, but if they can get the ball inside, they may be able to force Houston to play a little bigger and get out of their guard-oriented lineup. When these teams met earlier this season, Chargois dominated on the boards, grabbing 12 rebounds to go with his 10 points while Mike scored 15 points, getting most of them inside the 3-point arc. It's vital that the Mustangs find a way to establish those two players early on to prevent Houston from grabbing an early lead.
Mauling
Houston has had their fair share of wins against teams in the bottom half of the AAC this year. Coming off a loss in their last game, the Cougars should be focused and ready to dismantle a lesser opponent. Bet on Houston covering the 13.5-point spread.