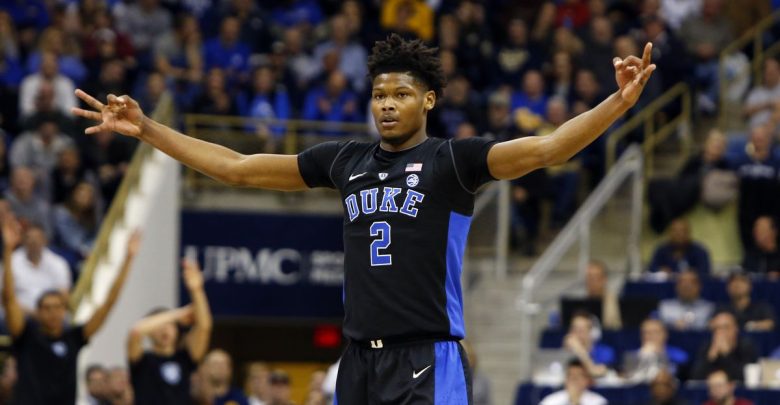 The talented freshmen class of Duke will make their first-ever stop at Notre Dame to take on the Fighting Irish on Monday night. Notre Dame head coach Mike Brey has a history of beating Coach K, but his team has been struggling this season. Duke is atop the ACC heading into this game, while the Fighting Irish find themselves in last place.
Things have not gone well for Notre Dame in conference play, and they are off to a 1-6 start. The Fighting Irish have lost four straight ACC games, including a 27 point loss to Virginia in their last outing. Duke has won three straight conference games after a stunning loss to Syracuse, and are 6-1 in conference play. The Blue Devils survived a scare from Georgia Tech on Saturday afternoon. Duke is a 13.0 point road favorite over Notre Dame in this game.
Fighting Irish Lack Scorers
The biggest problem for Mike Brey's team this season has been the lack of a true elite scorer. Notre Dame is averaging just over 73 points per game so far this season but managed just 55 in their loss to Virginia. The Fighting Irish will have to score more than that to keep up with the explosive Blue Devils. Playing at home should give Notre Dame a little advantage, but they are still overmatched in this one.
John Mooney has been the most impressive Fighting Irish player so far this season. The junior forward is averaging a double-double, leading the team with 14.5 points and 10.8 rebounds per game. TJ Gibbs and D.J. Harvey are the only other Irish players in double figures, and Mike Brey needs someone to step up for his team in this game.
Blue Devils Are Healthy Again
Point guard Tre Jones returned to the floor again on Saturday, and the Blue Devils have their whole roster back. Jones struggled a bit in his return, but his defense and leadership will help Duke in this game. Duke struggled against Georgia Tech, scoring just 66 points in the win, but they are averaging better than 87 points per game this season. Duke can score in a variety of ways.
RJ Barrett and Zion Williamson are two of the best players in college basketball and are doing it all in leading the Blue Devils. Barrett leads the team with 23.9 points per game this season and can get to the rim against any team. Williamson is a high flying dunking machine that is shooting close to 70 percent from the field. Throw in Cam Reddish and his terrific three-point shooting and the Duke team is almost impossible to guard.
Duke Rolls Over Notre Dame
Notre Dame has a history of upsetting Duke in recent years, but they had some terrific teams when that happened. The Fighting Irish have struggled all season long, and they simply don't have the players to keep up with Duke. The young Blue Devils have passed every test so far this season, and they will have no trouble with Notre Dame on Monday night. Bet the Duke Blue Devils -13.0 over the Notre Dame Fighting Irish.