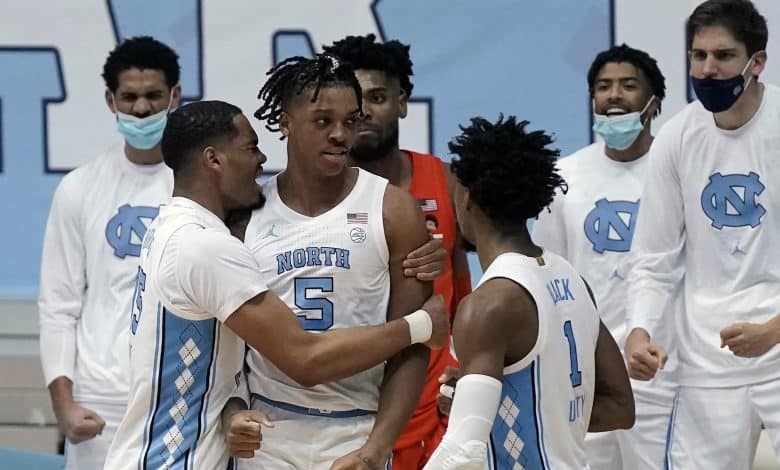 The March 1st North Carolina at Syracuse NCAAB matchup is intriguing. The Tar Heels are riding high after a 78-70 win over #11 Florida State on Saturday, but have a tough visit to the Carrier Dome, where the Orange are 11-1 on the season. Syracuse has dropped two in a row overall however.
Oddsmakers have the Tar Heels as -1.5 favorites, as they try to improve on a measly 3-6 road record. UNC won this matchup 81-75 in Chapel Hill in North Carolina as -5 favorites, but the Orange won 71-53 as +3 point underdogs in last season's ACC tournament. Early public betting is split nearly 50/50 on this one.
UNC Post Game Too Huge?
Syracuse lost 84-77 to Georgia Tech on Saturday, mostly due to the Yellow Jackets' 54-24 edge in the paint. That's not a great stat heading into the March 1st North Carolina at Syracuse matchup as the Tar Heels have one of the biggest teams in the country.
How will the Orange contend with 6'10" Garrison Brooks and 6'10" Armando Bacot in the starting lineup with 7'1″ Walker Kessler coming off the bench? The freshman Kessler is starting to come around with double digits in four straight including 20 points vs. the Seminoles. Brooks and Bacot combined for 31 points and 22 rebounds in the first win over Syracuse.
One would think with that size the Tar Heels dominate every game. There's an 83-70 home loss to Marquette as -9.5 favorites last Wednesday that looms large before laying the -1.5 points on Monday however. North Carolina's recent run has come thanks to four straight home games as well, although they did score a huge 91-87 win at Duke on February 6th.
Syracuse Looking For Another Big Home Win
The Orange do have the advantage of facing a North Carolina team that hasn't played on the road since a 60-48 loss at Virginia on February 13th. UNC did win 92-79 at the Carrier Dome last season though, even as +5.5 underdogs.
Syracuse doesn't have a ton of momentum right now either, losing by 14 at Duke last Monday before the big loss to Georgia Tech on Saturday. The Orange are the #2 scoring team in the ACC, but they have the 3rd worst defense. North Carolina has better balance ranking 5th and 6th in those categories respectively.
The Orange lost the first meeting between these teams this season despite getting 23 points and 11 rebounds from Quincy Guerrier. Alan Griffin added 16 and Buddy Boeheim but a 28-43 rebound margin ultimately doomed Syracuse. Shooting doesn't always travel, but size does.
Free March 1st Syracuse at North Carolina Pick
The easy pick seems to be North Carolina here, because they are huge and getting great contributions from Freshman, who may have had a difficult time integrating in this awkward COVID year. The Tar Heels being favored by just -1.5 points is kind of a red flag though.
UNC is ripe for a letdown after the big win over Florida State on Saturday, and they're playing their first road game in over two weeks. Syracuse is great at home, and also upset North Carolina in the conference tourney last year.
Syracuse 77 – North Carolina 73
Free Pick: Syracuse +1.5