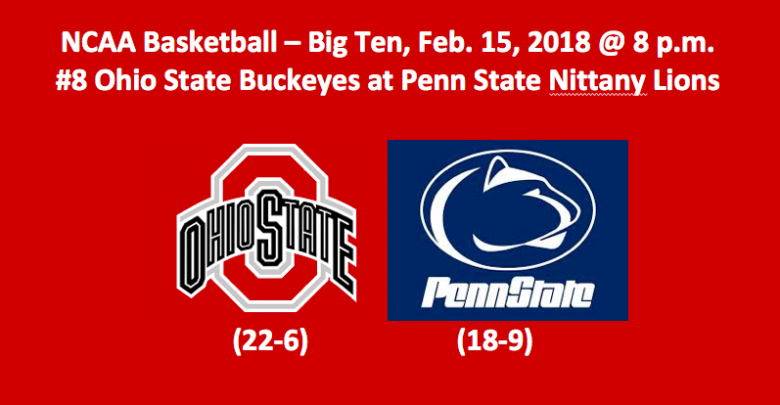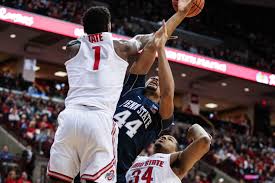 When the #8 Ohio State Buckeyes (22-6 Overall, 13-1 Big Ten) play the unranked Penn State Nittany Lions (18-9 Overall, 8-6 Big Ten) at 8 p.m. E.T. tonight at the Bryce Jordan Center in University Park, PA, they will be looking to defeat the one Big Ten team that has taken them down this season. Penn State beat OSU 82-79 on Jan. 25. Ohio State sits on top of the Big Ten with Michigan State one-half game behind them. The Nittany Lions are sixth in the conference, five games in back. Our Ohio State plays Penn State 2018 NCAA basketball Big Ten pick has the Nittany Lions at 1.0 and the over/under at either 137.5 or 138.0.
Recent History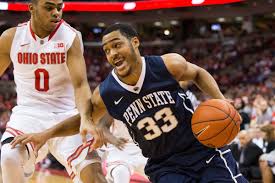 Since that Jan. 25 loss to Penn State, OSU has won four straight. Those wins include a 64-63 victory over #3 Purdue on Feb. 7. This season, the Buckeyes also beat Michigan State 80-64 on Jan. 7. Overall, Penn State has struggled in the conference, although they are presently enjoying a three-gaming winning streak. Prior to notching those three wins, the Nittany Lions lost to #5 Michigan State 76-68. Their most recent game was a 74-52 win against Illinois.
Matchup
On paper, these teams look pretty evenly matched. OSU versus Penn State stats stack up this way- 77.1/76.1 PPG, 66.0/66.4 PA, 36.7/35.8 RPG, and 15.0/14.3 APG. The Buckeye's field goal percentage is a bit better than Penn State's, as they Ohio State is sinking 49.0% of their shots and PSU 47.3%. Penn State is a little better at threes, hitting 38% to OSU's 36%, while the Buckeyes are a bit better at frees, knocking in 74% to the Lions 70%. The Lions are making 5.4 BPG, while the Buckeyes are knocking away 3.7 shots per game.
Players to Watch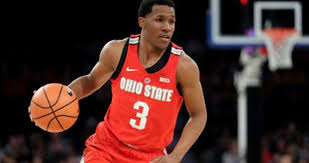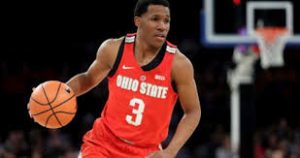 Two primary players need to come through for the Buckeyes in this game. Junior forward Keita Bates-Diop (19.9 PPG, 9.0 RPG, 51 FG%) and junior guard C.J. Jackson (12.5 PPG, 3.8 RPG, 4.2 APG) are am awesome one-two punch. Bates-Diop is a big man who can hit from anywhere. His three-point conversion rate is 37%. He's blocking close to two shots per game. Jackson is a very good setup man and 39% three-point shooter. Senior forward Jae'Sean Tate (12.7 PPG, 5.8 RPG, 55 FG%) is an important presence in the paint and an accurate inside shooter.
Penn State has four guys who are active rebounders and a fine guard who dishes off assists with ease. In the assist area, sophomore guard Tony Carr (19.2 PPG, 4.2 RPG, 4.6 APG) leads the team in setting up plays. He's also the lead point scorer and top three-point man, nailing 46% of his attempts. At forward, sophomore Mike Watkins (12.9 PPG, 9.5 RPG, 2.5 BPG) is a major force. He's hitting 70% of his shots from the floor. Another sophomore, forward Lamar Stevens (15.5 PPG, 6.5 RPG, 1.0 BPG) is second in points and rebounds per game.
Our Ohio State Plays Penn State 2018 NCAA Basketball Big Ten Pick
So, who has the edge in this game? Overall, these two teams are very close and they match up well. We do like Penn State in the front court defensively. OSU is sound in just about every area. They have an important edge in free throws. Ohio State plays Penn State 2018 NCAA basketball Big Ten pick is the Buckeyes at +1.0. We don't think that Penn State will be them two time straight. We are taking the over at 137.5.
Summary Buckeyes at Nittany Lions Picks- OSU at +1.0 and over 137.5